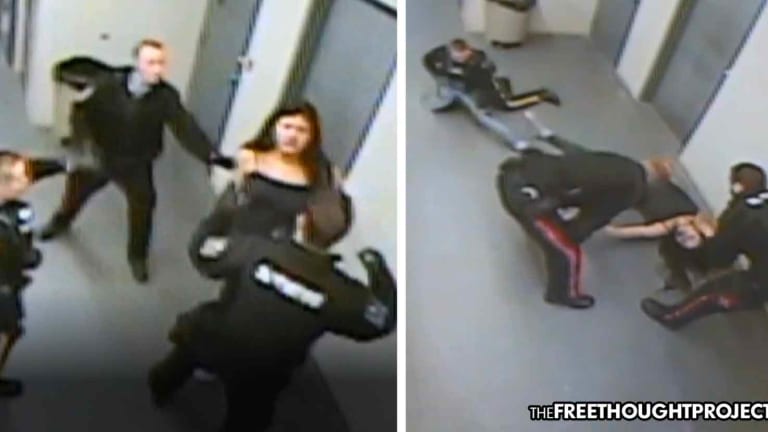 WATCH: Cops Knock Teen Unconscious, Pull Off Her Pants, Drag Her Through Jail
A teen girl was knocked unconscious, her pants stripped from her body, and then dragged into a jail cell after giving police her belt too fast.
Like millions of teens do every year, Genesta Garson, then-19, drank a few beers and got a little tipsy. However, her tipsy evening would turn into a nightmare after officers arrested her for suspicion of being drunk.
The incident happened on Jan. 6, 2018, but the video has only been released this week as part of a lawsuit against the department who arrested Garson.
When Garson, who is a member of the Tataskweyak Cree Nation, was arrested that night, she was supposed to simply sleep it off in a holding cell. Instead, however, she was savagely attacked and ended up in a hospital.
Garson's nightmare began when she got to the jail that night. She was taken to the RCMP facility where officers forced her to strip down to a single layer of clothing. Due to the cold weather, Garson was wearing multiple layers of clothing and police made her remove all of it — including her bra.
As the video shows, male officers are surrounding her as she is forced to remove her clothing.
"I felt very uncomfortable when they asked me to take off my bra," Garson said.
As she is ogled by the officers who are forcing her to disrobe in front of them, Garson takes off her belt and throws it toward one of the officers and the female officer. The cops took this as an attempted assault and moved in to neutralize the non-existent threat.
"I tried giving my thin, soft belt to the male officer so fast, he thought I was trying to hit him," she said.
That's when one of the officer cocked back and delivered a haymaker to the chin of Garson. She was knocked out immediately as her head crashed into wall before she fell onto the hard jail floor — her head bouncing off the concrete in the process.
Instead of providing immediate help, the officers continue to strip Garson down, removing her pants. The cops then drag Garson through the jail and dump her back in her cell.
"I was knocked out. They dragged me into the cells. My body was shaken up from being hit hard in the head," she said.
When Garson began to come to, she was in agonizing pain from the punch, as well as hitting the wall and the floor. As she writhed in pain in the cell, the officers ignored her and she was left alone for over 15 minutes.
Finally paramedics arrived and Garson was placed on a stretcher and taken to the hospital.
"I am lost for words on this case. I really am, I'm lost for words," said her lawyer, Rohit Gupta as he watched the video.
To justify their abuse, police claimed that Garson "struck officer with her belt, so she got punched in the face." But the video shows that she barely tapped the officer and was just handing it over in a fit of frustration from being stripped down.
An expert on the matter called this move by police retaliation, not self-defense.
"When he punches her in the face, it's the matter of retaliation. It's not a matter of defending himself against further assaults," Howard Morton, who ran Ontario's Special Investigations Unit, said to CBC. 
Garson's nightmare was not over after she went to the hospital either. Garson says after filing a complaint, she was intimidated by cops to remove it. As CBC reports:
After leaving hospital, Garson was charged with assaulting an officer. Gupta took her case pro bono and the charge was later stayed.

Gupta then helped her file a formal complaint against the RCMP with the Civilian Review and Complaints Commission in November 2018.

The complaint, which was obtained by CBC, says Gupta was to be the RCMP's formal contact throughout the process.

However, that didn't happen.

Instead, Garson and Gupta say several different RCMP officers came to Garson's home in Split Lake, 140 kilometres north of Thompson, asking her to sign a form withdrawing the complaint.
"They kept coming to my house, and to where I worked here in Split Lake until I signed the paper," Garson said. "After that, they left me alone. I do not remember how many times they came to the house, I lost count."
Gupta told CBC that he was shocked when he received a letter stating that the complaint had been dropped.
"That I find the most appalling out of all of this," Gupta said. "RCMP are aware that I'm counsel for Ms. Garson and yet try to circumvent that process by speaking to her on their own?"
Now, they are going after the officers in a civil suit.
"I don't feel safe around the RCMP officers anymore. Not since this happened," Garson told CBC News.
As you watch the video below, you know exactly why she feels this way. Sadly, young women in jail are not very safe.