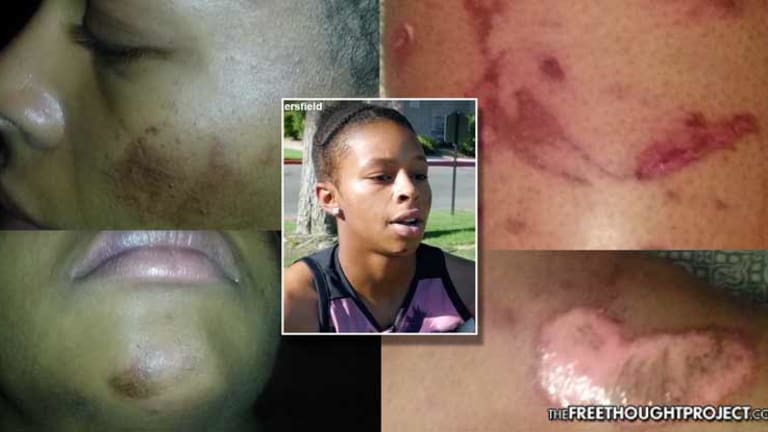 Cops Mistake Small Teen Girl for Large Adult Male, Beat & Sic K9 on Her
Grossly incompetent California police mistook a teen girl for a large black male armed with a machete -- beat and arrested her for no reason.
Bakersfield, CA - Tatyana Hargrove, 19, was recently assaulted by police because she was mistaken for a large man who was seen carrying a machete. Hargrove in no way matched the description of the criminal that the police were after, but they singled her out anyway, as she made her way home from a local store.
According to Hargrove, on June 18th she had walked to the nearby Wooden Nickel Trading Company on Ming Avenue to buy her father a present for father's day. However, she found that the store was closed when she arrived. Hargrove decided to go back home but on her way, she stopped for a drink from her water bottle since it was a very hot day.
That was when police swarmed around her with guns drawn, asking her what was in her bag. When she asked them why they wanted to search her and demanded a warrant, they became aggressive and threatened her with a dog. She handed over the bag, which had nothing illegal in it, and yet the police punched her in the mouth, allowed the police dog to bite her, and then arrested her.
Hargrove told reporters, "He put his other knee on my head, and I told him, 'I can't breathe, I can't breathe' and I started yelling out 'Somebody help me, somebody help me, they're going to kill me.'"
To make matters worse, after cops beat her and allowed their dog to maul her, she was charged with suspicion of resisting or delaying an officer and aggravated assault on an officer.
However, in a phone call with the family, the police admitted that this was a case of mistaken identity. Additionally, arresting officer Christopher Moore said in the police report that he didn't know Hargrove was a woman until after he had arrested her.
The person who police were actually after that day was a man named Douglas Washington. Washington was described as a bald man who was nearly 6 feet and 170 pounds. He was last seen wearing a white T shirt, dark jeans and a pink or red backpack. The man was reportedly wielding a machete and threatening several people in the same area of the store that Hargrove had visited.
Conversely, Hargrove is a young female that is just over 5 feet and roughly 115 pounds. She was wearing a white shirt, blue jean shorts and a black hat with a red backpack.
"She appeared to be a male and matched the description of the suspect that had brandished the machete and was also within the same complex the suspect had fled to," Moore said in the police report.
Moore went on to claim that she attempted to flee and push the police. Moore claimed that he believed the whole time that she had a machete in her bookbag, which is why he said he believed he was justified in using such an excessive show of force.
The Bakersfield police have refused to make a formal statment on the incent. However, BPD Sgt. Ryan Kroeker did tell reporters that criminal charges have been filed against Hargrove and that they dont believe that the officers used excesive force. The department will not even be launching an internal investigation into the actions of the officers involved.
NAACP Bakersfield chapter President Patrick Jackson made a statement on behalf of Hargrove saying that the family believes she was wrongly targeted and should not have any charges against her.
"It's becoming more and more of a pattern. She's never been in trouble before, and all of a sudden you're a heinous criminal in two seconds," Jackson said.