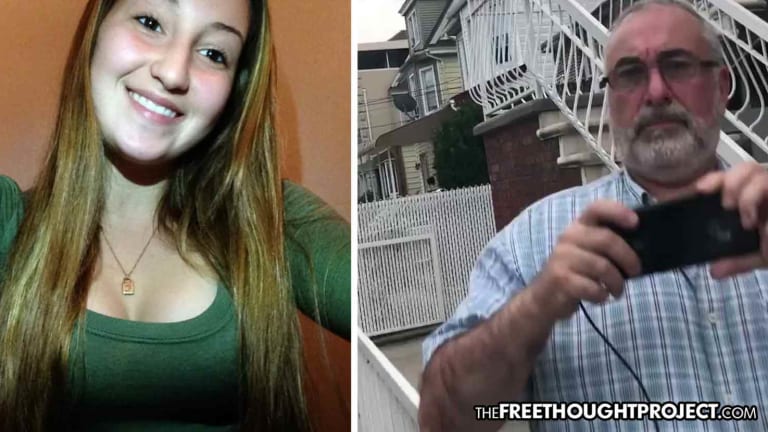 'Stupid B**ch!' Gov't Employee Promptly Arrested After Harassing Teen Who Was Raped by Cops
A NYC teen who accused two undercover NYPD officers of raping her while handcuffed is facing continual harassment for fighting her case.
New York, NY — A process server has been arrested for "impersonating an officer" after he served a subpoena to Anna Chambers, the alleged rape victim who says she was sexually assaulted when two undercover NYPD officers took her away from her friends in an NYPD van in September 2017.
Corey Guskin, 59, was caught on camera insulting Chambers apparently harassing her by not leaving her door steps after serving her with the legal documents. The video, which has now gone viral, shows Guskin recording Chambers as she insists he leave. He calls the alleged rape victim a "stupid bitch."
Chambers gained national attention to her case when she accused NYPD Detectives Richard Hall and Eddie Martins of raping her after they arrested her for marijuana possession on Coney Island Sept. 15th of 2017. As TFTP reported, Chambers used social media to voice her outcry for justice. She stated she was never actually arrested, just dropped off near the police station after she says Hall and Martins had their way with her, both men raping her while she was still in handcuffs.
Her friends were also told she was being arrested and could be picked up at the NYPD station. They were also allegedly told not to follow the van, a possible indication they had planned the rape beforehand.
The 19-year-old also said she was harassed and intimidated while at the hospital being treated for sexual assault. Officers would come by her room, appearing to be concerned about her welfare. We've interviewed hospital personnel who say police routinely do this when someone speaks out against their actions and accuses them of criminal activity.
With respect to Guskin, the process server claimed to be representing the Sheriff's Office. He said when asked to leave by Chambers:
Don't tell me what to do. I'm from the Sheriff's office, I can do whatever I want...Go screw yourself.
The middle-aged public servant (probably contracted by the courts through a company he works for) apparently knew who he was serving papers and may have developed an opinion about her case. This speculation is revealed when he brought up Chambers' heritage. He stated:
This isn't Russia, I'm not the KGB...You stupid bitch.
For Guskin, justice was swift. He was arrested on Friday the 10th of August and is soon to be arraigned for impersonating an officer. New York Sheriff Joseph Fucito said in a statement:
The Sheriff's Office takes impersonation of its officers very seriously. Impersonating a deputy sheriff damages the credibility and erodes public trust...Serving court orders is a critical component of the justice system and the Sheriff makes every effort to do so impartially, respectfully and professionally.
Chambers' interaction with the process server who works for the court system is just the latest in a long series of reportedly painful scrutinizing of her case alleging she was raped by Hall and Martins. Incredulously, the officers claim she consented to having sex with the two badge-wearing strangers. Chambers not only denies those claims but also is prosecuting the two officers for premeditated rape. As a result, every aspect of her life has been picked apart by lawyers for the officers. Both Hall and Martins were arrested and charged with raping the teen.
Defense attorneys filed a motion for the charges to be dismissed against the officers saying the sex was consensual. But Brooklyn Supreme Court Judge Danny's Chun wasn't having it. He ruled against the motion in April, saying:
I find no reason to review the grand jury minutes and no reason to dismiss.
The case against the two officers and the case against Guskin are proceeding. We at TFTP will keep you abreast of any updates in Chambers' quest for justice. Below is the video of the interaction between Chambers, her family, and Guskin. It's safe to say he's somehow connected to the ongoing harassment the teen has endured following her very public rape allegations.