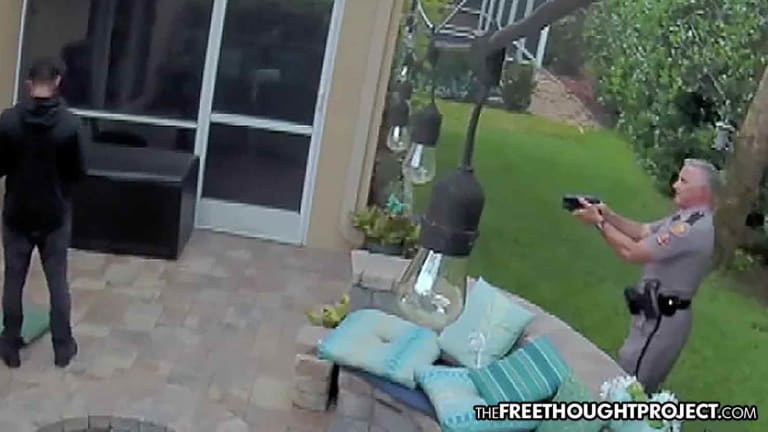 WATCH: Innocent 16yo Boy Tasered, Held for 21 Days for Waiting Outside His Girlfriend's Home
An innocent boy was waiting for his girlfriend to come outside when a crazed trooper tasered him for no reason and threw him in jail.
Fort Meyers, FL — Jack Rodeman is a 16-year-old boy who should be enjoying his summer vacation and spending time with his girlfriend. However, instead of enjoying his summer, he was tasered by a crazed cop and is currently being held in cage for children for the next three weeks. He committed no crime and harmed no one.
On June 16, Jack was walking to his girlfriend's home in a predominantly white neighborhood when Trooper George Smyrnios began following him — claiming Jack, who happens to be black, was a suspicious person.
Having done nothing wrong, Jack walked into his girlfriend's yard, like he's done countless times before. As he sent his girlfriend a text to let her know he'd arrived, however, Trooper Smyrnios tasered him, placed him under arrest, and kidnapped him.
The only thing Jack did was tell the trooper that he is trying to text the girl who lives here to prove he was doing nothing wrong. But Smyrnios did not care and deployed his taser anyway.
The taser strike caused Jack to fall backward onto the fire pit behind him. He hit his head so hard on the pit that it dislodged one of the bricks and it could've killed him. As Jack writhed in pain on the ground, Smyrnios tasered him again for good measure.
Jack had done nothing wrong and was merely texting his girlfriend to come outside when this crazed cop shot him with his taser — a complete violation of policy. As WINK reports:
Troopers are not allowed to deploy a Taser if the sole reason they are doing so is that someone is fleeing from them, the policy shows. By the time Smyrnios stunned Jack, he was just standing on his girlfriend's back porch trying to get her to come outside.

FHP policy states: "The use of a CEW (conducted electrical weapon) is authorized and may be an appropriate response in the case of a sudden attack, or when 'active resistance' or greater is offered by a subject who is about to be taken into custody for any reason."

Surveillance footage shows Jack was exhibiting passive resistance, which includes examples like "the subject refuses to move at the member's direction" or "the subject refuses to take his hands out of his pockets or from behind his back," according to the policy.
In other words, Smyrnios had no reasonable basis for the use of force and deployed his taser as an act of punishment against an innocent teen who was waiting for his girlfriend.
"The most egregious part to me is here's a kid who was offering no active resistance but passive resistance by being on his phone and texting and because he failed to comply with your lawful order, you shot him with a Taser and he fell and hit his head on a brick," said David J. Thomas, a professor of forensic studies at FGCU who is also a former police officer, according to WINK.
"If he goes and says let's put handcuffs on, then the kid starts to fight and resist, then you have a legitimate reason to use a Taser but you don't have a legitimate reason to use a Taser because the kids ignoring him and on his phone," Thomas said.
Jack's parents are now calling for justice and demanding their son be released. Jack's mother Kristina Rodeman said that Jack is in serious pain inside the juvenile facility which is from the fall.
"He is going to have to be X-rayed and looked at for any vertebral fractures without a doubt," Rodeman's attorney Derek Tyler explained.
Rodeman said that she has no idea if Jack is being treated for his injuries inside the jail.
"I hate it," Rodeman said. "I just want him to come home."
"I mean my son was just standing there on his phone," she said. "He wasn't reaching in his pockets. The officer there was no threat to that officer."
Tyler is calling this incident what it is, torture, and this trooper deserves to be held accountable. No child should be tasered for visiting their girlfriend.
"In this country, in this state, our criminal justice system should not … at all condone torture, especially of a child," Tyler said.