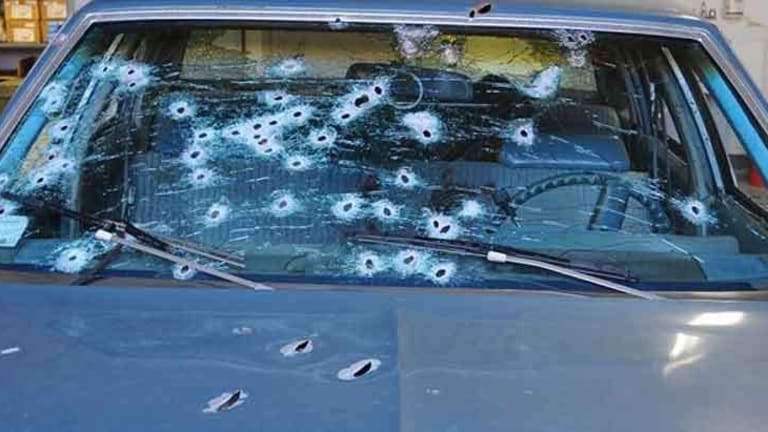 Text Messages Show Officers Who Shot 137 Rounds Into Car Knew Suspects Were Unarmed
One officer fired 46 of those shots, some as he stood on the hood of the car, knowing full well that his victims were unarmed, according to prosecutors.

Cleveland, Ohio – Officer Michael Brelo is preparing to stand trial for a November 29, 2012 shooting in which him and 12 other officers fired 137 shots at multiple unarmed victims.
Brelo stands accused of firing 46 shots, some while on the hood of the victims' car. The shooting resulted in the deaths of Timothy Russell and Malissa Williams, two unarmed victims who fled a traffic stop.
Brelo claims that he is innocent, but prosecutors are accusing him, his attorney and the police union of a massive coverup.
Brelo and one of the other officers involved in the murder that night, James Hummel, exchanged text messages just after leaving the scene of the crime. The officers openly discussed being aware that the victims were unarmed.
According to Cleveland.com:
In the hours following the shooting, Patrolman James Hummel sent texts in which he said "they all knew" neither of the victims had a gun - that the officers had mistaken a silver can of soda pop for a weapon, prosecutors said.

The texts said that what some of the officers had suspected were gunshots were actually backfires from the fleeing car, that Brelo "was going to be in trouble," and that "everyone knew Brelo did something wrong," prosecutors said.
Throughout the course of the investigation, the police union reportedly told the officers involved to deny any wrongdoing in the case and to remain silent in front of prosecutors.
"Hummel asked they not be present, didn't feel comfortable talking in front of them," Assistant County Prosecutor Sherri Royster said in court.
This week, the prosecution requested that defense attorney Pat D'Angelo be removed from the case because he was involved in the cover-up, and that would represent a conflict of interest.
Brelo's trial is scheduled to start in April, where he will face charges of voluntary manslaughter. If convicted, he could be sentenced to a maximum of 22 years in prison.
John Vibes is an author, researcher and investigative journalist who takes a special interest in the counter culture and the drug war. In addition to his writing and activist work he is also the owner of a successful music promotion company. In 2013, he became one of the organizers of the Free Your Mind Conference, which features top caliber speakers and whistle-blowers from all over the world. You can contact him and stay connected to his work at his Facebook page. You can find his 65 chapter Book entitled "Alchemy of the Timeless Renaissance" at bookpatch.com.