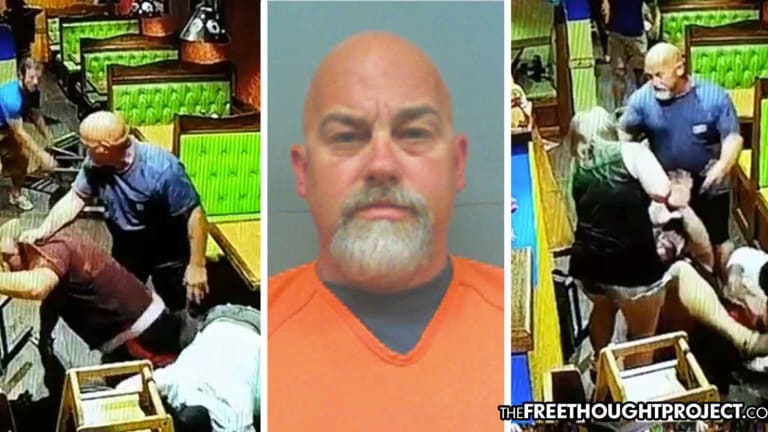 Top Cop Arrested After He Snaps in a Restaurant, Begins Beating Men and Women Alike
A top Florida police officer was caught on video this week, blowing a fuse in a restaurant and attacking the innocent patrons for no reason.
Blountstown, FL — A Lieutenant with the Blountstown police department, his son, and their friend have all been arrested this week for attacking people inside a restaurant. The entire incident was captured on the restaurant's surveillance camera and clearly shows the aggressor—the cop.
While the local media is claiming the officer was arrested after "getting involved in a fight," Lt. Tim Partridge was the sole instigator of said "fight" who began attacking innocent patrons who were not a threat.
In the video, Tim Partridge, who was eating with his son, Scott Partridge, 23, hops up and appears to be agitated by the other patrons in the restaurant. He starts waiving his arms around, yelling at the group of young people who were causing harm to no one.
After he yells at a group of folks across the bar, the then turns around and focuses his attention on a man sitting in a booth behind him. Then, out of nowhere, he slaps the unsuspecting man in the face before shoving him into the wall.
That's when Partridge's son steps in and pulls his dad off the innocent restaurant patron. The pair leaves and the incident appeared to be over. However, moments later Partridge's son comes back in and attacks the folks sitting in the corner.
After Scott Partridge begins attacking a man in the corner of the restaurant, his dad runs back in and punches a woman several times before attacking the man his son was fighting with.
Friends of the victims tell TFTP that they are regular patrons at the restaurant and noted that they would never hurt anyone.
While it does appear that the victims may have been laughing and joking, it was 2:30 a.m. in a restaurant open to people after the bars close. It's not exactly a library. Nevertheless, it was enough to cause this father and son duo to snap.
After they committed assault and battery on multiple innocent individuals, the Partridges and their buddy left the building. The assaulted restaurant patrons then called the Franklin County Sheriff's office who sent a deputy out to investigate.
Luckily for the victims, there was video of the incident. Otherwise, it would have been the officer's word against the victims'—and we've seen how that one plays out.
The next day, Partridge, his son, and a third man, Joe Colson were all arrested.
Partridge is charged with four counts of battery. His son is charged with one count of battery and property damage, for the hole he put in the booth with the man's head.
Blountstown Police Chief Mark Mallory told local media that Partridge has since been placed on paid administrative leave. He was released this week on a $2,000 bond.
As you watch the video below, remember that the chief instigator of this situation was a police officer. Granted, he was off duty, but that is irrelevant when it comes to initiating violence against innocent people.
No matter what was said in this restaurant, what this cop and his son did is wrong. Even other police officers agree. According to a police officer who commented on Facebook, "it does not matter what was said. Someone can run their mouth all they want...you violate the oath you took once you put hands on them first. If they touch me, then that's self defense. We as police officers are held to higher standards. A LT. knows better. He's not a rookie."
We agree. Hopefully this officer gets the accountability he deserves, especially considering the fact that residents have told TFTP that Lt. Partridge has a history of doing this. This just happened to be the first time it happened on video.
BPD Lt. Tim Partridge altercation

Security video of BPD Lt. Tim Partridge and son in altercation at Eastpoint restaurant that resulted in their arrests. (Please note the time stamp on the video is not correct; this occured at 2:30 a. m. Friday. Read the story in Wednesday's Calhoun-Liberty Journal print edition.

Posted by CLJNews on Tuesday, June 11, 2019
While this case may seem outrageous, TFTP reported on an even more disturbing incident last year. A Texas deputy was fired and charged with multiple crimes after a nightmarish scene unfolded at a barbecue restaurant in March. Restaurant patrons reacted first with shock and then with violence as deputy Jack Danford—unprovoked—attacked an innocent 12-year-old girl with autism as she reached down to pet a puppy.
In that case, the restaurant patrons jumped in to stop him.