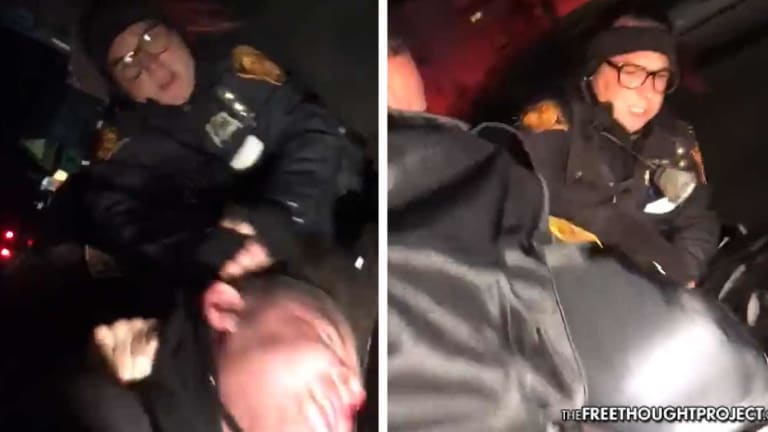 'Get Back or You're Next': Cops Threaten Mom for Asking Them to Stop Bashing Her Son's Face
As a mother pleaded with police to stop repeatedly punching her son in the face over a traffic stop, one officer felt it necessary threaten her too.
Bridgeport, CT — A family is horrified and is seeking justice after watching multiple police officers manhandle and punching a teen in the face multiple times during a routine traffic stop. To make matters worse, the cop doing the punching threatened the mother of the teen for asking officers to stop.
An internal investigation is now underway after video of the incident surfaced and subsequently went viral on social media. In the short video, we see 18-year-old Aaron Kearney held up against a vehicle by several cops as a female officer repeatedly punches him in the face.
"Don't hurt my son," Kearney's mother cries to police. "You're punching my son."
"I am," a female officer is heard responding, "get back."
That unidentified female officer is the one who refuses to stop punching Kearney in the face.
"Why is she fucking my son up?" the mother asks.
She's then met with a response from the same officer, "get back or you're next."
While it certainly appears that Kearney is struggling, it is important to note that it is particularly hard to remain entirely still as you are getting punched in the face.
Bridgeport Police Chief Armando Perez said he placed several officers on administrative status while the Office of Internal Affairs investigates.
As FOX61 reports, they spoke exclusively with Kearney's aunt Tiffany Elliott.
"That's what we have a serious issue with right now because you should not be in law enforcement if you're threatening people like that," Elliott said. "By saying "you're next," is she next to get beat up? Is she next to be detained for no reason at all? We don't know what she meant by that, but it was wrong."
According to Bridgeport police, this entire incident began over a minor traffic accident involving Kearney on Friday around 9:30 pm. According to police, they found out that Kearney's license was suspended and told him that he'd have to appear in court over the alleged infraction. Police then claim Kearny "became outwardly belligerent and violent towards the officers, who then felt the need to call for backup."
Bridgeport Police said the video raises "serious questions," about tactics used during the arrest resulting in an immediate internal investigation, according to FOX 61.
"The Bridgeport Police Department takes this incident very seriously and our primary concern is always for the safety and protection of every resident of our city," A Bridgeport Police Department spokesperson wrote in a statement Saturday. "However, if there was a violation of police arrest protocol or excessive use of force, we will get to the bottom of it and provide accountability for the department and our community."
"I really don't think she should be in law enforcement, she needs to have some kind of evaluation done, because it was too much, it was really excessive force," Elliott said of the officer in question.
Ironically enough, Kearney comes from a family of cops. Elliot told FOX 61 that Kearney's grandfather was a Bridgeport Police officer for nearly four decades. She said her mother also retired from Bridgeport Police and her step-brother is a former New Haven Police captain.
"There are several good cops out there," Elliot told FOX61. "I mean, cops are there to help us and we know that but there are a few that I think are using their badge the wrong way and that's what we need to put a stop to."
Kearney's family said that he has never had any trouble with the cops and has actually attended summits with Bridgeport Police Chief Armando J. Perez to help improve community relations. He was also the captain of the High School football team from which he just graduated.
Now, after this escalation of force, this former high school football star is facing charges of breach of peace and assault on a police officer—over a traffic stop.