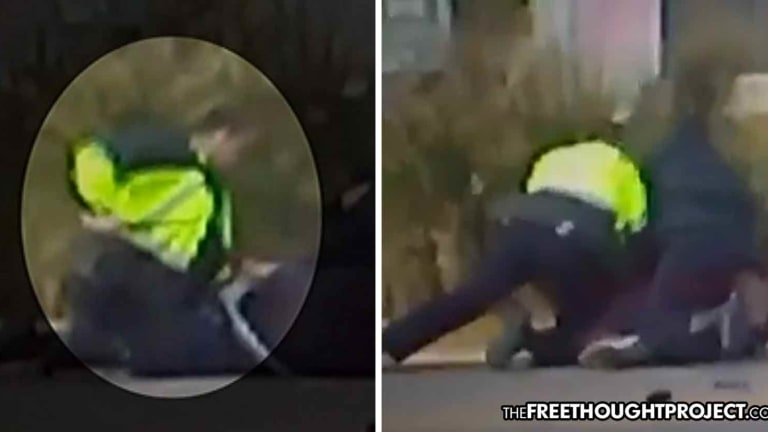 Graphic Video Shows 2 Cops Savagely Beat a Woman With Baton and Fists Over Traffic Stop
Witnesses were horrified when they watched a woman get thrown to the ground and beaten by two cops during a traffic stop.
Tuscaloosa, AL -- A disturbing video was uploaded to Facebook over the weekend showing two Alabama cops beating a woman for over a minute during a traffic stop. The violence in the video was reportedly so over the top that police are now investigating the use of force.
The incident happened about 7 p.m. Friday in the 1700 block of McFarland Boulevard when the officers pulled over a woman over an alleged traffic violation.
The video was taken by a witness who was in a nearby establishment. According to the woman who took the video, who wishes to remain anonymous, she felt helpless as police threw Jhasmynn Alexiss Sheppard to the ground and began beating her with fists and a baton.
"She's already on the ground. You have two male cops with a female. I feel like the baton and the punching should've never happened," she said.
As the video shows, the two officers are on top of Sheppard when one of the officers pulls out his baton and begins beating her.
The woman who recorded the video said the incident appeared to be a normal traffic stop at first, but then quickly turned violent.
According to police, Sheppard was suspected of a hit and run and when she was pulled over, she resisted officers and attempted to go for one of their weapons.
"I don't know what was said. She proceeded to grab for something and I guess she hit him in the private area," the woman said.
After the woman moved toward the officer's midsection, that's when she was thrown to the ground and beaten with the baton.
"It was several times I wish I could've gone outside and said, 'Just do whatever they tell you do,'" said the woman who recorded the video.
The woman explained to WBRC that she was grateful Sheppard was not killed that day.
"When you get arrested or you get stopped by the police, do everything that they ask you to do. Do not try to fight them. Do not try to grab their guns. Do not try to do anything to them because it could've been a worse situation than what it was," she said.
According to the report, Sheppard is charged with resisting arrest, assault and disarming law enforcement. She's being held on $22,000 bond.
How, exactly, two large police officers couldn't take a woman into custody without having to resort to beating her with a baton and fists is unclear. This question has since sparked an internal investigation.
Tuscaloosa police on Saturday released this statement: "The Tuscaloosa Police Department is aware of the video released on social media involving our officers during an arrest on Friday, April 19, 2019. We take this matter very seriously and have begun an investigation to determine the full details of the incident. We will release the findings once the investigation is complete."
" width="560" height="315" frameborder="0" allowfullscreen="allowfullscreen">