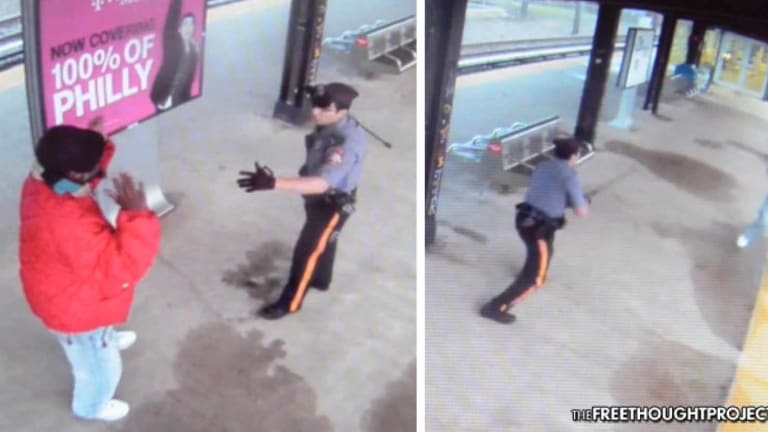 WATCH: Crazed Cop Beats Innocent Man With a Baton, Forces Him Onto Electric Train Tracks
For accidentally getting off at the wrong train station, an innocent man was beaten, pepper sprayed and nearly electrocuted to death.
Cherry Hill, DE — Ryan Patterson of Philadelphia was visiting a friend last year when he got off on the wrong train stop. As he sat and waited for the next train, however, he was approached by a tyrant cop who began beating him with a baton and pepper spraying him. Eventually, the violent cop would force Patterson onto the electric train tracks almost killing him.
The entire incident was started because Patterson accidentally got off at the wrong train stop. Patterson had bought a round-trip ticket to Haddonfield and was returning to Philadelphia but had gotten on a train going in the wrong direction. He had committed no crime and had harmed no one when a cop with a short fuse decided to make his life a living hell.
According to Police documents, Port Authority Transit Corp. Officer Michael Fiocca followed Patterson to the westbound platform about 7:45 p.m. and asked for his ticket. Patterson responded angrily, according to the report, but showed the officer his ticket, which was not for Woodcrest Station, and then showed him identification.
At this point, Fiocca should have let Patterson go about his business. However, he decided to try to arrest him for no reason instead. Patterson, not wanting to be unlawfully kidnapped by this crazed officer, remained seated, noting that he wanted to simply get back on the correct train and continue to his destination.
Again, at this point, the officer — who had no legal basis for arrest — should've walked away. Instead, he chose to pepper spray Patterson in the face.
After he was hit with a chemical agent for refusing to be unlawfully kidnapped, he stood up and backed away with his hands up. At no time, during the entire interaction, did Patterson ever pose a threat or try to harm the officer.
However, the officer, who described Patterson as "much larger than me in stature and weight," escalated force once again and began beating Patterson with his baton. Again, Patterson remained calm and simply stated that he is not under arrest.
Patterson then sat down again, at which point the officer began hitting him. This time, however, having been beaten about his legs and lower body—and, after being pepper sprayed a second time—Patterson lost his balance and fell onto the electric tracks below.
Had Patterson landed on the actual tracks, and made contact with the rail's electrical current, he would have been fried instantly.
Seemingly realizing he'd messed up big time, Fiocca went from hurting Patterson to helping him and called in other officers to hoist him up back onto the platform.
Patterson was taken to Kennedy-Stratford Hospital and was released with a citation for resisting arrest and disorderly conduct. Both of these charges would be dismissed once authorities saw the video. And instead of Patterson getting in trouble, the Delaware River Port Authority fired the PATCO transit officer in September 2016 after initially suspending him.
"We have made a determination that the incident reflects actions inconsistent with our organizational core values and in direct conflict with the high standard of conduct we demand from our law enforcement officials," DRPA CEO and PATCO President John Hanson said in a statement last year about the decision to fire Fiocca.
This week, Ryan Patterson filed a lawsuit against the former police officer in the Court of Common Pleas.
"Unfortunately this type of officer misconduct reaches all of our communities with increasing regularity," said Thomas Fitzpatrick, an attorney representing Patterson. "We will fight for justice for Mr. Patterson and others like him who have their rights violated by those that swear to protect them."