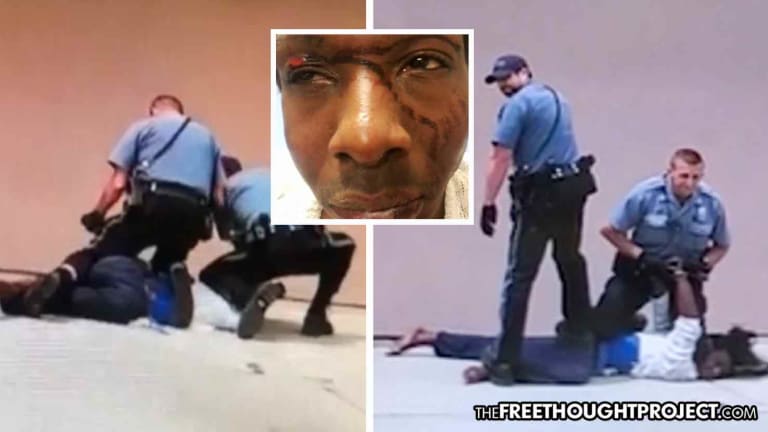 'You Could Hear Bones Breaking': Cops Charged After Violent Arrest of Transgender Woman
A year after they violently arrested Brianna Hill, two officers have been charged with crimes for repeatedly kneeing her in the face, ribs, and torso.
Kansas City, MO — In an extremely rare move, two officers were charged this week after they were caught on video in a violent arrest of a transgender woman. Unfortunately, for the family of the victim, however, they don't think the charges go far enough.
After Brianna Hill was beaten during a violent arrest last year, she was murdered a few months later in a senseless shooting. Naturally, her family is still grieving. They originally thought they could take solace in the fact that the officers who beat Hill on May 24, 2019, would face accountability, but it was announced that the charges were just misdemeanors.
"We miss Brianna, we really do," said Rena Childs, Hill's aunt.
According to KSHB, on Friday, Jackson County Prosecutor Jean Peters Baker announced charges against KCPD Officers Matthew Brummet and Charles Prichard after a grand jury hearing. Hill's family said justice was not entirely served.
"No, they shouldn't have gotten a misdemeanor," Childs said. "It should have been a felony. It should have been aggravated assault. You don't treat a human being like that."
The incident unfolded in May of 2019 when police responded to a disturbance outside of a beauty supply store. When the officers showed up, all hell broke loose.
Brummett and Prichard were seen on video slamming Hill's face into the concrete before kneeing her repeatedly in the face, torso, and ribs, before violently forcing her arms over her head while her hands were cuffed behind her back.
"You've seen the videos and you look at the videos and there's only one conclusion," attorney David Smith, who represents Hill's family, said.
Naturally, the police union, who appointed attorneys to represent the two officers, disagrees and claim that the tactics used against Hill that day were well within policy. They released the following statement in regard to the video.
Officers Matthew Brummett and Charles Prichard were made aware of the misdemeanor charges late today related to their arrest of Brianna Hill on May 24, 2019. Both officers have fully cooperated with the Department during the entire investigation. They maintain that the force they used was reasonable under the totality of the circumstances. They vehemently dispute the basis of these charges and believe they will be ultimately exonerated in Court.
The department agreed and when they investigated themselves after the original complaint, the officers were cleared, only to be charged a year later.
KCPD Chief of Police Rick Smith announced late Friday that he has placed Brummett and Prichard on "administrative assignment until the outcome of the proceeding" in a statement.
He said he takes his obligation "to hold officers accountable when the facts call for it" seriously, but noted that a KCPD internal investigation found "no probable cause to conclude the officers broke the law."
The investigation claimed Hill caused the injuries to herself.
Apparently, failing to hold their officers accountable at this department is a frequent occurrence. As KSHB reports:
Peters Baker took exception to the department's handling of the investigation and another incident in which a KCPD officer shot and killed a civilian in letter to Smith last month. She alleges that KCPD has refused to cooperate as her office sought to review the cases for charges by not providing probable cause statements when requested.
"The prosecutor's office asked for the department to issue a probable cause statement," Hill's family attorney David Smith said. "It happens every day. Whether the officers think there's really a crime or not, they do this ... and they refused. They made the prosecutor go to a grand jury. That's absurd. Chief Smith should resign."
KSHB reached out to a friend of Hill, Roderick Reed who filmed the interaction on that afternoon in May, he said you could "hear bones breaking."
"Like Brian's life meant nothing," Roderick said. "It was so disturbing, so I had to capture it even if it meant my life. He [Hill] was screaming for help, 'God help me, God help me,' and I couldn't help him because they're the law."
As for the rest of Hill's family, they are still demanding justice.
"They don't deserve to be on the police force at all," Childs said, "and everybody has a right -- has to be treated as a human being. She is missed, but justice will be served. Justice will be served."