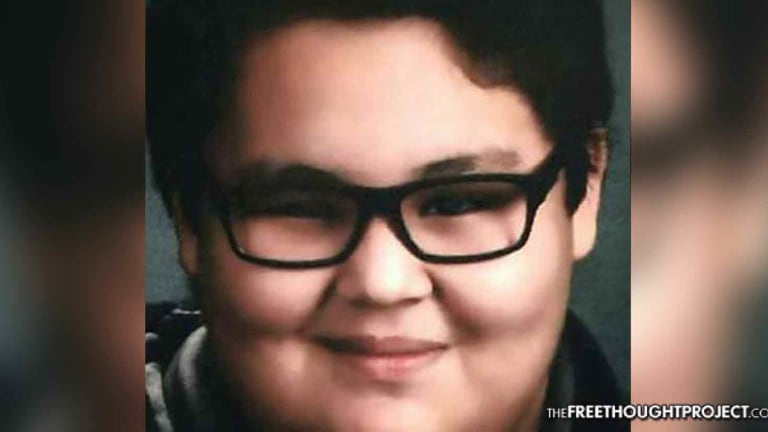 Tribe Outraged As Cop Who Killed 14yo Native American Boy Escapes Charges
A police officer was just ruled justified after he shot and killed an 8th-grade Native American boy, prompting outrage from the tribe who is demanding justice.
ODANAH, WI -A 14-year-old boy was shot and killed on Bad River Indian Reservation in northern Wisconsin by a sheriff deputy in November leaving the family and the community in shock. Now, two months later, the community is outraged again after learning that the officer who shot the boy was ruled justified in the shooting.
The boy's name was Jason Pero and his family says he didn't have to die.
Over the weekend, the tribe's people took to the streets to protest the decision to not criminally charge Ashland County Sheriff's Deputy Brock Mrdjenovich who shot and killed Jason. Dozens of protesters lined US Highway 2 in Ashland holding signs that read "Justice for Jason."
Sadly, however, it appears there will be none.
As WPR reports, St. Croix County District Attorney Mike Nieskes wrote in a letter Friday to state and county law enforcement, concluding the deputy's actions were "justified for the circumstances he found himself in and that there is no criminal liability for the death of the juvenile."
The family says that there was no need to kill the troubled boy and the officer merely aided the 8th-grader in suicide.
"There had to have been other avenues to take to resolve the situation," Jason's older cousin Curtis Gauthier said. "Nobody had to die." 
"He had a taser on him. He had pepper spray. He could've called for backup," Jason's older cousin Renee Pero said of Mrdjenovich. "He was so quick to bring the gun out and shoot. I don't believe that's right."
That fateful night, Jason, who'd been struggling with suicidal thoughts allegedly called 911 to initiate a 'suicide by cop.' He was 'armed' only with a kitchen knife.
Mrdjenovich claimed Jason walked toward him with the knife and he had no other choice but to open fire, killing the 14-year-old boy. Apparently backing up wasn't an option for the officer.
As TFTP reported at the time, police kept the family in the dark in regards to the case. No details were released despite Jason's mother, Holly Gauthier demanding to know exactly what happened. Now, this ruling serves to further this grieving mother's pain.
As WPR notes, toBad River Tribal Chairman Mike Wiggins, the report seemed to focus more on Jason rather than Mrdjenovich. Wiggins took issue with the references to the presence of fentanyl in the teen's system, noting he felt there should have been more analysis of the deputy's response to the 911 call.
"Those kinds of things on the officer action side of the coin aren't given the scrutiny and the analysis compared to the way they're putting Jason out there," Wiggins said. "What's happening in our community is happening all over the nation. It's not a phenomena. It's not a trend. It's a one-time incident. It's a subjective, life-changing thing for every community and every family that's got to experience it. It's got to stop. I'll be the first to say it. There are deadly force scenarios that occur in law enforcement contacts. This doesn't rise to this type of scenario in my mind."
Unfortunately, according to the District Attorney, no video of the incident exists and there are no independent witness accounts. Essentially, the cop said he needed to kill the middle schooler and the state believed him.
Now, the mother of the slain 8th grader will have to live the rest of her life knowing that the person who killed her son is still on the streets 'protecting' others.
As TFTP had previously noted, the racial group most likely to be killed by law enforcement is Native Americans. While Native Americans only make up 0.8 percent of the population, they make up 1.9 percent of all police killings—a fact conveniently ignored by the media.
According to a report by the Lakota People's Law Project, 
Despite gaining citizenship rights in 1924, Native Americans have yet to see the day that they enjoy benefits of a nation which boasts "liberty and justice for all."

Unsettling reports of unfair treatment towards Native peoples by law enforcement are not isolated incidents—rather they are endemic of a deeply discriminatory justice system. Native American men are admitted to prison at four times the rate of white men and Native women at six-fold the rate of white women. Additionally, Native Americans are the racial group most likely to be killed by law enforcement.
Jason Pero now adds to this statistic.