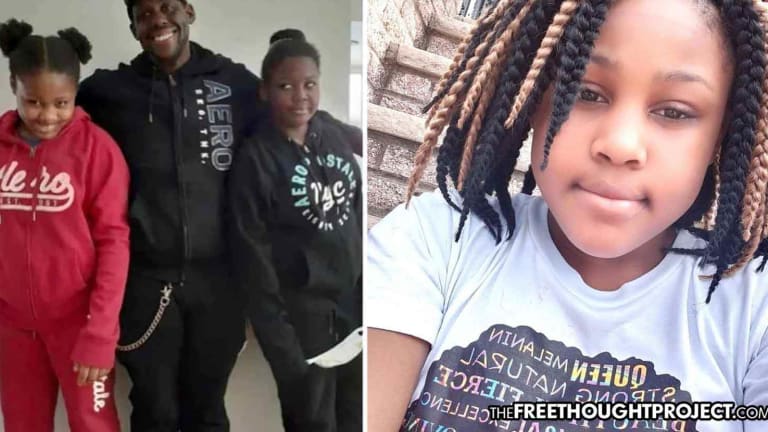 Cop Rams Family's Car Over Speeding Ticket, Causes It to Flip, Killing 11yo Girl
To enforce a speeding ticket, a NY state trooper repeatedly rammed a family's SUV causing it to crash, killing their 11-year-old daughter.
New York, NY — As the Free Thought Project reports on a regular basis, police in the land of the free will go to violent and often deadly extremes to enforce even the most arbitrary "law." If police claim to see you break one of these arbitrary laws like speeding, they claim the right to detain and extort you. If you choose to resist this extortion, police will then claim the right to kidnap you. And, as the following tragic case out of New York illustrates, if you resist this kidnapping, police will use deadly force, including against children.
Tristin Goods learned this hard lesson in December when he was stopped for speeding while visiting family. Moments after he was targeted, his 11-year-old daughter would be taken away in a body bag.
Because the state claims the right to extort, kidnap, and cage people for driving faster than the posted speed limit, Goods was targeted by police for extortion that fateful night. Like he is supposed to do, Goods pulled over when the cop got behind him. However, according to Goods, the cop became irate and abusive during the stop.
"What did I do? What threat did I pose?" Goods, 39, explained to the NY Daily News.
"It is just so hurtful. The guy was crazy," he said of the trooper. "It's illegal what he did."
According to Goods, he and his wife April, and his two daughters, Monica, 11, and Tristina, 12, were on their way to visit family when a New York State trooper pulled them over. During the stop, Goods says the trooper lost it.
"He was screaming at me, 'You were going 100 miles per hour and you shook my car!'" said Goods.
"I said 'The tractor trailer in front of me shook your car.' I had my hands on the steering wheel. I didn't get out of the car. I was no threat him," Goods said, adding that the trooper's attitude was threatening, so, "I asked for a supervisor."
The trooper then began demanding to know if there were "guns or drugs" in the car — occupied by a husband and wife and their two children.
"My wife said she was tired, and he said, 'I don't give a s--t if you're tired,'" Goods said.
According to Goods, the trooper then walked back to his cruiser before returning and dousing the inside of Goods' vehicle with pepper spray without warning.
"He didn't warn us he was going to use pepper spray," Goods said. "He didn't say 'Get out of the car' or 'You're under arrest.'"
With his daughters screaming in horror in the backseat and his wife crying, Goods said he made the decision to get out of there, fearing that this cop was about to kill him or his family member. He was tragically correct.
"I didn't know what he was going to do next," Goods said. "I was like, 'Holy s--t. This guy is going to kill me now.'"
After Goods took off, Trooper Christopher Baldner got into his cruiser and gave chase. Like a maniac, Baldner began ramming the family's car — over a speeding ticket. Goods said he rammed it the first time and he maintained control but after he rammed it a second, the family's SUV began tumbling down the interstate.
Monica, the Goods' 11-year-old daughter, was thrown from the vehicle and died at the scene.
Goods sat in handcuffs in the back of the trooper's cruiser as he watched medics haul away his daughter in a body bag.
Even after killing their child, Baldner continued to demand to know if there were any guns or drugs in the car. There were none.
After the trooper caused the crash and killed the child, they released a report stating that "a collision occurred" between the trooper and the Goods family, which caused Goods' vehicle to overturn, clearly misrepresenting the facts of the case.
"We are confident that our clients' accounts of what happened are consistent with the scientific evidence and the forensic evidence from the scene," said Goods' lawyer, Joseph O'Connor.
State Attorney General Letitia James announced an investigation into the death on Dec. 28. and state police spokesperson William Duffy told the Times News Express that Baldner remains assigned to desk duty.
"This should have been a traffic ticket," said O'Connor.
Indeed. But since the state's only tool is violence or the threat of, that traffic ticket turned into child murder.