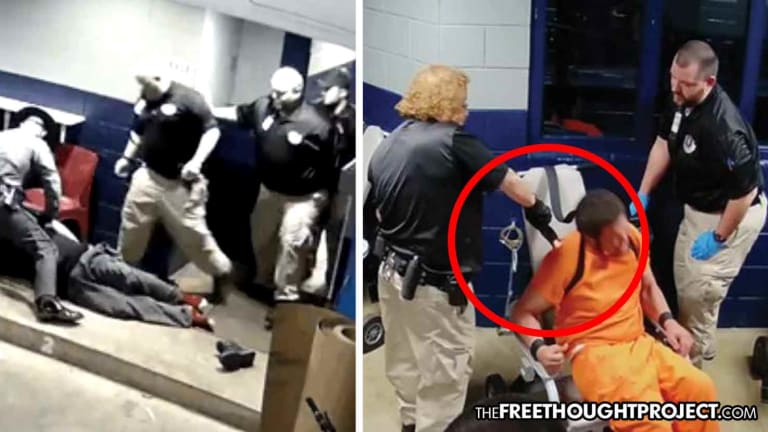 Horrifying Video Shows Cops Restrain, then Beat, Taser, Torture Innocent Mentally Ill Man
For walking down the highway to visit his son on his birthday, an innocent mentally ill man was kidnapped, beaten, tortured, and caged for 11 months.
Louisville, KY — An utterly sickening video and still shot from a lawsuit have been released this week showing what amounts to the torture of an innocent mentally ill man by Kentucky State Troopers. According to the lawsuit, because the troopers kept the video secret, Timothy "Michael" Heston spent 11 months in jail for no reason.
The lawsuit claims State Police Trooper Aaron Tucker "attacked Michael, who is bi-racial, without provocation, warning or justification and then fabricated a report about the assault." Heston's attorneys have the video evidence and police reports to back up their claims.
According to police, Heston — who is diagnosed with schizophrenia — was arrested for simply walking down the interstate and not cooperating with the cop who stopped him.
Heston, who was diagnosed with schizophrenia when he was 20, was walking along I-65 in Bowling Green on March 17, 2019, attempting to get to Tennessee for his son's birthday, according to the lawsuit.
Like most people with schizophrenia, when Heston was approached by someone who began barking orders at him, he became scared. He was subsequently kidnapped by police and brought to jail on a multitude of charges stemming only from his interaction with police — not on any actual crimes he had committed.
Heston's torture started the instant he got to the station. As he is being walked inside the jail, while in handcuffs, the trooper begins punching him in the head after Heston appears to trip. Trooper Tucker then starts deploying knee strikes and kicks as Heston — who is handcuffed — poses no threat whatsoever.
"Instead of steadying Michael, Defendant Tucker forcefully threw him in a corner against the wall," the suit claims. "Immediately thereafter, Defendant Tucker began brutally attacking Michael, who was handcuffed and unable to defend himself."
The suit claims the trooper also struck Heston in the face with a pair of steel-toed boots that Heston had been carrying when arrested.
In Tucker's report, he would falsely claim that Heston presented a threat.
As WDRB reports:
Tucker wrote in a citation that he arrested Heston after observing him walking on the side of Interstate 65 in Warren County; Heston allegedly threatened the trooper when he stopped to talk to him, according to court records.

When the trooper took Heston to jail on charges of terroristic threatening and resisting arrest, among other charges, Heston "tensed up" when he was taken out of the cruiser, resisted, attempted to spit on Tucker and "used his head to hit me," according to the arrest citation.

"After the altercation had ensued, I was able to regain control of the above offender by placing him on the ground," Tucker wrote.
Though the trooper made these claims of spitting and resisting, in the video, obtained by WDRB News, Tucker gets Heston out of the cruiser and, after walking him to the door, Heston seems to weave or stumble and the trooper punches him in the face, pins him against the wall and hits him with his fist several more times. Tucker also knees the defendant in the face and chest several times before taking him to the ground, the video shows. Heston was handcuffed behind his back.
At no point do we see Heston turn around to even be able to attempt to spit on the trooper. Still, as the video shows, multiple cops wheel in a restrain chair and put the innocent mentally ill man into it after he had just been brutally beaten.
He is then tortured with a taser, unable to fight back as the sadistic cops continue to run thousands of volts through his body.
The lawsuit says the two jail employees, Melissa Causey and Andrew Cooper, began "tasing a restrained, mentally-ill individual … out of dislike for his demeanor."
This type of treatment would be nightmarish for anyone. However, for a schizophrenic, it must have been unimaginably horrifying and judging from the fact that Heston went completely psychotic while in jail, it was.
Only after the video was discovered did the KSP conduct an investigation and fire Tucker. However, he was never charged with a crime, despite committing at least a half dozen violations on video.
After he spent 11 months locked in a cage for trying to visit his son on his birthday, all the charges against Heston were dropped and he was released. But the damage is likely irreversible.
"Michael was definitely not the instigator nor was he able to physically protect himself from the physical assault Officer Tucker inflicted upon him," said attorney Amy Staples, who represents Heston along with Elliot Slosar. The video "took my breath away."
We agree. Below is a video that we would like to report is an isolated incident. Sadly, however, TFTP has reported on multiple incidents in which people have been horrifically tortured by police while completely restrained. If you truly want a glimpse into the horrifying torturous acts of cops doling out punishment on restrained individuals, click this link.