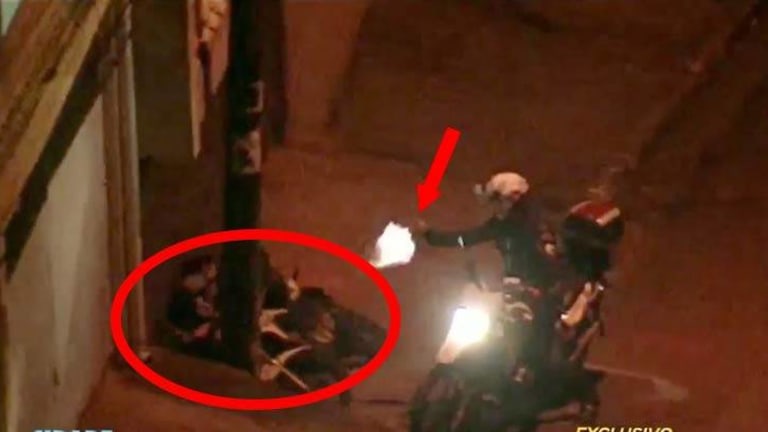 Cop Shoots Two Unarmed Teenagers, who had Just Crashed, at Point Blank Range, On LIVE TV
An officer is caught on LIVE TV rolling up to two incapacitated teens and firing multiple rounds into them as they lay on the ground.
Sao Paolo, Brazil - Brazil is one of the only countries on the planet with a more serious police brutality problem than the United States.
According to a recent study from the Brazilian Forum on Public Safety, police in Brazil have killed over 11,000 people between the years of 2009 and 2013. These numbers average out to roughly six killings per day, which is more than double the rate that is seen in the United States.
In one of the most recent and high-profile cases of police brutality, a police officer shot two teenage theft suspects in front of a television news crew. The shooting occurred just after a high-speed chase, where the officer was hunting down the teenagers under suspicion that they stole the motorcycle that they were traveling with. It has not yet been confirmed whether or not the teens were actually guilty of theft, but this is what was suspected by the officer.
In the video, one of the suspects can be seen throwing their helmet at the pursuing officer, as they attempted to evade him during their chase through the streets.
After a quick chase, the suspects ended up crashing the motorcycles and landing on the sidewalk. When the officer approached seconds later, it was obvious that they were not moving and were injured, but the officer fired several shots at close range anyway, even though they obviously posed no threat.
The two men ages of 16 and 17 were taken to nearby hospitals. And the police officer who shot them was arrested later that same night.
According to news reports, one of the men was wounded by three bullets, one in the buttock and two in the leg and is in stable condition in the hospital. The Secretary of Public Security, Alexandre de Moraes, said the police committed "serious irregularities." Internal Affairs immediately began an investigation.
John Vibes is an author, researcher and investigative journalist who takes a special interest in the counter culture and the drug war. In addition to his writing and activist work he organizes a number of large events including the Free Your Mind Conference, which features top caliber speakers and whistle-blowers from all over the world. You can contact him and stay connected to his work at his Facebook page. You can find his 65 chapter Book entitled "Alchemy of the Timeless Renaissance" at bookpatch.com.