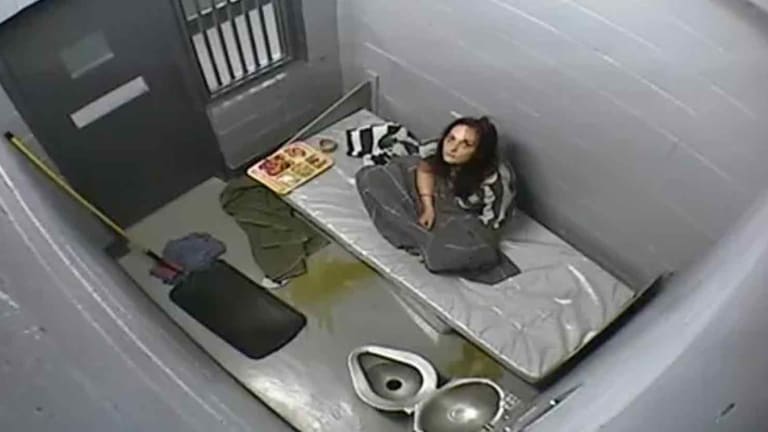 Woman Dies In Jail Over Unpaid Traffic Tickets, Begging for Help as Officers Ignored Her
A 21-year-old woman spent her last moments alive convulsing, vomiting, and begging for help in jail for traffic tickets as officers ignored her.
Mineral County, NV — (RT) Unpaid traffic tickets saw a Nevada woman in jail, where she began to suffer drug withdrawals and seizures. Days later she was dead, after being denied medical care.
A report by state investigators, published this week and revealed by the Reno Gazette Journal, found that staff at Mineral County Jail violated multiple policies by denying 21-year-old Kelly Coltrain medical help, even after she informed them she was dependent on heroin and would suffer seizures without the drug.
In a days-long ordeal caught on her jail cell's CCTV camera, Coltrain vomited and shook as her condition worsened. Officers rejected her pleas for medical help, instead handing her a mop and bucket to clean up her own vomit.
Coltrain died in her cell, and her body lay motionless for six hours before her jailers realized what had happened. Officers made no attempt to resuscitate her, and did not call for medical assistance until the following morning.
Investigators have asked the local District Attorney to consider pressing charges against the officers involved for inhumane treatment of a prisoner. To avoid a conflict of interest, investigators also passed the report to the district attorney's office in neighboring Lyon County, which found no reason to press any charges against the officers.
"The review of the case, in our opinion, did not establish any willful or malicious acts by jail staff that would justify the filing of charges under the requirements of the statute," District Attorney Stephen Rye said.
Furious, Coltrain's family have filed a wrongful death lawsuit. They described Kelly as a top student and a "friendly, outgoing girl," who had fallen into depression and drug abuse in her later years.
"Kelly Coltrain's medical condition was treatable and her death preventable," her family's lawyers wrote. "If Ms. Coltrain had received timely and appropriate medical care, she would not have died. Kelly Coltrain suffered a protracted, extensive, painful, unnecessary death as a result of defendants' failures."
Kelly Coltrain's nightmare began in July 2017, when she was in Reno for her grandmother's birthday. After leaving the party she was pulled over for speeding. During the stop, officers discovered she had unpaid traffic tickets and booked her into Mineral County Jail, in the tiny town of Hawthorne, Nevada.
Coltrain told her jailers that she was addicted to drugs and suffered from seizures, but they neglected to have her cleared for detention by a doctor, and neglected to monitor her vital signs. Instead, they accused her of trying to skive off to the hospital for her fix.
>
"Unfortunately, since you're DT'ing (referring to the detoxification process), I'm not going to take you over to the hospital right now just to get your fix," Deputy Ray Gulcynski allegedly told Coltrain. "That's not the way detention works, unfortunately. You are incarcerated with us, so … you don't get to go to the hospital when you want."
Coltrain curled up in her cell for the next three days, refusing food and suffering from worsening convulsions. On the third day, officers convinced her to eat and brought her a change of clothes. They also asked her to mop up her vomit off the cell floor, a process that the weakened woman struggled with.
Soon after, CCTV footage shows Coltrain's body stiffen and convulse as he lies on the jailhouse bed, before lying still. Six hours later, Gulcynski walks into the cell, nudges Coltrain, checks her pulse, and leaves.
No paramedics were called, and Coltrain lay dead in the cell until forensic technician arrived the following dawn. Coltrain's death was ruled accidental, caused by "complications of drug use."
Investigators have accused the two officers on duty, Gulcynski and Sgt. Jim Holland, of failing to check in on Coltrain every two hours, as they were required to do. "There were a limited number of times where Coltrain had actual contact with the staff," the report reads.. "This may be significant because had more contact been made with Coltrain, indicators of Kelly's medical condition may have been observed. These indicators may have alerted staff therefore prompting medical attention to be rendered to Coltrain."
In the aftermath of Coltrain's death, her family are not just looking for compensation, but for an improvement in conditions at Mineral County Jail, something that the sheriff's office says it is already working on.
"It's just really difficult for a small rural county like this to handle what is just a massive problem," the office's lawyer, Brett Ryman, said. "There are so many people addicted to substances who end up going through withdrawal in the jail."
Subscribe to RT newsletter to get stories the mainstream media won't tell you.