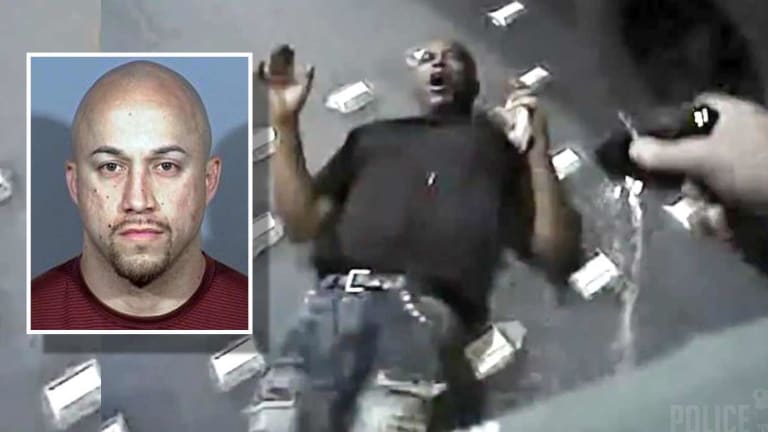 First Vegas Cop Charged Since 1990 as Video Shows Him Choke, Taser Innocent Man to Death
For tasering an innocent man 7 times and proceeding to choke him to death, a Las Vegas cop has become the first cop to be charged since 1990.
Las Vegas, NV — Earlier this year, body camera video from Las Vegas police showed the horrifying and fatal confrontation between Tashi Brown and multiple cops with the LVPD. One of those cops, Kenneth Lopera was just arraigned this week on charges of manslaughter and oppression under color of office.
Brown had committed no crime. In fact, it was later reported by the department that had the unarmed man survived this encounter, police would've had nothing to charge him with.
Sadly, however, because of Lopera's incompetence and violence, Brown is dead.
In spite of Las Vegas cops killing many people over the last three decades, Lopera is the first LVPD cop to face a manslaughter charge since 1990, according to the AP.
Naturally, Las Vegas Police Protective Association official Steve Grammas said Lopera did nothing criminal and was using a department-approved method to restrain Brown. according to the AP.
When watching the video below, and considering the fact that police would have had nothing to charge him with, the fact that the Las Vegas Police Protective Association can attempt to claim nothing criminal happened is telling, to say the least.
According to the initial police report, Lopera said he thought Brown was about to attempt a car jacking.
As the AP reports,
Police said a sweaty, agitated and disoriented Brown approached Lopera and another patrol officer early May 14 in a Venetian resort coffee shop, said he thought someone was after him, and then fled through employee-only hallways into a parking area behind the hotel.

Lopera's body camera showed that he gave chase, and police later said the officer reported that he thought Brown was going to try to carjack a pickup truck.
However, the driver of the truck said on record that he did not suspect those intentions, Review Journal reported at the time.
Body camera video, as well as outside security camera footage, feature the chase and attack on the unarmed man. At first, Brown is seen running from a police officer, later identified as Lopera, and approaching a white pickup when the first stun gunshot comes.
Brown, who also goes by the name Tashi Farmer, is then seen lying on the ground as the policeman is heard yelling "Don't move! Get on your stomach!" While the man cried out "I will," still lying on the ground and attempting to pull the Taser probe out of his back, he was struck several more times.
The stun gun was used seven times in total during the incident, according to police. Every one of those taser deployments came from Lopera's taser.
During the tussle on the ground, Lopera, assisted by up to three other officers, also punched Brown in the face and head. As the victim continued to struggle, Lopera applied a "rear naked choke," a martial arts tactic which is not approved by police authorities, the LVMPD statement says.
The neck hold is not seen on the body camera footage, but it was captured by the outside camera.
When backup arrived, the cops switch out their roles and are replaced by the arriving officers.
During this odd shift change, Brown stopped breathing. Several minutes later an officer realized this and EMTs were called to the scene. Forty minutes after the incident began, Brown was pronounced dead.
Brown left behind several heartbroken children and a devastated mother.
Although Lopera is the first officer to be charged with manslaughter in nearly three decades, the case from 1990, as well as most cases in the US, show that in spite of the charges, he may still simply go back to the job.
As the AP reports, three Las Vegas police officers were indicted on involuntary manslaughter and oppression charges following the July 1990 chokehold death of 39-year-old Charles Bush. Their trial ended when a jury deadlocked, and they were not retried.