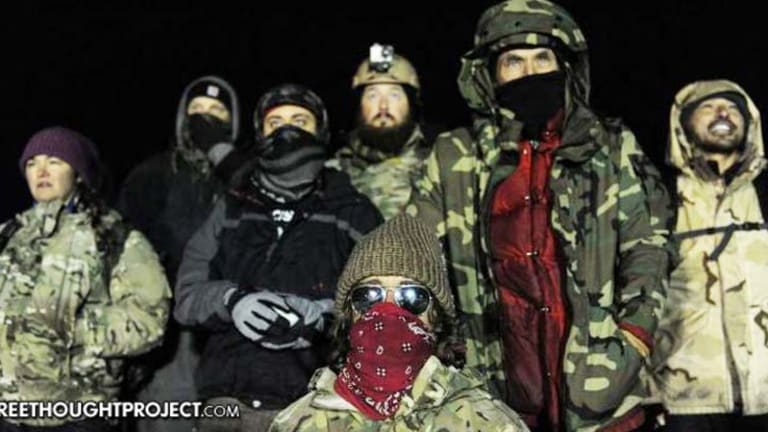 Boots on the Ground: Veterans Arrive to Standing Rock to Protect Protesters from Cops
The much-anticipated arrival of veterans to Standing Rock has begun and it's happening several days ahead of schedule.
Cannon Ball, ND -- The much-anticipated arrival of veterans to Standing Rock has begun and it's happening several days ahead of schedule. According to sources in Standing Rock, veterans began arriving last night and have already confronted police on scene.
As the Free Thought Project has reported, over 2,000 members of Veterans Stand for Standing Rock have planned to travel to the campsite near Cannon Ball, North Dakota, to create a human barrier between protesters and law enforcement this weekend. However, it appears they are a little earlier than expected.
The veterans are hoping their presence will ease some of the pressure of the water protectors who've endured relentless punishment from the heavily militarized police present at the scene.
The sheer volume of anecdotal, video, and photographic evidence cataloguing abusive, barbarous, savage, dangerous, brutal, debasing treatment of hundreds of water protectors evinces an ignominious compendium of human rights abuse by law enforcement acting in defense of a private corporation — rather than in the interest of public safety -- and the veterans are bravely standing up to stop it.
However, their presence at Standing Rock, in spite of their good intentions, is being met with backlash from other veteran groups.
"We agree that it is our constitutional right to assemble and to peacefully protest," North Dakota Veterans Coordinating Council President Russ Stabler told reporters at the West Fargo VFW Post 7564 building, according to Reuters. "However, protests over the last 100-plus days in North Dakota have been less than peaceful.
"Participating in this kind of assembly even as a peaceful bystander or participant will only mar the image of the North Dakota veterans and the veterans of our nation," he added.
But he is wrong. Veterans for Standing Rock has received stunning support from across the country, raising hundreds of thousands of dollars in just a few days.
While there are certainly a handful of agitators in the mix, the overwhelming majority of protesters at Standing Rock have proven to be nonviolent and entirely peaceful. There is no shortage of video evidence to make this case.
Last week, the Army Corps of Engineers issued an eviction notice for protesters to vacate all Corps property. However, days later, they came out with a vague statement saying they would not enforce this eviction. But they did promise to fine people for staying, which would almost inevitably lead to the use of force.
According to Reuters, North Dakota Governor Jack Dalrymple said state officials never contemplated forcibly removing protesters and his evacuation order was mainly due to concerns about inclement weather endangering people. Frigid weather makes some aspects of pipeline construction more difficult, engineers interviewed by Reuters said.
Alluding to the gross treaty violations by the United States against the Standing Rock Sioux, the tribe lashed out with a well-deserved jab at officials' concerns for the cold weather, noting -- "the Governor of North Dakota and Sheriff of Morton County are relative newcomers" to the land, "it is understandable they would be concerned about severe winter weather."
The tribe explained that they have adequate shelter and added that the Great Sioux Nation has survived "in this region for millennia without the concerns of state or county governments."
The eviction order is set for December 5 and Veterans for Standing Rock were set to arrive on December 4th, leaving many folks concerned about the potential for a massive showdown. Now, as they are showing up early, we see the veterans are ready and willing to take that stand.
In fact, reports are already surfacing of veterans standing up against police at the now infamous Backwater bridge site.
While all veterans may not agree with the actions at Standing Rock, it is important to note that the Sioux have the moral high ground. While this issue certainly involves the safety of their water supply, it is also a matter of full on theft of property as the land in which this pipeline will run is Sioux territory that has been stolen by the Army Corps of Engineers, in a twisted history of treaty violations.
The Free Thought Project salutes these brave men and women who are choosing the right side of history and honoring their oaths to uphold the constitution against all enemies -- foreign and domestic.
[author title="" image="https://tftpstagingstg.wpengine.com/wp-content/uploads/2016/03/magorist-e1456948757204.jpg"]Matt Agorist is an honorably discharged veteran of the USMC and former intelligence operator directly tasked by the NSA. This prior experience gives him unique insight into the world of government corruption and the American police state. Agorist has been an independent journalist for over a decade and has been featured on mainstream networks around the world. Follow @MattAgorist on Twitter and now on Steemit[/author]