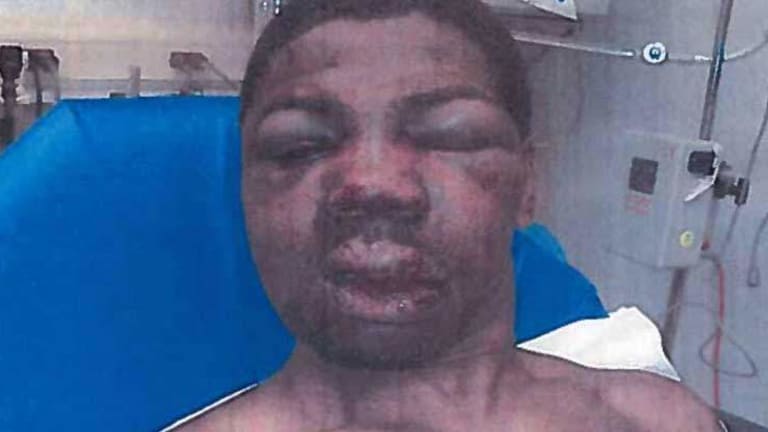 Police Brutality Victim Mysteriously Killed a Day Before Receiving $450K Settlement
After being hogtied, shackled and severely beaten by police, this man won a $450K settlement, only to be murdered a day before receiving it.
Robert Hinton, 28, was killed just before midnight on Thursday, the day before he was scheduled to receive a $450,000 settlement from the city. Hinton had won the settlement roughly two months ago when it was decided in court that corrections officers used unjust force against him during his stay at Rikers Prison.
Surveillance footage at the prison revealed that corrections officers hog-tied Hinton and assaulted him, all while he was already shackled and not threatening them harm in any way. Hinton was being transferred to another part of the jail but refused to leave his cell. According to the lawsuit, that is when five corrections officers, including a captain, entered his cell and assaulted him.
The judge said in her decision that, "I find that Hinton was never uncuffed during the use of force and was incapable of defending himself, Once inside the cell, [the officers] left Hinton handcuffed and shackled and administered a brutal beating that was contemplated before they entered the cell."
"You don't get what you want, you get what you deserve, which is an ass-whipping," the captain reportedly said during the beating.
"Unfortunately, what happened to Robert happens every day on Rikers Island. Robert's the lucky one who got his day in court," one of his lawyers, Nicole Bellina said during his trial.
Rikers is notorious for mistreatment of its inmates, earlier this year it was reported that Rikers allowed guards to rape female inmates with the consent of public officials. Prior to that, there were concerns about rat poison being found in the food that was served to prisoners. After the poison was found in their food, they were then denied medical attention so the prison could avoid any evidence being collected.
"We had a conversation about how hopeful he was, about how the settlement money was going to give him a chance for a fresh start," Bellina said recently after hearing the news of his death.
The timing of his death is extremely strange, and there will undoubtedly be suspicion thrown towards the city and the police department who may now get out of paying nearly a half million dollars towards his settlement.
His mother had a strange conversation with him just before his death, where he said that he had a feeling that something bad was going to happen.
"He felt like something was going to happen to him," Robert Hinton's mom Parys Johnson told the Daily News Saturday.
"We had this conversation Thursday. And his words to me were, 'You know mom, if something happens to me, make sure (my girlfriend) Michelle and the baby's all right.'"
So far there are no suspects or leads in the case.
John Vibes is an author and researcher who organizes a number of large events including the Free Your Mind Conference. He also has a publishing company where he offers a censorship free platform for both fiction and non-fiction writers. You can contact him and stay connected to his work at his Facebook page. You can purchase his books, or get your own book published at his website www.JohnVibes.com.