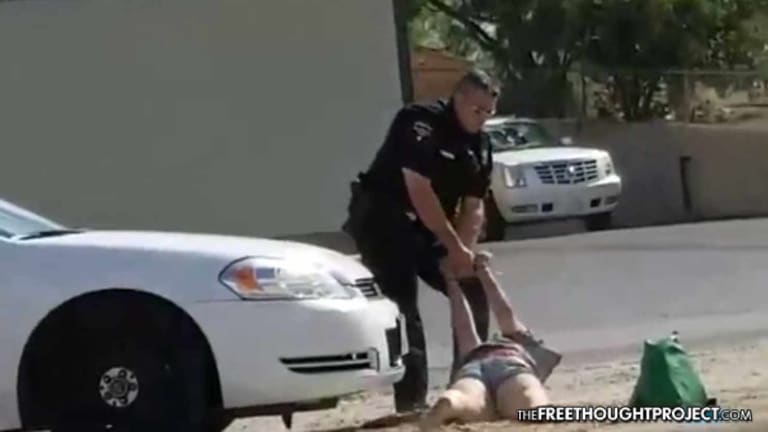 Horrifying Video Shows Cop Drag Pregnant Woman By Handcuff Chain, Breaking Her Wrist
Disturbing video shows a cop treating a pregnant woman like an animal, dragging her by her handcuff chain over possession of a plant.
Big Spring, TX — A rather disturbing video was uploaded to Facebook over the weekend showing a Big Spring police officer dragging a handcuffed woman—by the handcuff chain—through gravel and dirt to put her in the cruiser. After the video was posted, the department was forced to launch an investigation.
According to the police department, this entire incident was over a misdemeanor warrant for possession of marijuana. In the land of the free, you can and will be thrown to the ground, attacked, and treated like a slave for possessing a plant that is legal in some form in over half the country—not in Texas though.
According to a BSPD Narrative Report, an officer was patrolling in the 100 block of West 11th Street when he saw a woman he recognized as Crystal Mesler walking westbound.
The officer knew Mesler had pending charges and asked dispatch to run a wanted check, according to the report. The officer was then informed that she had a warrant for marijuana possession. He now claimed the legal right to kidnap and cage Mesler because she had been previously kidnapped for possessing a plant. So he acted.
Not wanting to be kidnapped and thrown in a cage for possessing a plant, Mesler told the officer "no."
The folks who filmed the video, Marcos Chavera and Teresa Sanchez, said the then officer knocked Mesler to the ground and pushed the woman's face into the gravel.
"He told her to put her stuff on the hood, she took a step back and said, 'no.' Right when she did that, he just grabbed her and pretty much took her to the ground," said Chavera. "He started trying to handcuff her, she was on the phone the whole time. After he did cuff her, he called for back up already."
She said the woman could be heard saying that she was hurt and calling for an ambulance.
However, this officer wanted nothing of it. After he stood up from taking down the woman for possessing a plant, he dusted himself off, grabbed her by the handcuff chains and dragged her like an animal to the back of the cruiser.
As News West 9 reports, a second video shows back up did eventually arrive but Chavera said the woman had already been dragged by the first officer on the scene. Chavera and Sanchez could hear the woman screaming several different things.
"I'm pregnant, you're hurting my arms, you broke my wrist," said Sanchez. "He turned her arm up pretty bad when he was trying to get her second arm behind her," said Chavera.
According to CBS 7, Police Chief Chad Williams says the video prompted the department to open the internal investigation. No further information has been released as of Tuesday.
Sanchez, who posted the video to Facebook said she was attacked by apologists for daring to show this act of police brutality. However, she does not regret it.
"I don't think it was right the way she was being treated, nobody should be treated like that," said Sanchez. "It was awful seeing her being dragged like that especially in all that gravel and rocks."
After being kidnapped for possessing a plant, Mesler was then hospitalized for her injuries.
Mesler is someone's daughter. Imagine, for a moment, what it would feel like to watch someone do this to your daughter over a plant. 
Below is the raw video of the arrest.