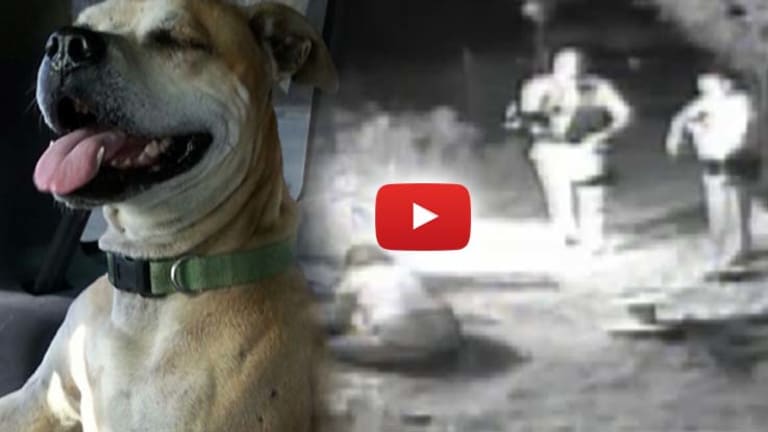 Disturbing Video Shows Cops Knock on Door and Kill Innocent Woman's Elderly Dog as It Ran Away
Kansas City Police 'murdered' a dog after the animal bounded from a residence and then retreated from officers.
Disturbing video from a homeowner's surveillance cameras shows the moment police "murdered" her beloved dog.
In an instant, over a decade of companionship with the dog she rescued from a shelter ended with a bullet.
Northland, Missouri, resident Brandi Buschman is the latest to mourn a beloved pet because police officers reacted with gunfire instead of restraint — a law enforcement response so common, it has been given a name: puppycide.
"They killed her, and she died right there in front of my steps," Buschman lamented in an interview with local CBS affiliate KCTV5. "She ain't deserve that."
Kansas City Police officers arrived on Buschman's secluded property in response to a disturbance call — but when the knocked on her door, she explained, the two cops failed to identify themselves as law enforcement.
Believing the unannounced visitor was a friend or family member, Buschman opened the door without restraining Sierra, who bounded outside toward the two officers with her tail wagging — but became frightened at the unfamiliar, uniformed men, and turned back toward her owner.
As the dog retreated from the cops, one opens fire.
"She is scared, turning around and looking for help from me, and they moved in and gunned her down," Buschman explained.
She then rushed outside and clutched Sierra as the dog passed away.
"She's part of the family," Buschman said of the 13-year-old family pet. "She didn't do anything. She was looking to see who was at the door."
Surveillance cameras had been installed by the family to keep watch over their classic cars — but they never expected to see their beloved dog murdered by police, instead.
As footage chillingly shows, one of the two officers waited outside after knocking, with his gun drawn, finger on the trigger — as if expecting a violent confrontation from the start.
Unsurprisingly, officers said, according to the department, they feared for their lives and felt they had to shoot Sierra.
But Buschman has a better summary of the incident:
"They murdered her."
Kansas City Police Capt. Stacey Graves gave KCTV5 a stunningly cold and typical explanation for why police opened fire.
"Officers were alerted to a residence where sounds of an argument, sounds of a disturbance, was happening," Graves told the station. "A dog came out of that residence and lunged at officers, and in fear of their personal safety, officers shot the dog."
Because department policy allows for the humane killing of wounded animals — such as deer struck but not killed by vehicles on the highway — the shooting of pets isn't handled in the same manner as would be an officer's shooting a person.
Buschman buried her cherished Sierra on her property.
Police around the United States so routinely claim 'fear of personal safety' in the killing of pets, puppycide — and even kittencide — has become an unfortunate subcategory of often unjustified officer brutality.
Last month, an officer, inexplicably attempting to serve a 10-year-old warrant, came onto an Oklahoma family's property during their 5-year-old son's birthday party and shot the child's dog several times while the family was inside eating cake and ice cream.
In June, incompetent and cowardly officers in California showed up at the wrong address in response to a domestic violence call and shot that family's elderly dog to death for no reason.
In March, the NYPD arrived at an apartment and were met by a friendly dog wagging its tail in greeting — so they shot the animal in cold blood — as a child watched in horror.
Detroit police searching for a possible active shooter in a neighborhood in February shot a family dog — even though the animal was tethered to a ten-foot, steel cable leash.
In December, officers inexplicably shot another beloved family dog multiple times, and proceeded to tell the animal's owner, "Well, you don't have a dog anymore" — as they laughed about what they'd done.
Innumerable shootings of family pets — almost wholly unjustified — can be credited to officers' 'fear,' while UPS and FedEx drivers, postal workers, and pizza delivery drivers routinely encounter even actually vicious animals without having to kill them.
It stands to reason that if cops are so scared of animals, perhaps they should choose another occupation. Police work, at times, might be dangerous — but the occupation is, after all, a career choice.