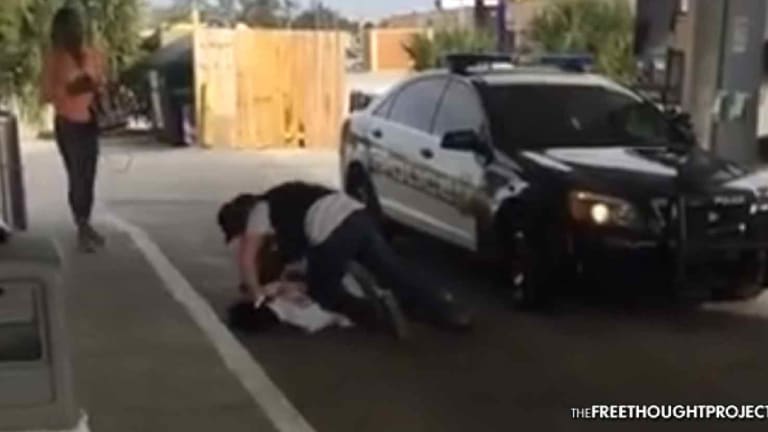 Disturbing Video Shows Cop Beating Handcuffed Man for No Reason—Cop Suspended
A Florida cop has been suspended after he was caught on video punching a handcuffed man in the face multiple times for no reason.
Titusville, FL - An unnamed police officer is on paid vacation after he was caught on video punching a nonviolent man in the face during an arrest. In a cellphone video recently posted online, the officer can be seen punching 20-year-old Amari Nicholas Hair while he was already handcuffed.
"Upon seeing the video, members of command staff at the police department immediately removed the Detective from his duties and placed him on leave so that a due process investigation can be completed on the use of force during the arrest. We want to assure our community that we are committed to a thorough investigation in this incident and will be completely transparent on our findings,"a spokesperson from the Titusville Police Department said.
The officer punched him at least twice in the head while he was handcuffed, leaving him with a bloodied nose after allegedly finding drugs on him during a traffic stop.
According to the police report, an officer got out of his patrol car earlier and spotted Hair climbing over the center console into the passenger seat of a Toyota.
The confrontation began when officers approached Hair, who was standing outside of the vehicle, during a traffic stop. The officer 'quickly grabbed a hold of Amari and placed him under arrest,' according to a police report.
According to police, at that point, the officer attempted to search Hair but Hair pulled away. However, it only looked like Hair was squirming due to the invasive nature of the cop groping him in search of some arbitrary substance deemed illegal by the state.
Police said the detective then 'escorted' Hair to the pavement, placing his weight on Hair. After a few moments, Hair could be heard screaming, "Oh my God…my (expletive) face is bleeding…Do not touch me!"
In the video, Hair can be heard saying "You punched me in my face." To which the officer replies, "Yes, I did."
Police then attempted to justify their excessive force by claiming Hair—who was handcuffed and compliant—was reaching for his waistband. Exactly why Hair was allegedly "reaching for his waistband" remains a mystery as no weapons were found.
According to Space Coast Daily, Hair was charged with Possession of Heroin, Possession of Hydromorphone, Resisting an Officer and Driving With a Suspended License. He was booked into Brevard County Jail Wednesday night and was released at 10:10 a.m. Thursday morning.
However, Hair's family believes that he is being targetted and harassed by the officers who pulled him over. Hair's father, Alonzo Hair, says that his son has had multiple run-ins with the arresting officer in the past year alone.
"They've got it in for my son. He could be walking down the street, and they'll stop him. They are a threat to the community. At least we were able to get it on video this time," Alonzo Hair said.
As the Free Thought Project has previously reported, police officers across the country have been caught beating handcuffed suspects. Also, they have been captured on their own body cameras planting drugs on entirely innocent people.
Whether or not Hair had actual narcotics on him will be left for the courts to decide. However, this incident provides a perfect example of how the war on drugs is an utter and violent failure.
If Hair does have a heroin problem, handcuffing, beating, kidnapping and caging him will do nothing to solve it. It will also cost the taxpayers of Brevard County. Not only will the citizens have to pay to keep Hair in a cage but they will also be forced to pay for the brutality of these officers in the form of a lawsuit settlement that will inevitably follow this arrest.