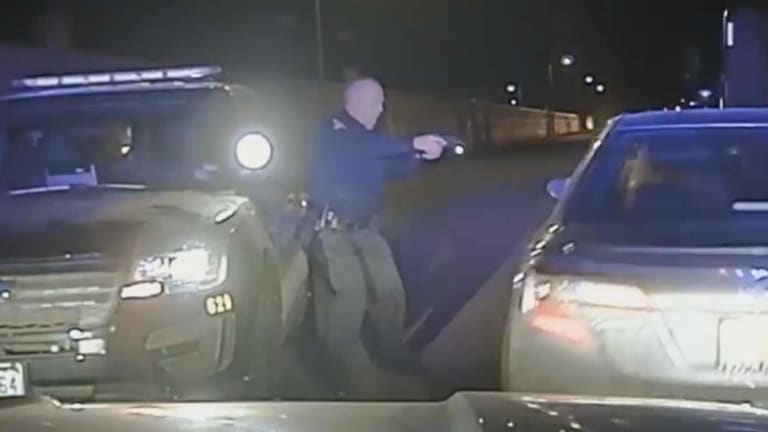 Disturbing Video Shows Cop Shoot Unarmed Man in Head at Point-Blank Range as He Fled
Disturbing video was just released showing police senselessly execute an unarmed man at point-blank range as he drove away from officers.
Pueblo, CO — Disturbing video footage from an incident in February of this year has just been released showing a Pueblo Police officer open fire at point-blank range into a fleeing car when he was clearly not in danger of being run over. In spite of this video evidence, all the officers involved in the killing have been cleared of any wrongdoing.
The Pueblo Police Department released the video after nine months after a criminal justice records request. What it shows is nothing short of an execution.
On August 14, the officers involved in the shooting death of 35-year-old Andrew Byrd were all cleared of wrongdoing, despite the damning video below.
According to police, they were searching for Byrd after a woman reported that he stole her vehicle. Police then attempted to contact Byrd who had several warrants out for his arrest at the time.
The alleged car theft was not a carjacking, Byrd knew the woman whose car he was in and police, at the time of the call, determined the possession of the vehicle was a "civil matter." However, the woman called police again the next day and claimed that Byrd and another man returned to her home in a different car, a gray Toyota Camry.
Over the radio, dispatch said "the male parties had guns in their laps," per the woman's report. However, after he was killed, no weapons were found in the car.
As 9 News reported, when Pueblo Officer Todd Whittemore headed to the scene, the news release says he drove by the Toyota Camry and shined his spotlight into the vehicle, but didn't see anyone inside.
The news release says Whittemore then made a u-turn and pulled behind the sedan, and suddenly saw its brake lights illuminate. That's when he turned on his overhead emergency lights, and police say Byrd backed into Whittemore's patrol vehicle, according to 9 News.
Eventually, officer Neal Robinson would join Whittemore and they would box Byrd in, but he refused to surrender and crashed into the side of a truck on his passenger side.
Below is the account of what happened next, according to police:
"Mr. Byrd put his hands up. but then reached down to the console shifter and turned around to look back at Officer Whittemore. Mr. Byrd then disregarded officers' commands and rapidly reversed the Camry, violently crashing into the front of Mr. Whittemore's patrol vehicle and physically knocking Officer Whittemore, who was standing outside of his patrol vehicle behind the driver's side door, backward.
"Mr. Byrd then turned into the direction of Officer Robison and accelerated. Officer Robinson stepped back and closed the driver's door to his patrol vehicle, with the back of his body against the patrol vehicle. Officer Robinson aimed his duty firearm at Mr. Byrd and tracked him as he drove toward Officer Robinson. As Mr. Byrd drove by Officer Robinson, Officer Robison fired one shot into the driver's side window of the Camry. The shot killed Mr. Byrd. Another officer on scene, Officer Bernadette Lambert, fired her duty firearm but did not strike Mr. Byrd."
The department claimed Robinson feared for his life, thinking that Byrd was armed, which was enough justification to shoot a man in the head at point-blank range as he drives off. Notice in the video below how the shot is fired after the vehicle has already passed Robinson.
Officers killing people for attempting to drive away is becoming an all too common occurrence.
Seneca Police Lt. Mark Tiller made the same assertion when he shot and killed 19-year-old Zachary Hammond over the possession of a small amount of marijuana. Officer Ray Tensing was caught on video killing Sam Dubose in a similar fashion. In September 2015, cellphone footage was released showing police murdering 33-year-old John Barry, a mentally ill man who attempted to flee from police during a breakdown.
One of the most disgusting examples of cops claiming to fear for their lives as cars drive off is the case of Officers Derrick Stafford and Norris Greenhouse, Jr., who, in November 2015, opened fire on a car occupied by 6-year-old Jeremy Mardis, killing him and severely injuring his father.