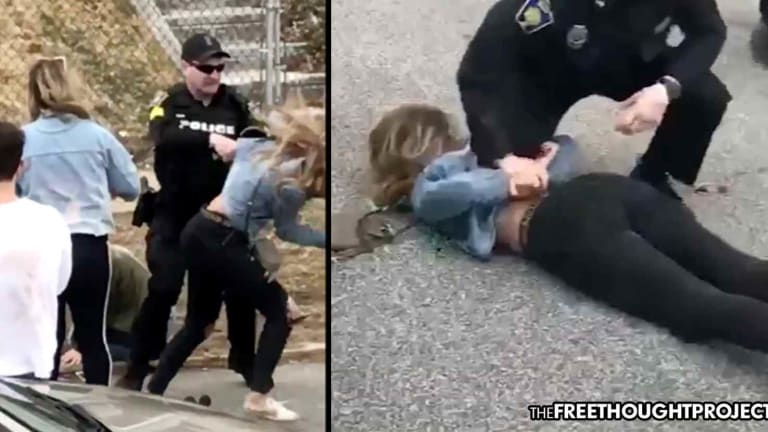 WATCH: 'Her Ear Was Gushing Blood': Cop Punches Woman in the Face With His Taser
Witnesses are claiming an officer used excessive force when he was seen on video punching a small woman in her head with his taser.
Chester, PA — A disturbing video has spread on social media after an unidentified Chester Police Officer was recorded smashing a young woman's face in with his taser. The video was published to Twitter over the weekend from a college St. Patrick's day celebration turned awry.
In the video, we see the 20-year-old woman, later identified as Dominique DiFiore, appear to raise her hand toward the officer's face. She then appears to lightly brush his face with her hand which gave clearance to the officer to reciprocate a far greater force.
After DiFiore's hand made contact with the officer's face, the officer reached back with his taser in hand and smashed DiFiore in the side of her head, sending her falling to the ground. Police then pile on her and place her under arrest.
A witness told CBS Philly that after the officer hit her to the ground, he then tased her ear while she lay in the street. This cannot be seen on the video. However, witnesses reported that DiFiore was bleeding profusely.
"I was shocked," witness Latine Bethea said. "I was really shocked. I couldn't believe a man hit a female like that."
Cameron Thomas, another witness, said Difiore fell instantly.
"He dove to the ground, then tased her," Thomas said. "That's what made it excessive."
"Her whole ear was gushing blood," Jaylene Westfall, who was arrested as well, told CBS Philly. "She was nonstop bleeding by the ear. She was in shock."
As one officer held his knee in DiFiore's back, another officer then grabbed DiFiore's friend from behind and slammed her to the ground as well.
"I think it was excessive force," Matt Pfaff, a neighbor, said. "I think it was ridiculous to do something like that, no matter how frustrated you get. They're trained to do better."
On Sunday, the Chester police department released a statement on Facebook explaining that Westfall was attempting to enter a party during a pub crawl in which she was not welcome and allegedly assaulted several attendees. The video below reportedly begins when police arrived on the scene to break up the fight.
Below is part of the statement
" target="_blank" rel="noopener noreferrer">released by police: "A partial video of the event is circulating on various social media platforms. The incident, the video, and level of force used in connection with the event are all currently under investigation," Nolan said. "There were numerous assaults and a college-age St. Patrick's celebration going on in the neighborhood at the time of this incident. Police are still conducting investigations to determine if other persons will be charged in relation to the events of the day."

Three others were arrested along with DiFiore over the incident that reportedly involved as many as 40 people brawling.
"It was just very hectic," senior Zachary Whalen told CBS Philly. "I would say probably 30, 40 people were just running around here, just beating the crap out of each other… Granted, she did push the officer so as soon as you do that, I was like, 'This is not going to be good.'"
In a statement to CBS Philly, the school said that none of those arrested were students at Widener University.
"An incident that led Chester police to arrest four individuals Saturday, March 16 on aggravated assault and other charges did not take place on the Widener University campus and was not a university-sanctioned event. The four people who were arrested are not Widener students. The matter is under investigation by Chester Police," read the statement.
According to reports, DiFiore is in jail on a $75,000 bond over charges resulting from her hand brushing the officer's face. Her family told CBS Philly that the officer used excessive force.
The dramatic video is below. Let us know in the comments if you think the officer's use of force was acceptable or over the top.