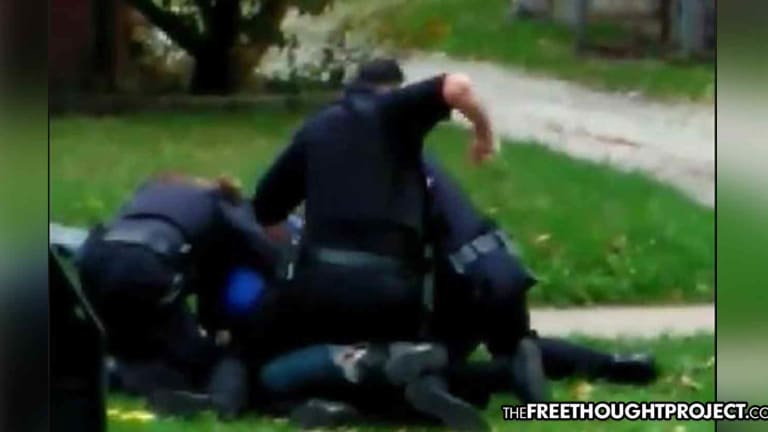 Video Shows Cops Taser, Kick, and Punch Vet with PTSD Who Says they Did it for No Reason
A video has gone viral after it showed Ohio cops give a man a UFC-style beat down as he simply stood in a friend's front yard and talked.
Akron, OH — A video of several officers arresting an Ohio man has gone viral as it shows police officers on top of 47-year-old Patrick King, tasering him and punching him over and over. According to King the stop should have never happened as he was simply walking back from the neighborhood store and stopped to talk to a friend.
On Sunday, King told News 5 Cleveland that he was confronted by Akron police officers while he stood in a friend's front yard and talked.
"Basically pulled up alongside of me, jumped out and asked me for my ID," King said.
"They wanted to handcuff me and I didn't want to be handcuffed and I said, 'What for? What for?' And, they got one handcuff on me and then threw me to the ground," he said.
King admitted that he gave officers a fake name, but insisted that he didn't do anything wrong. However, that didn't stop officers from violently attacking him.
"They started beating on me, wailing on me, kicked me in the ribs several times," King said.
King said he's injured from the attack and has a hard time moving around.
"I can barely sit still right now. I'm having trouble just raising my spine."
As the video shows, officers begin struggling with King who is simply getting kidnapped for no other reason than wanting to be left alone. Other than giving cops a fake name, presumably because he didn't want them to know who he was, King had harmed no one.
Police only stopped him because they claim he was seen leaving a "known drug house."
When the local news company asked King if he thought it was excessive force, he minced no words, saying, "Yes, I do. I'm just waiting to get a hold of a lawyer and I plan on suing."
According to Akron police, however, they say the video doesn't tell the whole story and King presented a danger to the officers.
Deputy Chief Jesse Leeser said King was "spotted leaving a known drug house and lied about who he was. An officer got one handcuff on the 6-foot-4-inch, 220-pound man, but he ignored multiple commands and resisted for several minutes."
Leeser said the dozens of punches, taser strikes, kicks and knees were all necessary to subdue King. However, as TFTP has reported, it is nearly impossible to listen to officers' commands to "stop resisting" and lay perfectly still as they taser, punch, and kick you.
"He was obviously actively fighting with these officers. They were winded. The fight had gone to the ground. Not only did he have the handcuff as a weapon possibly, but the officers were also very exposed. We're not ground fighters," Leeser said.
At least one of the officers appeared to be a ground fighter though. That officer is seen delivering countless punches to King in a UFC-style 'ground and pound.'
As for King, he denied leaving the drug house and said he never attacked officers during the arrest.
"I didn't swing at the officers. I know that. I didn't punch at them. I know that. I didn't kick at them. I know that," he said.
According to News 5 Cleveland, King said he served six years in the Army. During his service, he was involved in an Army vehicle accident in Panama and was pinned in the back seat. He said the incident left him with post-traumatic stress syndrome.
He said that feeling of being pinned rushed back to him when he was on the ground with police, which put him a panic mode.
"The Tasers came out. Everything was happening so fast. As far as me flailing and wailing around, yeah, that was a combination of the electricity going through my body and the PTSD."
Police said King also had two active warrants, one out of Cuyahoga County for a probation violation and another for obstructing out of New Franklin.

King told News 5 the Cuyahoga County warrant related to walking away from a court-ordered veteran's treatment center, a decision he regrets.

He said he had prior run-ins with the law for not paying child support and drug possession, but he doesn't feel his past justifies the actions of Akron police on Sunday.
"I hope you never get in that situation, but it seems like it's become more and more of a police state," King told WEWS.