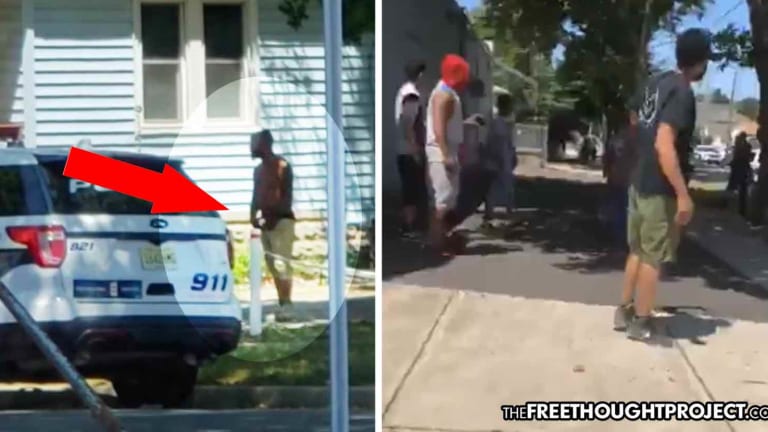 WATCH: Cops Kill Man 'Holding a Bottle of Water' and Get Swarmed by Angry Crowd After
Multiple witnesses watched in horror while filming police kill a shirtless man for reportedly holding a bottle of water.
Vineland, NJ -- A 37-year-old man, Rashaun Washington, was shot and killed outside of a New Jersey home over the weekend in broad daylight and in front of over a dozen witnesses. The witnesses noted that while Washington was behaving oddly, he was killed as he held a bottle of water and nothing else.
According to police, Vineland officers responded to a call around 11:22 a.m. Saturday morning in which a neighbor reported a man "acting suspiciously." Multiple units responded and the otherwise benign incident turned deadly within minutes.
"An encounter between the officers and the subject lasted for several minutes ending with the subject being fatally shot," Cumberland County Prosecutor Jennifer Webb-McRae said in a statement.
Police have yet to release many details about the incident. The officer or officers who opened fire have not been named and they have yet to produce a reason for opening fire -- including producing a weapon of any kind.
Although police are remaining silent on the details of the killing, multiple witnesses recorded the incident as it happened and have reported that they only saw Washington holding a bottle of water.
A now-deleted video, posted to Facebook by Tina Wainwright, showed Washington -- shirtless and appearing to hold a bottle of water -- in a confrontation with police. The confrontation was not violent and Washington merely appeared to be exchanging words with cops in a standoff of sorts.
As officers surround Washington, one of them has a K9 and another an AR-15.
Washington crouches down and then gets up and starts running toward police. At this point police open fire.
Another video, posted to Facebook by Ryonna Maven begins as Washington appears to crouch down.
"They got guns all on his ass, he's getting closer to the fucking dog," Maven says on Facebook Live as police show up with a dog. When Washington then tries to run, police open fire.
Instead of first releasing the K9 to detain Washington, police chose to open fire first and then, apparently for good measure, they released the K9 and allowed it to maul Washington's face as he's on the ground bleeding out.
"Oh my God! They just killed him. Oh my God. Oh my fucking God. Oh my God, and the dog is biting his fucking face," Maven says. "They making the dog bite him."
After watching cops shoot a man who witnesses said was only holding a bottle of water, those witnesses became angry and began to swarm the cops.
One of the officers then calls out for "crowd control" as the bystanders close in. Police then aim pepper spray at the bystanders and force everyone back from the scene.
"This isn't about attacking the police, this isn't about politics, this is about a life that was lost when it shouldn't have been," Josh Barreiro, a Vineland resident who helped organize a protest over the weekend, told Press of Atlantic City. "We're here to make a statement that this needs to stop."
"There is no reason one man with a water bottle (in his hand) should be dead right now," said Shevone Torres, of Mount Holly, who is an activist with the New Jersey chapter of Black Lives Matter. "I'm tired, I'm angry and I'm frustrated. This should not be happening here. And the fact is that we're in these smaller towns where cops think that because they don't get the media attention, they can do whatever the hell they want to us."
We are unable to embed Maven's video as Facebook has deemed it too violent to embed, however, below is raw footage showing Washington being shot.
If you'd like to voice your concern to the Vineland Police Department over the video below you can do so at their Facebook page, here. 
Below is the chaotic aftermath as witnesses began to swarm the police.
For those who may not remember, the Vineland police department is the department whose officers released a K-9 on Phillip White, whom an eyewitness described as 'out cold.' White was savagely mauled by the K-9 officer and later died in police custody.