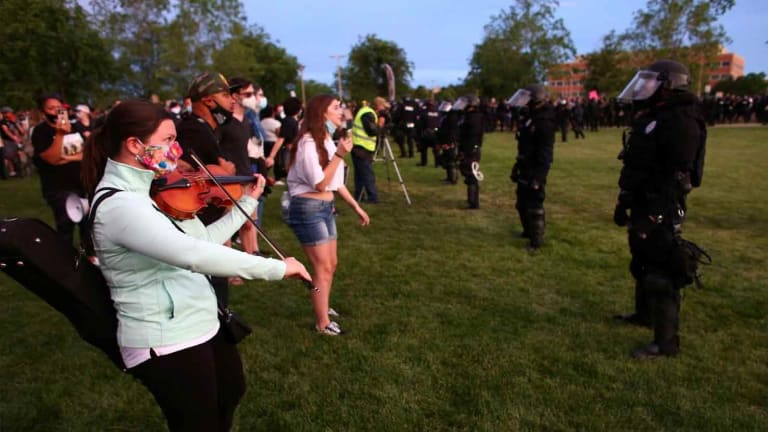 WATCH: Riot Cops Attack Peaceful Families at Violin Tribute to Elijah McClain
As families gathered in a park to pay tribute to self-taught violinist, Elijah McClain — who was murdered by police — riot cops surrounded and attacked them.
Aurora, CO — A disturbing video of a peaceful protest for the police murder of Elijah McClain is causing backlash against the Aurora police department. Police accountability activists are crying foul while the police department is circling the wagons and defending officers.
In the video, militarized riot police descend upon a group of peaceful people — including many families — in a park who are sitting down watching a tribute to McClain who was a self-taught violinist. Several people are on a makeshift stage playing violins as the armor clad riot police begin marching in.
"No, no, no, please, no," one of the attendees was heard saying as the storm troopers march in with batons up. The group appeared to not even be participating in an actual protest but rather peacefully taking part in a tribute to a murdered young man. Nevertheless, as the storm troopers marched in, things quickly escalated. Dozens of riot police charged entirely peaceful people, shoving them, pepper spraying them, and turning things violent — fast. According to police, they descended on the violin tribute concert because a "small group" of agitators allegedly threw bottles and rocks. This was not seen on the video at all, and the riot police in the videos below appeared to completely surprise the crowd from behind. Absolutely no one in the video was confrontational with police until police surrounded them. "We were attacked with rocks and we had to defend our officers," interim Chief Vanessa Wilson said Monday in an interview with The Denver Post, adding that some tried to take the officers' batons and hit them with a flag. "My officers aren't sacrificial lambs." As the Post reports, Wilson blamed the escalation on a small group of agitators inside the larger, widely peaceful crowd. One man legally armed with a handgun also climbed up a wall and gained high ground on the officers and protesters, making officers nervous, Wilson said. Those in attendance disagree and said that even if a single person had done something like that, they should be arrested, not the entire crowd. "Even if there was a protester who threw a rock or a stick, if that's the response on a crowd full of families to one or two protesters throwing a rock or a stick, I think they should do some serious thinking about their response," said Jolene Fisher, an assistant professor at University of Colorado Boulder who attended the demonstration. The violence by police was especially disheartening because protesters were using the city's main public square designed for citizens to have their voices heard, said state Sen. Jeff Bridges, according to the Post. "It is injustice heaped upon injustice," Bridges said. "These were people protesting the killing of Elijah McClain and then Aurora police come out and violate their First Amendment rights." According to many on the ground, much of the crowd was families. "It was beautiful, we're looking around and several times said, 'Wow look at all the families,' " Fisher said. But that peace was ruined as tear gas canisters and pepper spray balls began cracking off.

"I'm looking around at kids crying in the parking lot, moms are trying to gather their scattered children," Fisher said.
As TFTP reported, last August, a 23-year-old man named Elijah McClain was killed by police after he was put in a chokehold and given the sedative ketamine. The incident began when someone in the neighborhood called the police because McClain was walking down the street with groceries while wearing a mask. McClain's death, like so many other police killings, barely registered as a blip in the media. However, it has finally been given the attention it deserves. Moments after police approached McClain claiming that he fit the description of the suspect. They claim that he resisted arrest and needed to be subdued, but if he actually wasn't doing anything wrong then in the first place then they had no reason to arrest him, and thus it would be impossible for him to resist — which is the case. McClain had committed no crime when police initiated force against him. Police claim that the body camera shows McClain reaching for a gun, but the scuffle was chaotic and it is hard to tell if he was actually making a deliberate effort to grab the gun. At a press conference in November, police chief Metz told reporters that "Elijah grabbed the grip of an officer's holstered gun. A struggle ensued to the ground where three body-worn cameras did become dislodged.""He is laying on the ground vomiting, he is begging, he is saying, 'I can't breathe.' One of the officers says, 'Don't move again. If you move again, I'm calling in a dog to bite you,'" said Mari Newman, the McClain's lawyer. During the altercation, McClain was placed in a carotid restraint, a technique that was recently banned by the Aurora Police Department. While McClain was restrained, The Aurora Fire Department was called to the scene to give him ketamine, a strong sedative. After being choked out and forcibly drugged for committing no crime, McClain went into cardiac arrest twice while on the way to the hospital. McClain's autopsy report suggested that his cause of death was undetermined, as it is unclear whether it was the physical pressure that was on his coronary artery or a reaction to the ketamine he was given, although ketamine overdoses are extremely rare. The district attorney decided to not press charges on the officers involved, and all three of them are back on the job. However, cases like this have gotten extra attention as attitudes about police continue to be challenged in the wake of George Floyd's killing, and now Aurora City Manager Jim Twombly has announced an independent review of McClain's case. Attorney Eric Daigle was initially selected to lead the new investigation, but the city council canceled its contract with him after concerns were raised that him being a former police officer could compromise his objectivity in dealing with the case.

"In asking for an independent, neutral, 3rd party review, it was important to us to begin the process of rebuilding trust with our community. Unfortunately, an attorney with a long career in law enforcement that specializes in defending municipal police departments from liability claims doesn't qualify, in our minds, as a neutral review. This is especially true considering there is a pending civil suit in this case," the council members said in a statement.
More than 1.2 million people have since signed a petition to reopen investigation of Colorado police in Elijah McClain's death.
In the middle of July, the city is expected to publish an interim report of their independent investigation. Below is this disturbing footage showing the last moments this accomplished massage therapist spent on this planet.
In his last few words on this planet, McClain could be heard saying, "I'm an introvert. I'm just different. That's all. I'm so sorry. I have no gun. I don't do that stuff. I don't do any fighting. Why are you attacking me? I don't even kill flies! I don't eat meat! But I don't judge people, I don't judge people who do eat meat. Forgive me ... I'm so sorry."