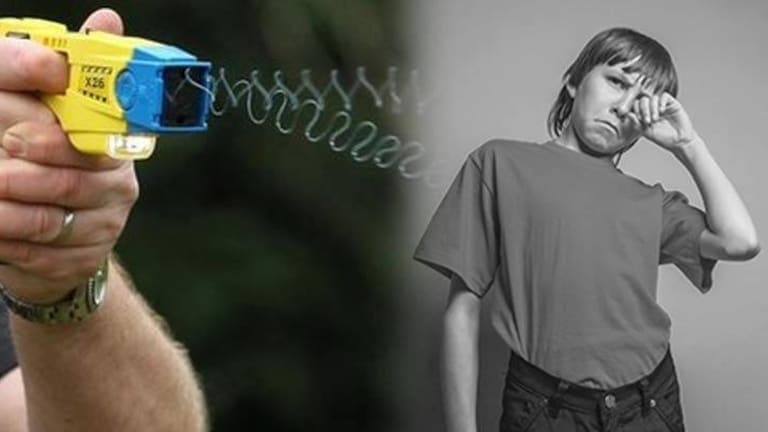 Child Sent to Hospital After Being Tased By School Cop for Misbehaving, Charged with a Felony
A child tried to run from the school resource officer after misbehaving in the cafeteria. As he fled, the cop fired his taser, injuring the boy.
Powhatan County, Virginia – The school resource officers have struck again. Last Friday, a police officer working at Powhatan Junior High School used a taser on an 8th-grade student.
According to the officers side of the story, the child tried to attack him and run away. However, there has been no proof put forward to back up this claim. Also, even according to the officer's side of the story, the child was fleeing at the time when he used the taser.
The officer says that he was attacked when he attempted to arrest the child for being disruptive in class.
The child was injured by the taser and later taken to the hospital, but the extent of his injuries have not been reported. The child was also charged with felony assault on an officer as well as two misdemeanors.
"It's obviously scary to see a child get Tased," Chris Parks, whose children go to the school, said. "It was a little shocking [to learn."
According to the Powhatan Sheriff's Office, the resource officer is a 27-year veteran of the force.
In recent months, the news has been filled with stories of school police officers brutally attacking young students for small acts of disobedience.
Last month, we reported that a school police officer in Louisville, Kentucky punched a 13-year-old for cutting in line, and then put another child of the same age in a choke hold, causing brain damage.
Also last month, we reported on a case in Baltimore where a group of 13-year-old girls were assaulted with a baton and pepper spray for questioning a school officer.
A recent proposal to put guns in the hands of school police officers in Baltimore City failed last week, but it is likely that similar measures will be proposed throughout the country.
John Vibes is an author, researcher and investigative journalist who takes a special interest in the counter culture and the drug war. In addition to his writing and activist work he organizes a number of large events including the Free Your Mind Conference, which features top caliber speakers and whistle-blowers from all over the world. You can contact him and stay connected to his work at his Facebook page. You can find his 65 chapter Book entitled "Alchemy of the Timeless Renaissance" at bookpatch.com.