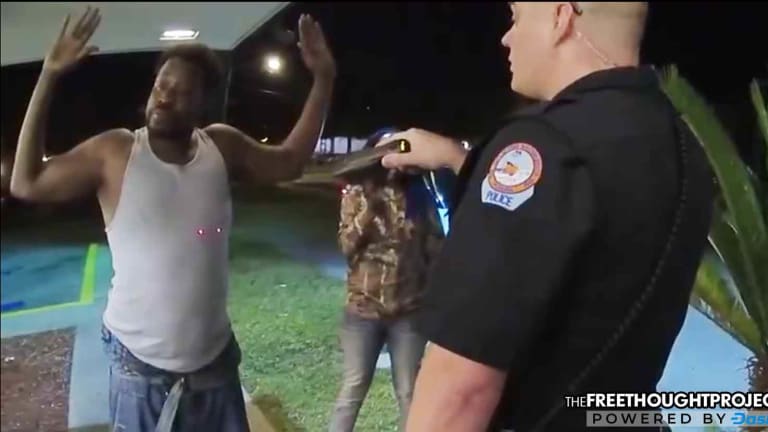 WATCH: Innocent Couple Held Up by Cops, Arrested for Questioning $1 Waffle House Charge
Renewed calls for a Waffle House boycott have surfaced after body camera footage showed an innocent couple arrested for disputing a charge.
Fort Walton, FL — Yet another disturbing video of police officers assaulting patrons at a Waffle House has been released, leading to renewed calls for a boycott of the 24-hour restaurant. This time, the incident involved an innocent couple who were accused of theft who were subsequently handcuffed and arrested by police after they complained about being overcharged for their meal.
According to reports, the couple was complaining that they were overcharged $0.50 for a $1.00 orange juice on their to go order. Before they received their food, they complained and asked to speak to customer service.
Instead of customer service, however, Waffle House called the cops.
Body camera footage of the incident was recently released and shows police enter a Waffle House and tell the man, who was simply trying to dispute his bill before getting his food, to get out of the restaurant.
"Get out here," the officer tells the man. "He needs to get out here and talk to me like a man."
When the man complies with the officer, the cop then reverses his order completely and tells the innocent man to "back up, back up."
When the man and the woman finally step outside, they try to explain to the police officers that they placed an order and then questioned a single charge.
"I was just asking why I was overcharged on my bill," the man said. "I just asked...."
He's then cut off by police who never let him finish his story. Naturally, he became upset and raised his voice, but the man never became physical and complied with police. Nevertheless, police draw their tasers and hold them trained on the man's chest.
Police repeatedly told the couple to go back inside and pay their bill, but having been overcharged, the man refused. The officers then wrongfully accused the man of theft and placed him in handcuffs.
The confusion seems to have sparked because police did not understand that the couple never received their food. If they never received their food and simply disputed the cost of the food before they paid for it, this is not theft, it is negotiation.
However, that was irrelevant to the officers who then placed both the man and the woman under arrest for a theft that never happened.
After the couple is arrested, according to a report out of Business Insider, the couple paid for the meals they never received and police released them because they had nothing with which to charge them. According to the report, the woman returned to the Waffle House — after paying for a meal she never received — and she was given a full refund.
In response to the incident, Waffle House released a statement noting that they are looking into the matter.
"As anyone who has dined with us knows, we have a very diverse customer base and workforce. We have had a culture of inclusion since we opened our doors in 1955, and are very proud of the fact that our restaurants have been open to all. We understand the concern over these incidents, and welcome continued communication with the community, its leaders and the customers involved.

With respect to the Saraland, Ala., and Warsaw, N.C., incidents, we concluded that our employees acted appropriately by calling the police in light of safety concerns for our customers and themselves. In the Fort Walton Beach, Fla., incident, our review of the matter is continuing.

Our CEO, Walt Ehmer, called Ms. Sheffield the same day we received a letter from her, and said he would personally review the matter. As part of our process, we've tried to contact Ms. Sheffield several times, but she has not responded. We would like to talk further with her before we conclude our review.

We hope that people will consider all the facts before making up their minds, and we stand ready to engage in open and constructive dialogue about our company, our values and our commitment to doing all we can to ensure that our customers have a great experience in our restaurants."
As TFTP reported in April, the NAACP has stepped up after a graphic video from inside an Alabama Waffle House went viral showing a violent police struggle with a young woman. During the violent encounter, the woman's breasts were exposed.
Then, in May, a young man was brutally attacked by cops while taking his little sister out to eat after prom. Both of these incidents have sparked calls for boycotts of the waffle chain.
While a boycott against Waffle House is a noble gesture, it does nothing to address the problem of police violence. Until officers are held accountable and retrained in de-escalation, we can expect to see countless more videos just like these.