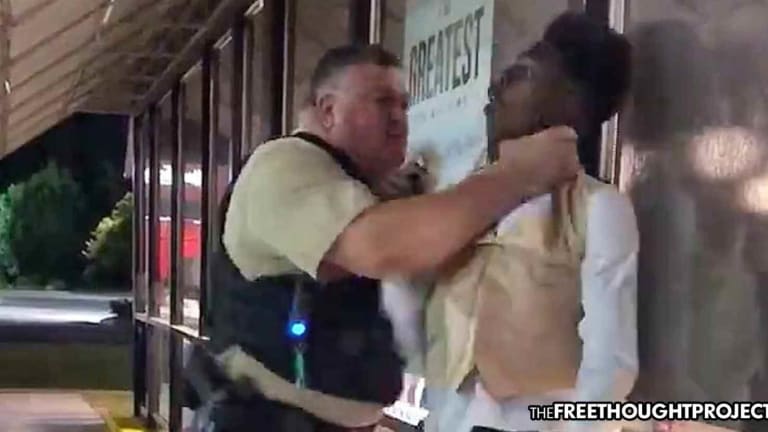 The Victim—Not the Crazed Cop Who Choked Him at a Waffle House—Heads to Trial
The victim of a high-profile police brutality incident that happened outside of a Waffle House is now headed to trial—for being beaten by a cop.
Warsaw, NC — Earlier this year, Anthony Wall took his 16-year-old little sister to prom and was enjoying a late night dinner at a Waffle House afterward when he was attacked by a massive cop for no reason. Now, instead of the officer who attacked him being held accountable, Wall is going to trial.
In May, the case gained national attention after video of the incident went viral showing officer Frank Moss treat Wall like an animal, slamming him back and forth, and choking him.
As WITN reports, Wall's trial is expected to begin at 9:30 a.m. Thursday after being delayed while the SBI investigated whether or not Officer Moss used excessive force.
According to Wall, he and his sister had gone to prom and then stopped at Waffle House to grab a bite to eat. Wall says he got into a verbal argument with wait staff at the restaurant who then called police.
The officer who responded to the call was officer Frank Moss, who happens to be the most massive cop on the force.
As the video shows, Wall is not violent at all as Moss throws him around, grabs him by the throat, and lifts him off the ground, before throwing the 22-year-old to the pavement and putting all of his weight on top of him. Wall only began to "resist" when he feared for his life because he couldn't breathe and thought he would die. "I was pretty much trying to scream for air and trying to breathe because he was holding my throat and that's when I got aggressive with him because you are choking me," said Wall. During the altercation, Wall was injured after being choked and slammed to the ground by the massive officer. He suffered a back injury and abrasions.

Showing how he is a stand up man, Wall owned up to getting in an argument inside Waffle House, but noted that the police response was entirely uncalled for.
"Your hands should have never been around my neck like that if my hands were in the air," said Wall.
After the video began to go viral, Warsaw Police Chief Eric Southerland responded by saying that the incident is currently under investigation.
"We are currently investigating the whole incident, interviewing witnesses and gathering additional video. We have also reached out to the District Attorney's Office to make him aware of the investigation. Once the investigation is complete and the District Attorney has had a chance to review the case we will provide the public with an update on the findings."
As the News and observer reported, when asked if the officer's behavior in the video reflects what Warsaw officers are trained to do in such situations, Southerland said "no."
"It's not what you're trained to do in incidents like this but when you're dealing with someone fighting and resisting against an officer, you try to use proper tactics and go for one move, but that might not work because that person is moving or the officer is moving," Southerland said at the time. "In real versus training situations, moves don't always work out like you want them to."
What's more, is the fact that it has been six months since the incident, and no "investigation" results have been released.
As TFTP reported earlier this year, the NAACP has stepped up after a graphic video from inside an Alabama Waffle House went viral showing a violent police struggle with a young woman. During the violent encounter, the woman's breasts were exposed.