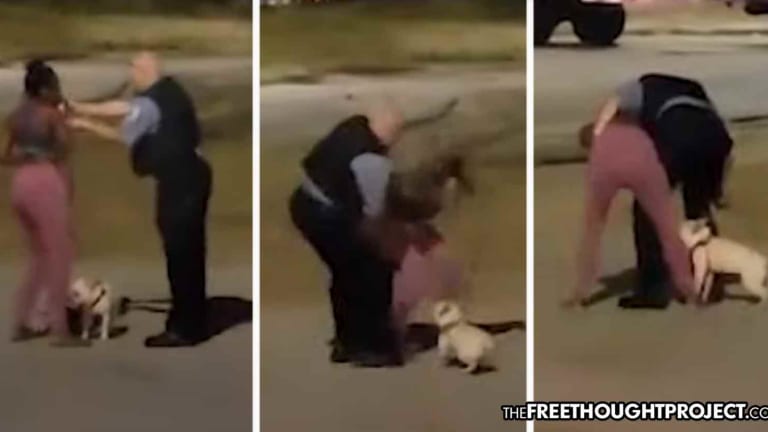 WATCH: Rabid Cop Attacks Innocent Woman as She Walks Her Dog, 'Knocking Her Out of Her Shoes'
A dramatic video of a police officer attacking an innocent woman shows what walking your dog in a police state looks like in 2021.
Chicago, IL — A video is going viral of a Chicago police officer attacking an innocent woman with many claiming that it was an act of racial profiling. The Civilian Office of Police Accountability (COPA) is now investigating the incident over the alleged misconduct.
According to lawyers for the victim, Nikkita Brown, the officer attacked her without provocation as she walked her dog on her way home. The law office of Saulter Law P.C., the firm representing Brown, told the Chicago Sun-Times that the officer approached her for walking her dog in a park after it had reportedly closed.
According to the attorneys, Brown had already left the park and was walking home with the Chicago cop began following her before subsequently attacking her.
As the video shows, Brown is harming no one, breaking no law, and is merely walking home with her small dog when the officer accosts her. Brown appears to be filming the officer, which seemingly enrages him further so he grabs for her phone before grabbing her.
Brown can be heard yelling "let go!" as the cop attacks her. She struggles to get free from her attacker, but he was much larger and was apparently unafraid of violently attacking Brown, "for absolutely no reason," according to the law firm.
"He attempts to tackle her, all while groping her body as she screams for help," a release from the law firm said. "This unprovoked attack lasts for approximately two minutes, during this time Ms. Brown's phone is knocked from her hands and she is knocked out of her shoes."
As the Sun-Times reports, 
When Brown is finally free, she can be seen on video picking up her phone off the ground before walking away with her dog.

Attorneys allege the encounter was racially motivated, noting there were several other individuals in the park that night, including a group of approximately four white people walking some distance behind Brown.

Patricia Roberts, who shared the video on Twitter and said she's Brown's mother, said in a tweet that the video was recorded by a city worker, who followed her daughter home, "making sure she was safe & not followed by the cop."
"This was an obvious case of racial profiling," they said.
When Brown finally got home, she called 911 and reported her assault, filing a report with a sergeant from the 18th District. Her attorneys stated that she is now suffering "emotional trauma" from the "brutal, unprovoked and unlawful attack."
Rest assured that the taxpayers of Chicago will now be held liable for this belligerent cop's attack. Below is a video showing what walking your dog in a police state looks like.
Walking your dog in the land of the free is increasingly becoming a dangerous task, thanks to the police state. As TFTP reported earlier this month, Dora Marchand was walking her two dogs in a dog park in New York's Upper West Side, when she was confronted by two officers who immediately placed her in handcuffs for reportedly not having an ID on her as well as walking her dogs without a leash.