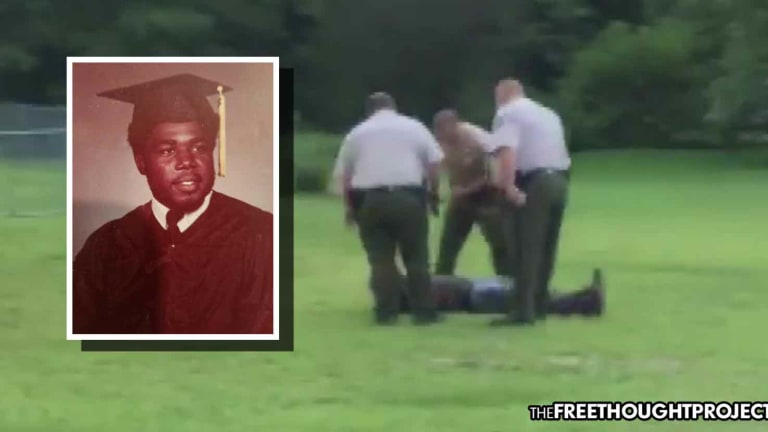 WATCH: 3 Cops Surround and Taser Innocent Man to Death, No Charges
Three cops were seen on video surrounding an innocent man, throwing him to the ground and tasering him to death and they will not be punished.
Washington County, GA — Three officers were officially charged with murder last December after they were caught on video tasering an innocent mentally ill man to death. However, a judge apparently sympathetic to killer cops quietly dismissed all charges earlier this year despite the fact that the grand jury unanimously indicted them.
After the Washington County deputies were indicted in December, the family of the victim, Euree Lee Martin thought they may receive some justice. But, thanks to a system that protects killers, that won't happen.
Earlier this year, Senior Superior Court Judge H. Gibbs Flanders Jr., of the Dublin Judicial Circuit, ruled that the indictments returned by the grand jury were invalid because no court reporter was present and that the facts pertaining to their defense attorneys' motion "are undisputed."
The judge said District Attorney Hayward Altman made a mistake when he told the court reporter she was not needed the day the grand jury met in closed session. He left the door open for the prosecutor to resubmit the case to a new grand jury, but here we are six months later and that has yet to happen.
On July 7, 2017, Martin, 58, had broken no law as he walked to a family members home to celebrate a birthday. However, he was stopped by police, surrounded, and repeatedly tasered until his heart stopped and he stopped breathing.
According to police, Martin, who lives in a group home for mentally ill people, had left his home that day to walk to a relatives house for a party. It was a 20-mile walk so naturally Martin became thirsty. He then knocked on a random homeowner's door and asked them for some water. Instead of giving the thirsty man a drink, however, the homeowner called the cops.
Three deputies responded to the call and proceeded to escalate the situation with a harmless schizophrenic man to the point of physical contact. Deputies Henry L. Copeland, Michael Howell, and Rhett Scott arrived and immediately began to show their utter lack of training in dealing with the mentally ill.
As the AJC reported, Howell was the first to spot Martin, writing in his incident report that he "pulled alongside the black male with my passenger window down and asked the male subject, 'Are you OK, and what's your name. And he looked at me and asked, 'Who are you?' and he walked off … toward Sandersville."
That was all that was written in the report, at least as far as the public is concerned. The deputies and the department never released a statement as to why they deployed their tasers.
However, a good Samaritan happened to be driving by and pulled out his camera to film the police taser Martin for no reason.
As the video below shows, Martin was backing away from deputies when they deployed their tasers. The video shows the harmless and entirely innocent man — who had done absolutely nothing wrong — writhing in pain on the ground as deputies Copeland, Howell, and Scott tasered him—over and over again.
Nothing in the cellphone video shows Martin give the deputies a reason to taser him but they did.
As the video shows, Martin would spend his last moments alive, with his face in the dirt, a cop's knee in his back, writhing in agony, handcuffed, and unable to breathe — all of it was carried out by the people who claim to protect and serve.
"You see on the news all the time white men walking down the street carrying guns and nothing happens," Elaine Brown, Martin's niece told AJC. "My uncle wasn't armed. He wasn't hurting anyone. He wasn't a threat."
Yet police killed him, and now, thanks to a corrupt and broken system, they will not suffer any consequences.