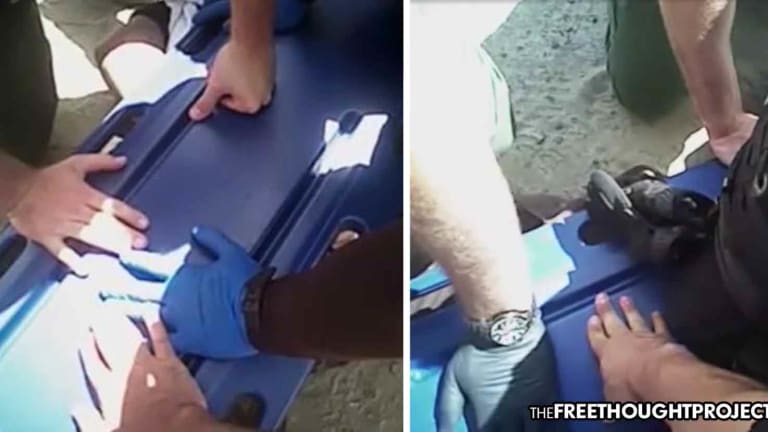 WATCH: 7 Cops Put Board on Innocent Man, Sit on Him With His Face In the Dirt Until He Dies
An innocent man was stopped by police, thrown to the ground, handcuffed and sat on until he stopped breathing and died.
Fresno, CA — On the day he was killed, Joseph Perez had harmed no one, had committed no crime, and was not suspected of committing a crime. However, as we often point out here at the Free Thought Project, being innocent is no defense against police violence.
Despite Perez's death at the hands of police taking place in 2017, body camera footage was not released until now. At a news conference on Friday, Perez's parents, sister, his widow and their children watched the video through tears of his last moments alive. His last words evoked the tormented memories of those who died at the hands of police in a similar fashion — "I can't breathe."
According to the Fresno Bee, Perez's family is suing in federal court Fresno police officers, Fresno County Sheriff's deputies, the city and the county of Fresno and American Ambulance for wrongful death, excessive force and other damages. The body camera footage was released Friday under a court order. The case is set to go to trial in May 2022 around the five-year anniversary of Perez's death.
"This week, the officer that sat on George Floyd's neck and killed him is getting ready to stand trial in his murder case," said Neil Gehlawat, an attorney representing Perez's family. "And my clients are left wondering: Why not these deputies and these officers?"
Indeed, Gehlawat brings up a powerful point and the fact that Perez was never accused of a crime makes his death that much more egregious.
Adding to the suspect nature of Perez's death is the fact that on Friday two versions of the body camera footage were released. One was released by the attorneys for the family which was uncut and showed the entirety of his death. The other version was released by the Fresno Police Department and was heavily edited with commentary from former Police Chief Andy Hall used to justify the officers' actions that day.
"First and foremost, I want to express on the part of the Fresno Police Department how tragic this loss of life was. Despite Mr. Perez's personal struggles, it saddens all of us when a life is lost," Hall says in the video.
According to Hall, officers came upon Perez solely "by chance" claiming "they could see he needed help."
Officers handcuffed Perez "for his own safety" because he "put himself at risk" when he tried to run into the street, Hall says in the video. Sadly, their "help" would kill the innocent man.
It is important to point out that no footage exists on body camera or otherwise which shows Perez attempting to run into the street. As we have seen before, police officers attempting to stop people from improperly crossing the street, will escalate to deadly force. Whether or not that happened in this case is unknown.
As the footage shows, Perez would spend his last moments on this planet with his face buried in the dirt as cops sat on top of him, squeezing the air from his body.
"Relax, just breathe," the officers say.
"Air....I can't..." Perez can be heard saying. "Please help me."
Paramedics arrive and instruct the officers not to roll Perez onto his back and instead keep him facedown in the dirt as they place a paramedic backboard on his back. Officers then sat on the board.
Just prior to the officer sitting on the board, Perez is heard saying, "I can't breathe."
Through his last few breaths on Earth, Perez continued to call out before he went limp and stopped breathing.
"Joseph, you OK? Joseph, you alright? You alright, dude?" a deputy asked, but there was no response.
Instead of administering CPR to the dying man, the seven law enforcement officers and three paramedics surrounding Perez continued to strap him to the backboard.
"At some point during this process, Mr. Perez became unresponsive," the video commentary said. "He was transported to the hospital with CPR in progress. Sadly, Mr. Perez was later declared deceased at Community Regional Medical Center."
At the end of the heavily edited police version of events in the footage, Hall makes sure to point out that Perez's toxicology results showed he had methamphetamine in his system and claimed that it was a contributing factor in his death. Conveniently, and perhaps criminally absent from his narrative, was the fact that the Fresno County Coroner ruled Perez's death a homicide.
We will not post the police version of events in this article and instead post the entire uncut video released by the attorneys.
"At the time that the body cam footage starts, Mr. Perez is already on the ground and has been on the ground for at least a minute," attorney John C. Taylor said. "Mr. Perez was unarmed. Mr. Perez was not committing any crime. He was not wanted for the commission of any crime."
"That is inhumane," Gehlawat added.
According to the Bee, the Fresno Police Department missed an opportunity on Friday to admit the officers made a mistake, the lawyer said. Instead, the department through its former chief "doubled down." That sends a message to other law enforcement officers that they can get away with murder, Gehlawat said.
"Think about how difficult that has been for this family to see and to know that there are no consequences for this conduct," Gehlawat said.