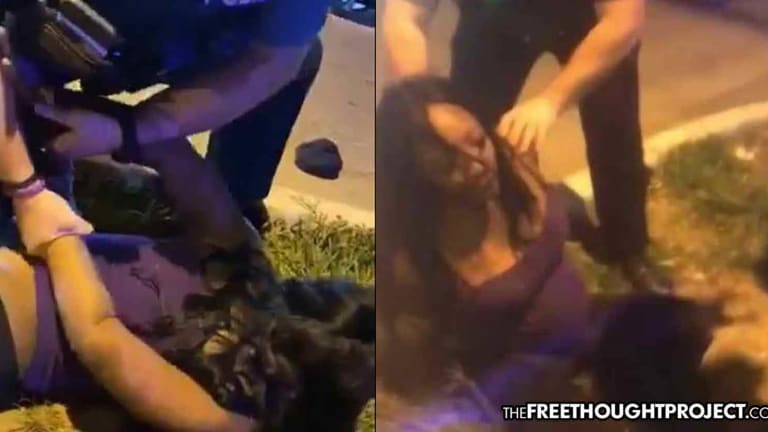 WATCH: 9-Month Pregnant Woman Body Slammed, Knelt Down On By Cop for Filming Police
"I cry every day because I am scared for my baby. My baby girl has not even been born yet and she is a victim of police brutality."
Kansas City, MO — Video footage shows officers with the Kansas City Police Department aggressively arresting a woman who is nine months pregnant. Police claim that the victim, 25-year-old Deja Stallings, was attempting to intervene in arrest, but Stallings says that she was filming an arrest when they became aggressive with her.
Kansas City police spokesman Capt. Dave Jackson confirmed that Stallings was arrested for "hindering and interfering."
The City Hall building has been met with nightly protests since the incident and came to an emotional head Thursday night as Stallings addressed the crowd.
"I cry every day because I am scared for my baby," she said. "My baby girl has not even been born yet and she is a victim of police brutality. I am trying to stay strong but I know my baby is a fighter. She needs to be the last child who is a victim of the KCPD. She needs the demands of this occupation to be met."
Videos that were taken by onlookers showed officers violently throwing Stallings to the ground and kneeling on her back, putting both her and her unborn child at risk.
At a press conference after footage of the arrest went viral, Jackson said that police were called to a fight involving at least 15 people, and that the officers ordered everyone to leave. Everyone who refused to leave was arrested, and police say that Stallings attempted to interfere with one of the arrests.
There is confusion about what was actually taking place at the site of the arrest. Attorney Stacy Shaw, who has become an advocate for the victim, says that a few of the people who were targeted by police were actually in the area to participate in a balloon release for a homicide victim.
In some footage of the scene, balloons are clearly seen in the background, attached to a telephone pole. It is possible that a fight broke out at this small event, but police do tend to react irrationally when they see more than a few people of color gathering somewhere. In the wake of protests against the killing of Breonna Taylor, members of the Kentucky National Guard mistook a weekly barbeque for a protest and shot and killed a local business owner.
Last week, protesters began gathering out front of Kansas City Police Headquarters, calling for all of the officers involved with the attack on Stallings to be fired, and for Kansas City Police Chief Richard Smith to resign. Protesters still remain outside, many of them have pitched tents and have refused to leave until their demands have been met. According to KMBC, there were about 20 tents outside of the headquarters this week.
Shaw, one of the main organizers of the protests, says that there are about 70-100 people there at any given time, but to maintain social distancing guidelines they only allow 100 people on the site at a time.
"Why was it necessary to handcuff and to put a knee on a pregnant woman's back when she is nine months pregnant? What sort of monsters would do that to a pregnant woman? There is no end to the brutality and the lack of humanity from the Kansas City Police Department. There will be no end until we imagine a different type of community safety," Shaw told the Kansas City Star.
"The most recent act of brutality of a pregnant woman, an unborn child, is yet another example of the culture of brutality, callousness and disregard for the citizens of our community," Kevin Woolfolk with the Southern Christian Leadership Conference told NBC.
"This cannot and will not be dismissed, this double assault on humanity," said Rev. Rodney Williams, president of the Kansas City chapter of the NAACP.