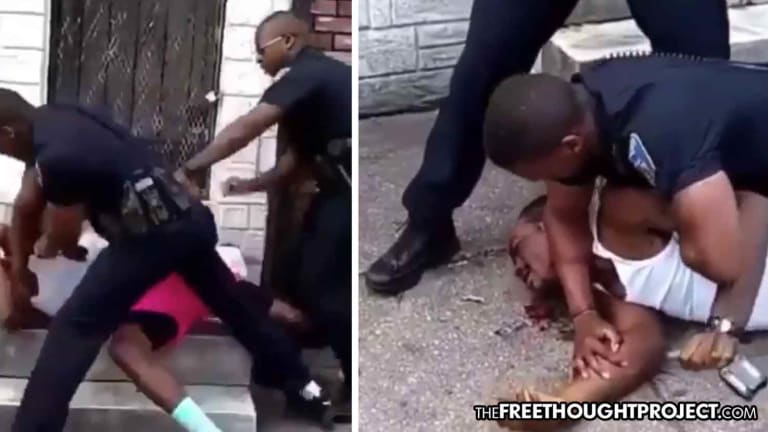 WATCH: Cop Charged After He Walked Up to Innocent Man and Horrifically Beat Him
A Baltimore cop is on trial for assault after he walked up to an innocent man and began savagely smashing in his face for absolutely no reason.
Baltimore, MD — A Baltimore cop has been charged and has since quit the department after he was seen on video savagely beating an unarmed and innocent man until blood poured from his face. From the beginning of the beating until the end, the man never posed a threat to the cop. Indeed, this is the focus of former Baltimore officer Arthur Williams' trial which started this week—why did he attack?
As WBAL reports, the prosecution is still calling witnesses and playing police body worn camera video to make its case. So far, what's missing, even under cross-examination, is what prompted the assault. The state maintains it was unprovoked.
The video was so horrific that the Interim Police Commission, Gary Tuggle, released a statement at the time saying he was "deeply disturbed by the video," and noted that he suspended Williams immediately.
"I'm deeply disturbed by the video that surfaced online earlier today. The officer involved has been suspended while we investigate the totality of this incident. Part of our investigation will be reviewing body worn camera footage," read the statement at the time.
The trial has been going on for two days and officials have yet to even determine a reason why Williams began savagely beating 26-year-old Dashawn McGrier.
Officer Brendon Smith-Saxon, who was Williams' partner that day and was suspended after he failed to intervene and stop the attack on an innocent man, told the judge he saw McGrier allegedly rolling a joint that day. The alleged joint rolling prompted the stop, according to the officer.
However, as the video shows, there is absolutely no mention of a joint when Williams approaches McGrier and demands to see his ID. Smith-Saxon appears to be committing perjury to protect his fellow brother in blue.
What's more, the story cops told and the story captured on video are two very different scenarios.
According to WBAL:
 As Williams begins striking McGrier, Smith-Saxon calls for backup and initiates a Signal 13 -- a call for officer assistance.

Under oath, Smith-Saxon says he did it because the crowd grew -- from five or seven people, to 50 or 60. Although no cellphone cameras or body worn cameras reveal a large crowd, Smith-Saxon says he was concerned as two people were using brooms to sweep the sidewalk. He said they could have been used as weapons.
But no one attacked the cops and the officers were the only threats on the scene.
What's more, after the attack, no officers found any such marijuana and McGrier was never charged with a crime. It appears that Williams simply snapped and beat an innocent man for no reason. He clearly poses a threat to society and needs to be held accountable for his actions.
During the trial, prosecutors even played a heart-wrenching video of the aftermath in which McGrier is crying, trying to talk to paramedics through his severely injured face.
According to the report, one of those paramedics broke down on the witness stand recalling what she saw that day and the horrific injuries McGrier suffered to his face and body.
"It seems like this officer had just decided that Dashawn was going to be his punching bag," McGrier's attorney, Warren Brown said. "And this was a brutal attack that was degrading and demeaning to my client, to that community, and to the police department."
According to the Sun, several men on Monument Street at the time — who asked not to be named, for fear of reprisal from the police for discussing the matter — said Williams knew McGrier from prior interactions, and that they believed he was targeting him. This could explain why the prosecution has yet to be able to determine a reason for the beating during trial.
Indeed, as you watch the video below, it appears that the officer has no reason to initiate contact and seems to want to provoke McGrier.
As TFTP reported last year, lawmakers in Baltimore have accused the department of being so corrupt that they proposed disbanding the entire department. The video below helps to back that notion up.