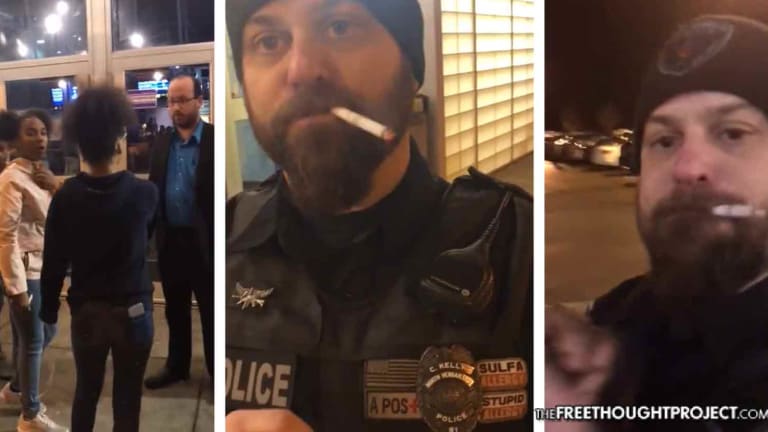 WATCH: Cigarette Smoking Cop Tackles, Arrests Woman as She Films Him Harassing Teens
A woman was tackled, her head smashed into the concrete, arrested and charged as she was filming theater staff and police allegedly harassing three young girls.
North Versailles, PA — An alleged assault by a North Versailles police officer violently arresting a woman as she filmed him has sparked massive online backlash after video of the incident went viral.
The incident happened on February 24 outside of a movie theater in North Versailles. The video was taken by Melanie V. Carter, who says she began filming when she witnessed a group of girls being called animals and getting harassed by officer Christopher Kelly and theater staff.
Kelly appears to be the world's most unprofessional cop as he smokes cigarettes in uniform and dons patches on his chest that claim he is allergic to "stupid."
According to the report in the Post-Gazette:
Officer Kelly was working a security detail and was removing the girls for "causing a disturbance" inside the facility. They'd been told once to leave and had returned, he wrote in a criminal complaint.

As he was escorting the girls out of the building, another patron, Melanie V. Carter, stepped in. She was not related the any of the girls, according to a criminal complaint, but told Officer Kelly she was "looking out for them." She asked the officer why he was kicking the girls out, and he told her not to interfere.

She then told him that the girls had done nothing wrong and he was being racist, Officer Kelly wrote in the complaint. The confrontation moved outside the movie theater, where Ms. Carter began filming on the sidewalk, according to a criminal complaint.
As the video begins, Kelly asks Carter for a light, as the unprofessional officer dangles a cigarette from his lips.
As Kelly continues filming, she noted that the manager called them animals. Just then, the manager, identified in court records only as Jason, according to the Gazette, then steps up to the camera and says, "Yeah, because you're behaving like an animal."
Carter is then told to leave by the officer and she refuses on the grounds that she paid money to be there just like everyone else and that she had done nothing wrong.
"You have to leave," Kelly says. "This is defiant trespassing."
As Kelly warns Carter that she will be arrested if she doesn't leave, he begins taking out his handcuffs, essentially nullifying that warning and refusing to allow her to listen to him. When he tries to grab her hand, Carter pulls back as not to be assaulted by the police officer. This caused Kelly to escalate to violence and he appears to throw the woman to the ground as she screams in pain.
"Get off of me," Carter yells in the video. "Get off of me!"
According to Kelly, Carter "violently pulled away" from him, prompting this response.
Carter explained her side of the story in an impassioned Facebook post:
I went to Phoenix Theater in North Versailles on February 23 at approximately 9pm when I pulled up an officer was pushing a young black girl out the door aggressively I asked the girl what happened and she said she was playing with her friends in the game room when officer Chris Kelly grabbed her from behind escorted her to the door and pushed her outside. The officer then went back inside and made several other black girls leave the theater I started filming at this point and was assaulted by the officer who banged my head on the concrete while placing his knee in my back and placed under arrest although I broke no laws.
Carter was arrested and charged with disorderly conduct, resisting arrest, defiant trespassing and failure to disperse. She was released on a nonmonetary bond and is scheduled to appear for a preliminary hearing on April 19, according to the Gazette.
In the comments on Carter's Facebook page, one person claiming to know Kelly explained that he used to be a security guard but was fired for excessive force. After reportedly being fired from the private sector, he then hired on with the Versailles police department where he can enjoy the benefit of violence with impunity.
Below is the video.