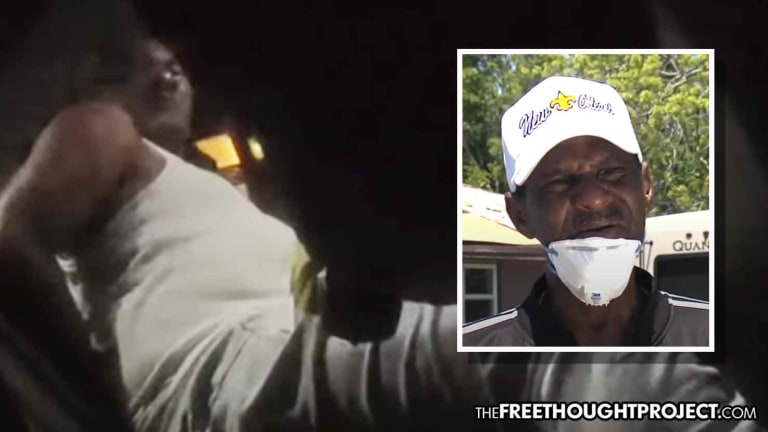 WATCH: Cop Accuses Elderly Man of Robbing His Own Home, Tortures Him With Taser
An innocent elderly man was accused by police of breaking into his own home so they handcuffed and then tortured him with a taser.
Port Allen, LA — On March 27, 2021, 67-year-old Izell Richardson accidentally locked himself out of his home. So, he had to break his window to get back in. Richardson's sister, who lives in the home as well, came home and didn't realize it was her brother trying to get in, so, she called the police.
Breaking a window to enter your own home is not a crime and Richardson was entirely innocent. Despite being entirely innocent, however, Port Allen officer Nolan Dehon would treat Richardson like an animal and falsely accuse him of breaking into his own home.
As the recently released body camera footage shows, Port Allen police officers arrived at Richardson's home and he tells them what is going on.
"I left my keys, so I busted a little hole in the window to go in there to open the window," Richardson said. "My sister was in the back and called the police on me. I didn't know."
Police did not care to hear Richardson's explanation and they immediately began threatening him with violence and escalating the situation.
"Come out of there before I light you up," a Port Allen Police officer is heard saying.
"This is my house," Richardson, who was in his underwear, was heard saying in the video. "I'm paying for this house. I bought everything here. I got a bad back. Don't grab me."
Richardson is then handcuffed without incident and complies with everything the officers say as they place him in the back of the cruiser. Due to his age and bad back, however, it was difficult for him to get in the car while in handcuffs.
Being innocent and handcuffed in the back of a police cruiser began to frighten Richardson, who has undoubtedly seen the countless videos of police killing people. So, he started screaming for help.
"Help!" Richardson screams as Officer Dehon pulls out his taser.
"Scream again. Go ahead, scream," the officer threatens the innocent man before proceeding to torture him with multiple taser strikes.
"You understand me," Dehon is heard saying to Richardson. "We are going to book him in for disturbing the peace."
Yelling for help while being kidnapped by torturous thugs is hardly disturbing the peace, yet they booked him for it anyway.
"That f**king put that thing to my heart and pow!" Richardson said as he recalled the night's events to WBRZ. "I went out again."
Richardson says he recently underwent open heart surgery and he noted the only thing that kept him alive that night was God.
"It was nothing but god," Richardson said. "I pray. I pray for the sick and shut-in and the old people. I have the blood of Jesus on me. I'm here by the grace of God."
After Richardson was arrested, police reviewed the footage and realized he had committed no crime.
The suspect was handcuffed, sitting in the back of a police unit and was "not refusing to get in the back of the unit, [or] resisting commands from law enforcement. Nor was he being physically combative towards law enforcement," investigators wrote in investigative documents.
In a rare move, after Richardson was exonerated, an investigation was launched and Dehon was arrested. This torturous cop was charged with malfeasance and aggravated battery for the incident. This week, Dehon resigned from the department, in a likely attempt to keep his police officer status and avoid being fired, so he can later become a gypsy cop.
After hearing about Dehon's arrest, Richardson told WBRZ that he had a message for him.
"You're a dirty lowdown dog," Richardson said. "You need to stay locked up in jail."
For those who think Richardson screaming for help was unjustified, consider that on the night of July 7, 2018, Joseph Pettaway was accused of breaking into his own home like Richardson. Instead of talking to Pettaway, an officer deployed his K-9 on the innocent man, forcing it to maul him for over 2 minutes. Pettaway was mauled to death.