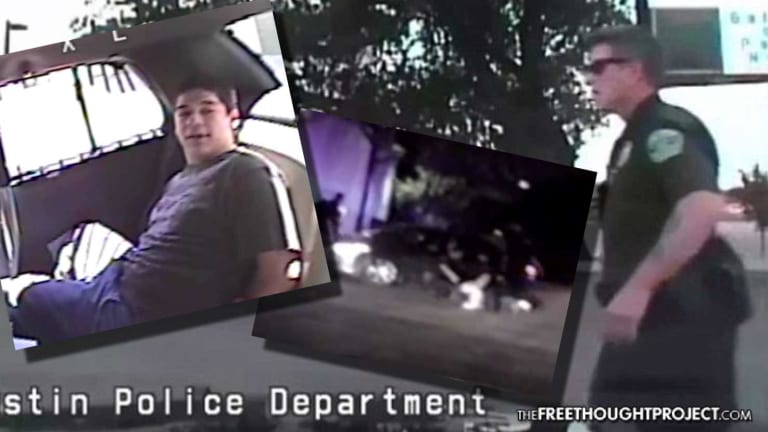 WATCH: Cop Caught on Video THREE Times Killing & Beating Unarmed & Innocent People—Still has Job
An Austin police officer has killed an unarmed man and beaten two innocent men, been sued for it, and somehow still has his job.
Austin, TX — Last week, the taxpayers of Austin, Texas were forced—for their third time—to pay for the violent actions of officer Eric Copeland of the APD. City council members approved a six-figure settlement to be given to one of many of Copeland's victims.
This officer's abuse is so rampant that it has been captured on video a whopping three times. The latest case, which cost the taxpayers $150,000, stems from the arrest of Adrian Aguado, 20, who Copeland tasered for no reason and broke his nose.
Copeland was responding to a domestic incident in which Aguado was accused of hitting his sister—a claim he denied.
The memo states Aguado, while handcuffed in the back of a police car, began to use the seat belt fastener to bang against the plastic seat. Officer Copeland came to see what was causing the noise. Copeland told Aguado he "seemed slow" and asked if he took anything for "mental retardation." Other inappropriate comments made by Copeland were criticized by the chief, according to KXAN.
As the officer was telling Aguado to exit the patrol car and turn around, he shocked the man with his stun gun for absolutely no reason. Copeland admitted that he gave conflicting commands to Aguado and gave no warning that he was about to deploy his taser.
For needlessly tasering a man who had committed no crime Copeland was not fired. Instead, he was given a 90-day vacation and was allowed back on the force.
Before Aguado, there was the deadly incident involving 37-year-old Ahmede Bradley during a traffic stop.
In 2012, Copeland pulled over Bradley who then made the unwise decision to flee in his vehicle. After he stopped, a brief foot chase ensued before Copeland "intentionally struck Bradley in the face, head and body at a time when Bradley had not assaulted Copeland," according to a lawsuit filed by Bradley's family.
Copeland then shot Bradley in the chest three times, killing him. Bradley was unarmed. A judge later awarded Bradley's family $1,000,000 for the death.
"I'm gonna fucking shoot you," Copeland is heard saying on the video multiple times before three shots were fired, killing Bradley. Copeland was subsequently cleared of any wrongdoing.
It's not only suspects who Copeland has abused or killed either. In 2011, a federal jury awarded Carlos Chacon $1,000,000 after Copeland and another officer, Russell Rose, beat and tasered him. Chacon had called 911 to report suspicious activity at a Motel 6, he had done nothing wrong.
While he was still on the phone with 911, Chacon approached the officers to assist them in their investigation. Instead of talking to Chacon, however, Copeland and another officer drew their weapons and pointed them at Chacon.
"Their guns were drawn, pointed at me. They were shouting at me. They were cursing at me. I was trying to identify myself as a person that called the police. They did not listen or engage in the conversation," Chacon told Fox7 at the time.
Officers then proceeded to beat, taser, and then arrest Chacon for resisting arrest.
"What I did is, as a good citizen, is I called the police and I reported it. I identified myself fully with a description of my vehicle and myself. I stayed on the phone the whole time with the operator and I waited for the police to arrive," he explained.
In spite of the jury awarding him $1 million, the judge, likely sympathetic to brutal cops, reduced the amount to $60,000. Austin City Council members then increased it and the taxpayers shelled out $154,000.
When a cop can beat an innocent man and keep his job, this is a major problem. However, when a cop can beat an innocent man, taser and ridicule another, and shoot and kill an unarmed suspect—all without losing his job—and passing the bill on to the taxpayers, the system is broken. Officer Eric Copeland is evidence that the system is broken.