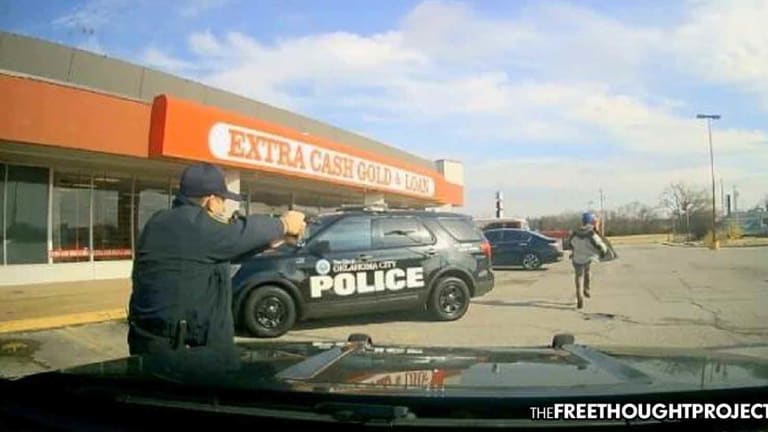 WATCH: Cop Charged After Shooting Homeless Man 3 Times as He Ran Away, Killing Him
A cop was charged after video showed he needlessly fired 3 rounds into the back of a fleeing homeless man, killing him.
Oklahoma City, OK — In an extremely rare move, an Oklahoma city police officer was actually charged with a crime for an on-duty shooting. Oklahoma City police sergeant Clifford Holman, 36, has been charged with manslaughter for fatally shooting Bennie Edwards, 60, as Edwards ran away from officers in a parking lot.
After announcing the charges against Holman, Oklahoma County District Attorney David Prater released videos of the shooting to the online news site NonDoc. The department released the body camera footage as well, later that day.
The incident unfolded on Dec. 11, 2020, after Oklahoma City police officers responded to a disturbance outside of a store in the middle of the day. When police arrived on the scene, they found Edwards suffering from a schizophrenic episode.
"The subject actually came towards the officer and the officer backed away, called for backup, and actually called for less lethal support," said Capt. Dan Stewart, with the Oklahoma City Police Department.
Edwards was holding a small knife which caused the officers to fear for their lives. So, they escalated force and Edwards was pepper sprayed and tasered but he did not drop the knife.
When Edwards refused to drop the knife, two of the three officers on the scene, Holman and MSgt. Keith Duroy, opened fire. When Edwards turned and ran, however, instead of realizing there was no longer a threat, Holman continued firing and Duroy stopped.
"The District Attorney's Office did not file charges against Master Sgt. Keith Duroy for his involvement in the shooting," Stewart said. "All inquiries regarding this investigation should be directed to the Oklahoma County District Attorney's Office."
Holman was charged because he fired three more rounds into the back of a man who would have likely dropped to the ground since he'd already been shot. Prosecutors say Holman's decision to keep firing, was "unnecessary" which is why he is charged with First-Degree manslaughter.
"Sgt. Clifford Holman dropped his Taser unit, drew his service weapon and fired three shots unnecessarily at Mr. Edwards as he was running away, striking him in his upper middle back, causing his death," the court documents stated.
Naturally, the police union, whose job consists of apologizing for killer cops — even when they shoot fleeing mentally ill men in the back — released a statement claiming the charges against their fellow officer and are baseless. They stopped short of claiming Holman's decision to shoot the fleeing mentally ill man was heroic.
The Oklahoma City Fraternal Order of Police released the following the statement:
"The OKC FOP stands by Sgt. Holman, who followed his training when an armed suspect charged another officer. A loss of life is always a tragedy, but officers must be able to protect one another when de-escalation tactics are ineffective.

In this situation, when faced with a disturbed individual armed with a deadly weapon, our officers used multiple methods of de-escalation and less-lethal options to try to avoid the use of deadly force. When those efforts were ineffective, the officers were put in peril when they were charged by the armed person. We maintain that Sgt. Holman upheld his duty and followed the law.

We know these are trying times for Sgt. Holman and his family, and we're here for them. The FOP thanks every officer who puts on a badge to protect and serve, despite this challenging environment."
A spokesman for the Oklahoma City Police Department previously told The Oklahoman that Holman and Duroy did not have crisis intervention certifications — special training that helps officers understand and serve people with mental illness.
Had they been trained in dealing with the mentally ill, Edwards may still be alive today to get the help he needed.