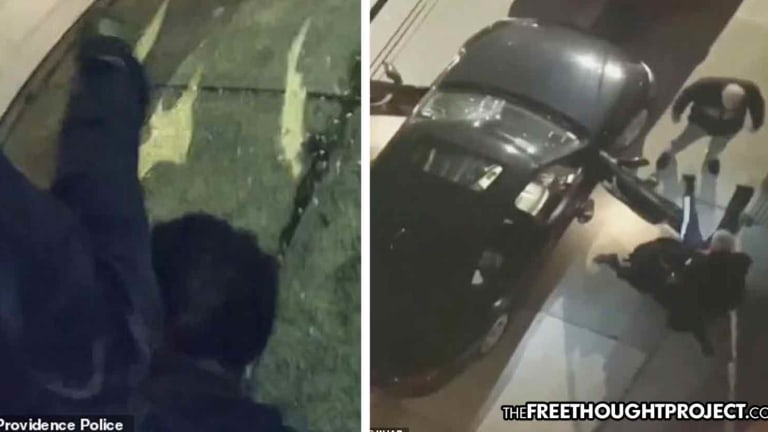 WATCH: Cop Charged for Handcuffing Innocent Man, Bouncing On His Head with His Knee
An innocent man was dragged from his car, thrown to the ground, kicked, stomped, and punched by a cop who has since been charged over the incident.
Providence, RI — Video footage of what led to the arrest of Providence police sergeant Joseph Hanley was released this week showing exactly why the officer needed to face charges. The release of the video is now making waves as its contents and the fact that is was released at all was highly controversial.
According to police, they were responding to an alleged domestic dispute when they confronted and arrested 28-year-old Markese Davis who officers say was resisting arrest. During the arrest, police accused several bystanders of "verbally interfering" with the arrest — hardly a crime.
It is unclear if Rishod Gore, also 28, was one of these folks but that did not matter to Sgt. Hanley and his team of uniformed attack dogs. After putting Davis in the squad car, cops walked down to a car occupied by Gore and another female and without telling him why, proceeded to drag him from the vehicle and savagely attack him.
As the video shows, Gore merely asks officers why they are dragging him out of the vehicle before he is thrown to the ground stomped on, handcuffed, and then repeatedly kicked and punched by Hanley as he verbally berated him as well.
"Why you pullin' me like this man?" asked Gore to which Hanley replies, "Shut up."
Hanley repeatedly called Gore a "tough guy" and appeared to be attempting to provoke him. However, Gore allowed cops to place him under arrest and did not fight back, likely knowing he would easily get a settlement from the abuse — which he did, less than a year later.
For several moments, Hanley can be seen punching Gore in the ribs, kicking him in the head, and bouncing up and down on the man's neck and head area with his knee.
When cops stand Gore up, he is still asking them, "what did I do? What did I do?"
"Shut up" Hanley says as he kicks Gore once more and steps on the backs of his legs.
When he was put in the police cruiser, Gore was originally charged with disorderly conduct and resisting arrest. But after reviewing the evidence, it was clear Gore was entirely innocent and so those charges were dropped. Gore would later file a suit and receive a $50,000 settlement.
Asked for comment about the videos, Gore's lawyer Georgi Vogel-Rosen told the Providence Journal that "Mr. Gore is eager to put this horrific incident behind him. He has resolved his legal claims with the city and looks forward to moving on with his life. He has no additional statement to make at this time."
Jose Batista, head of the Providence police civilian oversight panel, risked his job to put out the video and did so knowing it would infuriate police.
"I had positive and productive working relationships with almost everybody on the board. But the more I advocated the release of this video, the worse those relationships began to deteriorate. And that is something that I think is unfortunate. And the people have a right to know how they are being policed and what happens as a consequence," said Batista.
We agree. Naturally, however, the police union disagrees and in a statement, the union said, "The public release of the Joe Hanley video by the Executive Director of PERA, Jose Batista, clearly demonstrates how PERA...fails to act as and remain a neutral, independent review board of Providence Police conduct."
The statement continued to say, "The release of the video will now undoubtedly not only impede the ability of the Police Officer to receive a fair and impartial trial, but may impede the ability of the complainant to have his complaint properly adjudicated."
As you watch the videos below, remember that Gore was in the sanctity of his own car and had committed no crime and that is all the video shows. Next time someone tells you that if you don't want to get beaten by police, don't do anything wrong, show then this.