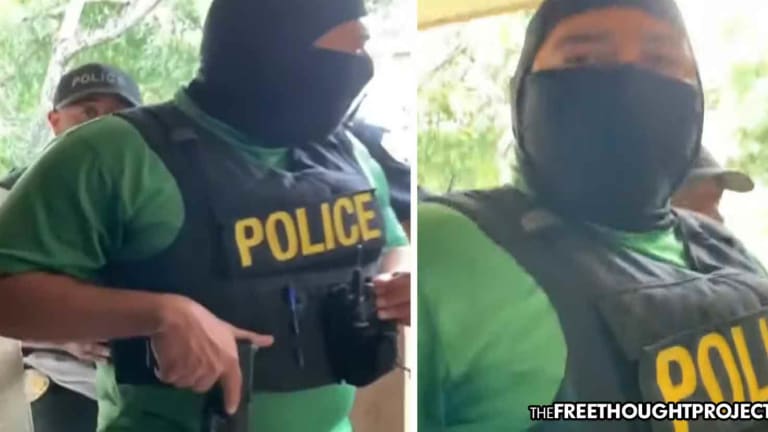 WATCH: Cop Dressed Like a Terrorist Violates Innocent Family as They Play With Their Baby
An innocent family was terrorized by police who barged into their home as they played peacefully with their baby boy.
Opa-locka, FL — In the land of the free, police frequently and unapologetically carry out military-style raids on completely innocent people by descending upon the wrong home. Whether it's due to the wrong address on the warrant, faulty GPS, or just blatant carelessness, the results are the same. Innocent people are traumatized, terrorized, assaulted, beaten, or even killed. One video from Florida this week, gives the rest of the world a glimpse into the government-sponsored terrorism being carried out on innocent families by cops who continuously fail at doing their jobs.
Jeff Bryon and Stephanie Crespo were peacefully sitting inside their own home earlier this month with their 8-month-old baby when all of the sudden, a masked man barged in holding a gun. That masked man was an undercover cop with the Opa-locka police department.
According to Local 10 News, earlier this month, Opa-locka police officers received an anonymous tip through Crime Stoppers that a man with a chrome handgun was walking around threatening people and asking them for money in an apartment complex at 13875 NW 22nd Ave., Opa-locka police Chief James Dobson said.
Police said the caller gave a description of a man but never told them an apartment number. So, without having any idea where to go, this masked home invader entered a random family's apartment. It was clearly the wrong one, but the still-unnamed officer couldn't have cared less.
Video taken by Byron shows the masked man with his gun out along with another cop holding a gun too. Byron told reporters that without warning, officers burst through the door with their guns drawn while their 8-month-old baby boy was in the home. The officers never showed a warrant and never even announced themselves before terrorizing this innocent family.
After the home invaders burst into his apartment and began terrorizing his family, Byron somehow managed to get himself together and start filming. As the video shows, the cops did not care that they were in the wrong apartment and wouldn't tell them why they were there.
When the masked cop saw that Byron was filming him, he apparently lost it and proceeded to knock the man's phone away. This is both assault and a violation of Byron's constitutionally protected right to record police. Remember, he had done nothing wrong and the police were the ones in the wrong here.
Nevertheless, just as soon as they barged in and terrorized the family, they were gone and this innocent family left to pick up the pieces.
"To me, honestly, I feel like just that officer right there, he just needs to be off the force because he's, he's just a loose cannon," Byron told Local 10 News.
After the video was posted to Facebook, police were forced to respond to the incident.
"The Opa-locka Police Department cannot comment on the exact facts of an active investigation," Dobson said. "It takes any and all allegations of misconduct very seriously. Any allegation of police misconduct will be investigated immediately."
Only after the video started to pick up steam did the department finally respond by suspending the 15-year veteran officer from the force. He is still getting paid however, making this "discipline" little more than a paid vacation.
"We are very serious about this investigation," Dobson said. "It's going to be transparent and will be professionally done."
We won't be holding our breath.
Time and time again, we hear the police apologist crowd claim that "if you don' want to be attacked by police, don't do anything wrong," and time and time again, videos like the one below prove them wrong.