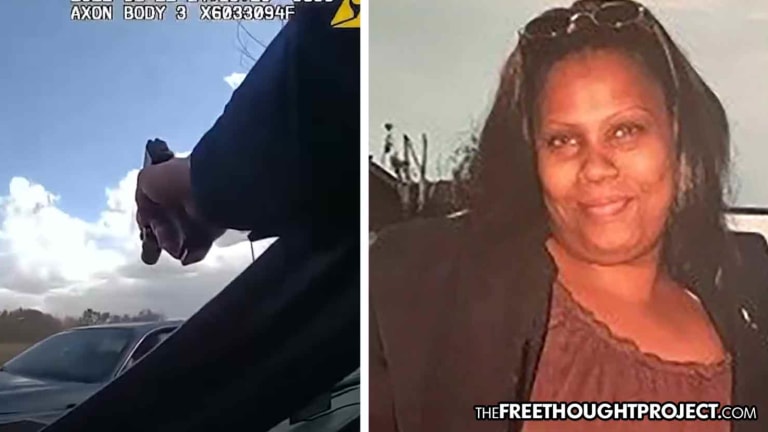 WATCH: Cop Dumps 30 Rounds Into Unarmed Grandma, Executing Her as She Tried to Flee
While attempting to flee a traffic stop, an unarmed grandma was gunned down by a police officer, executed by more than 30 rounds.
Stockton, CA — In 2019, the Stockton Police Department adopted a policy which "generally prohibits shooting at a fleeing vehicle." Decisions "to fire at moving vehicles must be based on the most compelling circumstances," according to the department's General Orders. Apparently, an unarmed grandmother attempting to flee a traffic stop is one of those "compelling circumstances."
On February 22 of this year, Tracy Gaeta, a 54-year-old grandma with no criminal record, appeared to be in a state of mental illness when she accidentally rear-ended a police car at a red light before fleeing the scene. We will never know what caused Gaeta to hit the police car that day, or what made her flee, however, because shortly after the incident began, Gaeta would be executed by officer Kyle Ribera.
While the matter of why Gaeta struck the cop car that fateful day remains a mystery, the matter of what happened afterward is entirely clear as it was documented from multiple camera angles.
As the videos show, for unknown reasons, Gaeta stuck a police officer who was waiting at a red light before driving off. The officer radioed dispatch that a black male in his 50s was the culprit and a search for the suspect ensued.
When police finally found Gaeta, she was parked in a dead-end street. That's when K-9 officer Kyle Ribera blocked her in and killed her.
Body camera footage released nearly two months after the incident shows Ribera jump from his car with his pistol in his hand. With his pistol pointing at Gaeta, Ribera demands she put her "hands up!"
Gaeta did not put her hands up and instead attempted to drive away but backing her vehicle into Ribera's patrol car before doing so. This act was perceived by Ribera as a threat to his life so he opened fire.
"He's ramming me," Ribera says before emptying his entire magazine into the back of Gaeta's vehicle, shattering the back glass. Miraculously, these shots did not instantly kill Gaeta and she continued her attempt to flee so Ribera reloaded with another magazine and emptied it into Gaeta's vehicle as well.
Many of these rounds would go through the front window, ensuring a swift death for this unarmed grandmother.
"My children and I are going to miss her tremendously," Tracy's daughter, Tressie Gaeta said. "I hope that we can find justice because she did not deserve to die like that."
According to the Stockton police department, a multi-agency investigation is underway into Gaeta's death and it will require a final review by the District Attorney's office. However, the department seems to have already made up their mind. After he was placed on a three-day paid leave, Ribera was put back on regular duty, where he remains today.
"Stockton PD has quickly moved to stand by Officer Ribera rather than hold him accountable," Jayme Walker, an attorney at the firm representing Gaeta's family, said in a statement, according to USA Today.
Walker added that "Nationally recognized standards prohibit officers from firing at moving vehicles absent the most compelling circumstances."
As stated above, fleeing, unarmed grandma's apparently meet the standards for compelling circumstances and now a family is mourning the loss of a  "loving, caring mother and grandmother" who "always knew how to put a smile on your face."
Full video below: