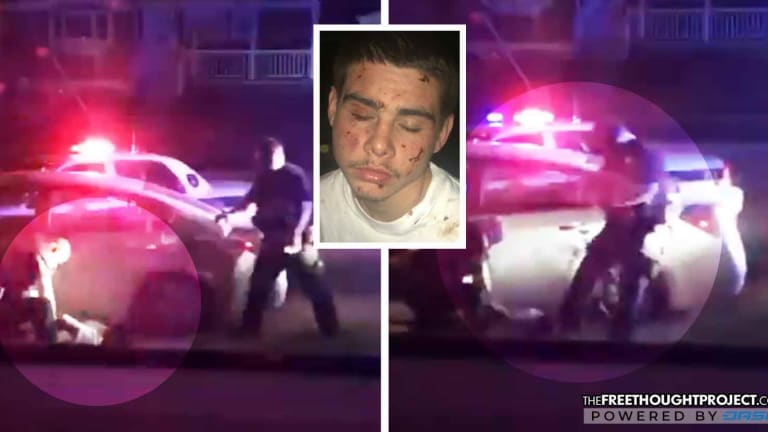 WATCH: Cop Holds Down Handcuffed Teen as Fellow Cop Kicks His Face In
A community is outraged after cellphone footage surfaced this week of an Ohio police officer holding down a handcuffed teenager while his fellow cop kicked him in the face.
Franklin Township, OH — Dramatic video has surfaced which will undoubtedly end up with taxpayers shelling out hundreds of thousands of dollars to an 18-year-old kid who ran from police. In spite of teen being handcuffed, face-down on the ground, with another officer on top of him, a Franklin Township police officer is seen punting his face like a football.
The suspect—turned victim, Anthony Foster Junior, allegedly made the terrible and dangerous decision to run from police earlier this week. According to police, Foster rammed a police car, drove 90 miles per hour through residential neighborhoods, and tried to make police officers crash.
He was accused of breaking several laws and deserved to be given due process. However, thanks to an officer who couldn't control himself, the taxpayers will now be held accountable.
According to police, the pursuit began after police pulled over Foster for having no registration on his vehicle. Instead of stopping, however, Foster allegedly led police on a high speed chase. The incident report says Foster "drove through several yards, jumping a driveway and attempted to make it back on the street where the suspect's vehicle struck and officers vehicle."
Once the chase came to an end, that's when police pulled him out of the vehicle without incident and had him in handcuffs.
As the video shows, Foster was on the ground, in handcuffs, when the unnamed police officer runs up to him and kicks him right in the face.
Naturally, Foster has already retained an attorney, Joe Landusky, who will likely sue and win.
"When I look at the video when I see a kid lying in the street motionless and another individual coming around wearing a police uniform nonchalantly kicking in the head like a football it's not something that's nice to watch. I don't know what happened leading up to this, he's charged with certain things I don't know whether he was involved with those things are not and he's presumed innocent," he said, according to 10TV.
The officer responsible for the brutal act caught on film is now on paid administrative leave pending the outcome of an internal investigation.
On Thursday, Franklin Township Police Chief Byron Smith released the following statement in regard to the incident:
My office was advised Tuesday evening of a police-involved vehicle pursuit, during the [course] of the investigation a video surfaced showing possible officer misconduct. The involved officer has been placed on administrative leave pending the outcome of the investigation. This department will not tolerate officer misconduct. More details will follow when the investigation concludes.
Foster's mother, Nicki Sammons, who spoke with NBC4i on Thursday did not hold back as she lambasted the cops responsible for her son's injuries.
"I think both of those cops, their badges should be taken, They shouldn't be able to work or go to another law enforcement place or work for another county, none of that. Because if you get by with it clearly you're going to do it again," she said.
"It wasn't like he was running or swinging at them or anything. He was handcuffed on the ground with another cop on his back. You can't justify that," said Sammons.
According to Sammons, her son is now home safe and is recovering from the cuts and bruises that she says will heal while the mental scars may remain forever.
"Everybody always wonders why all of these kids hate cops," said Sammons. "When you see stuff like this, that is why. They make it worse."
If you'd like to voice your concern over the actions of these officers to Franklin Township, you can do so at their Facebook page here.
To those who think this is just a case of a bad apple, another police officer within a 48 hour period was also caught doing the exact same thing.
In that case, however, the officer who ran up to a handcuffed man and kicked him in the face has been fired.