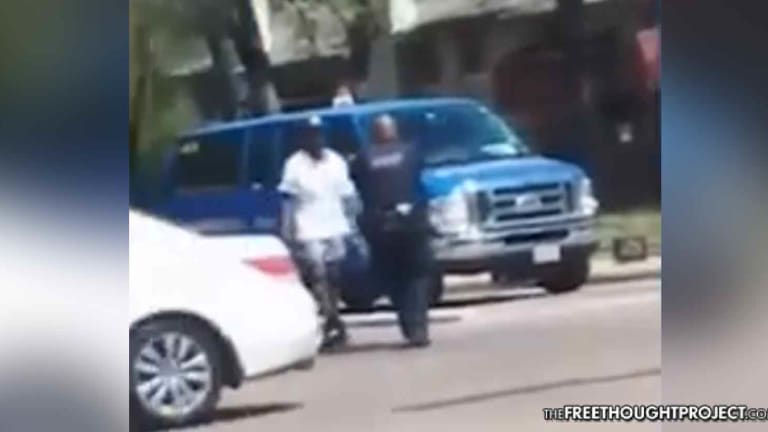 WATCH: Unarmed Man with Pants Around His Ankles Publicly Executed by Police
A father grieving the loss of his two children in an apparent state of mental illness was gunned down by a Houston cop as he walked around with his pants around his ankles—unarmed.
Houston, TX — Graphic cellphone footage was recently released showing the killing of an unarmed and apparently mentally ill man by a Harris County Sheriff's Office deputy. The victim, identified as 34-year-old Danny Ray Thomas was pronounced dead after an unidentified officer shot him Thursday afternoon.
Witnesses said Thomas was "walking in the middle of the intersection of Imperial Valley and Greens Road with his pants around his ankles, talking to himself and hitting vehicles as they passed by," according to a press release Friday from HPD.
According to police and the video, Thomas—obviously in the midst of a severe mental break down—was wandering in the street when he slapped the hood of a white car. The driver of the car then got out and confronted Thomas before the unidentified officer saw the altercation and stepped out of his SUV.
"Thomas then struck a white vehicle, and the driver exited and engaged in a physical altercation with the suspect," Houston Police said. The deputy saw the altercation and stopped his car.
HPD claimed that the deputy "feared for his life" because the mentally ill man with his pants around his ankles somehow appeared to be a serious threat. The officer claimed that Thomas "continued to advance" toward him, so he had no other option than to kill the unarmed man.
"Fearing for his safety, the deputy discharged his duty weapon, striking Thomas once in the chest, " Houston Police said.
Police claim Thomas "had an object in his hand" however that is not apparent in the video and no weapon was recovered at the scene.
"We have not recovered a weapon at this point," Sheriff's Office spokesman Jason Spencer told the Chronicle, alluding to the ridiculous notion that they may find one later.
Family members told local media that Thomas had recently had a mental breakdown after losing both of his childing in 2016.
As the Houston Chronicle reports, family members said he was the father of two young children who died in 2016 after their mother allegedly drowned them in a bathtub.
Marketa Thomas, Danny's sister told reporters that she and her brother had both struggled with depression and that there was "no justification" to kill him.
"Knowing that he was OK when I woke up every day made me fine," she told reporters at the scene. "And knowing that my brother is no longer here - you think I'm going to be fine? I'm not going to be fine. That's my brother."

"That's my flesh and my blood," she said through tears. "We've been through everything together. He had my back through everything. And he promised me he wouldn't leave me, and he didn't leave me. Somebody took him from me."
In the video, we can see Thomas slowly scoot toward the officer with his pants around his ankles. Exactly why the officer resorted to deadly force so quickly is unclear, however.
As the woman who took the video asked, "why didn't he just tase him?"
Indeed, the cop's irrational fear apparently took over and he made no attempts at less than lethal force and now a man that needed help is dead.
Although a truck pulls in front of the camera just before the officer shoots, we can still clearly see that Thomas posed very little threat as his pants were around his ankles.
The video is below.
As TFTP has previously reported, the Virginia-based Treatment Advocacy Center, an organization dedicated to eliminating the barriers faced by those with severe mental illnesses, released a jaw-dropping report in 2015. In their report titled, Overlooked in the Undercounted: The Role of Mental Illness in Fatal Law Enforcement Encounters, researchers discovered that people with an untreated mental illness are 16 times more likely to be killed during an interaction with police than anyone else.
According to the study, by all accounts – official and unofficial – a minimum of 1 in 4 fatal police encounters ends the life of an individual with severe mental illness.
Where official government data regarding police shootings and mental illness have been analyzed – in one U.S. city and several other Western countries – the findings indicate that mental health disorders are a factor in as many as 1 in 2 fatal law enforcement encounters.
This startling number highlights a critical problem with police and how they handle incidents with the mentally ill and it explains why Thomas' life was ended that day.