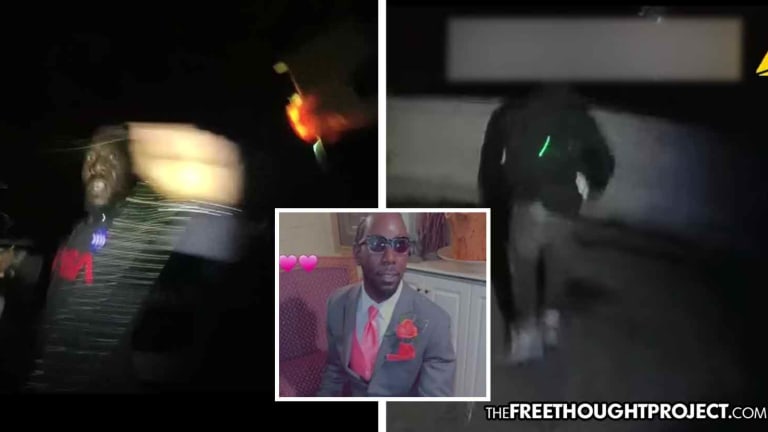 WATCH: Cop Mistakes Unarmed Innocent Man for Suspect — Puts a Bullet in the Back of His Head
An apparently trigger-happy police officer mistook an innocent man for a suspect and put a bullet in the back of his head.
Titusville, FL — As TFTP reported in 2016, the Massachusetts Supreme Judicial Court ruled that fleeing police is not considered suspicious because black males have legitimate reason to fear cops. According to a ruling by the court, black men have a legitimate reason to run from police, thus, fleeing should not be deemed suspicious. While the following victim was in Florida and not Massachusetts, it is important to point out the fact that running from cops is not necessarily a criminal act — yet 40-year-old James Lowery was executed for it.
On the night of Dec. 26, 2021, Joshua Payne, who was an officer of the Titusville Police Department at the time, was responding to a domestic incident when he mistook Lowery for the suspect and initiated a foot pursuit. Prior to Payne's interaction with Lowery, Lowery had committed no crime, had no outstanding warrants, and had harmed no one.
According to police, Payne was one of several officers who responded to a call of a man beating up a woman in the street. That man was not Lowery but Payne pursued him nonetheless. An internal investigation would later reveal that Payne "found himself in a tense, uncertain, and rapidly evolving situation -in which he violated department policy and acted outside department training," officials said in a statement.
When Payne attempted to arrest Lowery, Lowery ran — fearing for his safety and freedom. Police later determined that Lowery may have ran due to the substances he had in his possession which the state of Florida deems illegal.
When Lowery ran, Payne tried to taser him in the back. Not wanted to be kidnapped and caged over arbitrary substances deemed illegal by the state, Lowery began tossing the substances he had in his pants. Payne perceived this as a threat and pulled out his gun.
Payne continued to pursue Lowery with both a taser in one hand and his pistol in the other. As Lowery attempted to jump a fence, Payne executed him with a bullet to the back of the head. The entire incident was captured on Payne's body camera — released this week — which would be used to bring up charges against the officer.
No weapons were found on or near Lowery and he was executed for the sole reason that he ran away from police.
"At no time does our training allow a gun in one hand and a taser in the other," authorities said Thursday after the body camera footage was released. "Investigators believe that Ofc. Payne accidentally fired his firearm as he encountered the fence. Nothing in the investigation revealed any justification for the use of deadly force, nor did it appear the officer intended to use deadly force."
"They, like you, are all asking the question, 'Why would the police shoot an unarmed black man in the back of the head?'" high-profile lawyers Benjamin Crump and Natalie Jackson said when they announced a lawsuit earlier this year.
Earlier this month, Payne was prosecuted on a manslaughter charge and turned himself in to the Brevard County Jail.
"We acknowledge the district attorney for doing his job and saying that it's going to be about equal justice and that the police officer is not gonna be above the law just because he has a gun and a badge," Crump said. "Most importantly, we understand and acknowledge this is just the first step what we want is a conviction."