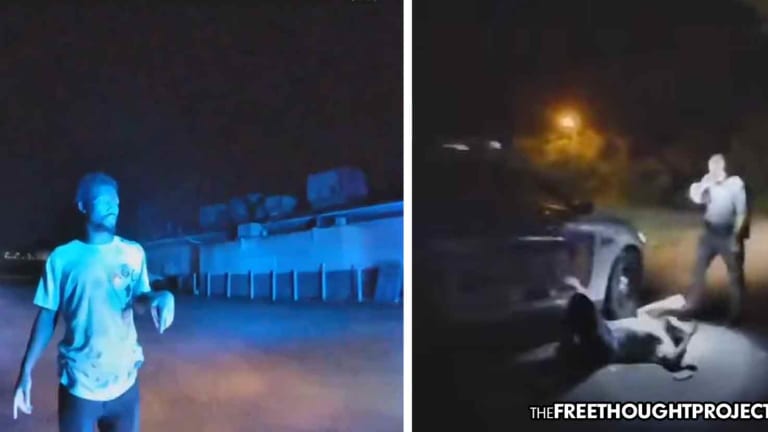 WATCH: Cop Mows Unarmed Man Down with Cruiser While Walking Through a Parking Lot
Police decided to escalate to deadly force and plow into an unarmed man with a police cruiser, over what should have been a small ticket.
Radcliff, KY — On the night he was run over by a police cruiser, Anthony Gray had harmed no one and was merely leaving a hotel parking lot after a verbal dispute with a worker. At worst, Gray could have gotten a ticket for trespassing and instead, police tried to kill him in an extremely gruesome manner. The taxpayers of Radcliff will now be held accountable for the officers' actions that night.
According to police, they received a call from the Gold Vault Inn last September telling them that a man was trespassing at the hotel. When police arrived, Gray was already off the property and on his way. It should have been over at this point but officers chose to needlessly escalate the situation to the point of deadly force.
As the video shows, Gray was leaving the area by the time police arrived and the first officer on the scene was questioning him. Gray explained to the officer that a member of the staff was rude to him, so he left. That officer should have let Gray go as there had been no crime but he did not.
Instead, the officer — without warning or even telling Gray what was happening — began to physically restrain Gray for arrest.
"Then suddenly, no reason, no justification, no warning," Officer Robert Stephens tried to grab Gray by the arm, Attorney Aaron Bentley, who represents Gray, said in an interview with WDRB. "Anthony was scared and ran away."
Having harmed no one, Gray told the officer, "No, I'm not going to jail."
"Yes you are," the officer responds, as Gray runs away.
As Gray ran, he yelled at the officer that he was unarmed and just wanted to leave. But when officer Justin Skaggs arrived, he made sure that would be impossible. As footage shows, Skaggs' aims his police cruiser directly at Gray before running the man over.
"By every indication, he intentionally runs the car into Anthony, runs over his leg and foot, causing pretty severe injuries," Bentley said.
Gray immediately knew he was badly injured and began pleading with the officers to take him to the hospital.
"I didn't do nothing wrong, sir," Gray says as officers cuff him. "But you ran my foot over."
"I believe his leg was run over by a police car," an officer said.
"I'm not aware of any situation in which a police officer is authorized to use a vehicle to hit, to stop a person," Bentley said. "Anthony was unarmed. He did not threaten any police officer. And yet, for some unknown reason ... Officer Skaggs just ran right into him with his car."
Naturally, police disagree with this version of events, offering up their own version in the police report. In spite of video evidence showing Skaggs direct the cruiser in the direction of Gray, police claim that Gray intentionally threw himself in front of the vehicle.
Gray was described as running in the roadway when he "ran into the right front corner" of the police vehicle. "Gray was knocked to the ground and his left foot was run over by the right front tire," according to the report.
This report was enough to justify Skaggs' actions that night and the officer never faced any discipline for his use of deadly force.
Instead, Gray was charged with a slew of crimes including criminal trespassing, alcohol intoxication, and fleeing or evading police. He is currently out on bail after pleading not guilty.
Police officers running people over for petty offenses is an unfortunate reality in the land of the free. Earlier this year, we brought you the story of of Dustin Bates who was left permanently disabled from fractured ribs, a broken leg, and a broken spine. His injuries, a result of Lake Worth officer Jonathan Granado's attempt to murder him with his police cruiser — running him down at 45 mph — over a license plate error.
Granado falsely accused Bates of stealing his own motorcycle and decided to try to kill him for it.