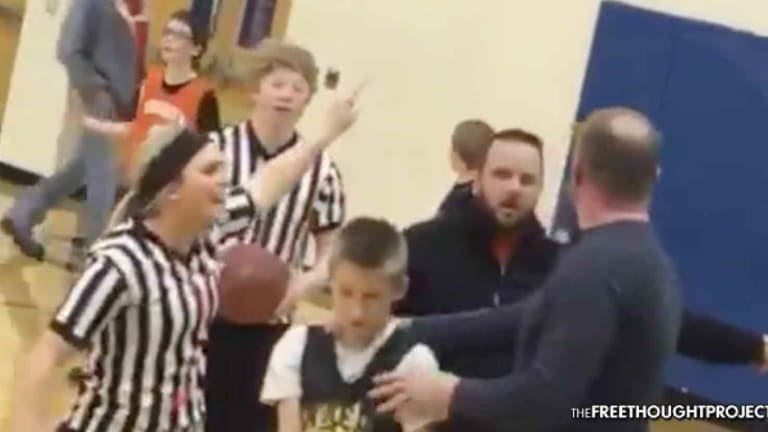 WATCH: Cop Rages Over Bad Call, Shoves Small Girl During His Son's Basketball Game
A Kansas cop raged over what he thought was a bad call in his son's 5th-grade basketball game, so he shoved the female child who made it.
Augusta, KS — In just a matter of a few weeks, cops in Wichita have proven their incompetent and dangerous nature and shown the country that there is something very wrong in their department. Last month, an innocent man was murdered by Wichita police for the 'crime' of opening his front door in front of frightened trigger happy cops. Then, TFTP reported that just days after that, a little girl was shot by police inside her own home as a cop tried to kill her dog. Now, video has emerged showing a Wichita cop shoving a small girl during a basketball game.
A video posted on Facebook this week serves to illustrate the sheer above the law mentality of some cops as this officer lost it when a child referee made a bad call. After the call, which the officer disagreed with, he ran out on the court, grabbed his son and shoved the female referee—who was half his size—to show his discontent.
The silver lining to this officer assaulting a child is that the child did not simply roll over and take it. After he shoved her, the 17-year-old girl pointed toward the door and demanded that he leave immediately as she stood her ground.
The Wichita Police Department has conveniently failed to release the officer's name in spite of the fact that the family of the girl he shoved is reportedly pressing charges. They simply released the following cookie cutter statement:
Wichita Police Department officials have been made aware of an incident during a basketball game in the City of Augusta that involves a department member.

WPD will be reviewing the incident to determine if any department policies were violated.

WPD officials do not have all the facts surrounding this incident at this time and cannot provide any further comment.
According to KWCH, Augusta police say he was not taken into custody but he was taken off the property by police to the station. The Deputy Chief says after their investigation they will send their results to the city prosecutor.
Imagine for a moment that a person who does not carry a badge was seen assaulting a child at a youth basketball game, would they receive similar treatment? Not likely.
The youth sports league, however, wasted no time in banning the dangerous officer from the building and noted that he will likely be banned from all other league games as well.
"If you're kid is hurt, whether it be the refs, board member or even the coaches and a parent is needed, they're going to tell the parent to come down on the court, but just to come down and put your hand on a 17 year old kid, that's not acceptable, especially here, it's not going to happen," says Amber Stillwell, the president of the Augusta Youth Basketball League.
A former referee, John Blazek spoke to KWCH about the incident and noted that cooler heads must prevail because mistakes will always be made.
"Parents forget they've got to be parents. And kids are going to make mistakes, referees are going to make mistakes," Blazek said. "They make mistakes in the NBA, the Big XII, the Missouri Valley, the American Conference...they're going to make them at the Augusta YMCA."
However, if you are going to make those mistakes and you are a child, be careful not to do it in front of police officers who can and will abuse their power and assault you.