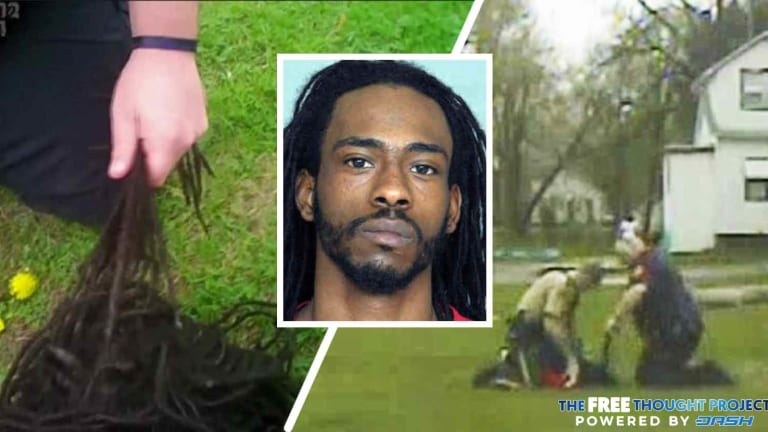 WATCH: Cop Yanks Handcuffed Man's Dreadlocks Out While Punching Him—Taxpayers to Pay For It
Waterloo, IA -- Prior to April of 2016, 24-year-old Montavis Keller had never had a run-in with the police. However, thanks to the fact that police in America will kidnap, cage, and kill people over a plant, Keller can no longer make this claim. Because Keller ran from his captors who wanted to ruin his life over a plant, he was savagely beaten -- and the one responsible for the beating will not be held accountable. Instead, it will be the taxpayers.
On April 13, 2018, Keller filed an excessive force lawsuit alleging excessive force, assault and battery and negligence by Waterloo Police Officer Adam Wittmayer and a failure to properly train and supervise officers and to investigate excessive force by Police Chief Daniel Trelka and the city of Waterloo. He has the video to prove it too.
On April 19, 2016, Waterloo cops targeted Keller because he had a few dozen grams of a plant that is legal in some form in over half of the country. Not wanting to be kidnapped or killed, however, Keller ran. Having to pursue a man for possessing a plant infuriated officers. And, after they caught him, one officer let out his frustration -- on Keller's head.
At the time of the beating, Keller was lying face down and in handcuffs. Officer Adam Wittmayer then proceeded to grab the man by his dreadlocks and smash his hand into his head. The incident was captured on the officer's body camera video.
"God! F*cking moron. You're a stupid motherf*cker, you know that?" Wittmayer yelled as he doled out his own version of street justice to a man who'd dare sell a plant to willing consumers.
Instead of being charged or fired for beating a non-violent handcuffed man, however, Wittmayer is still a cop.
"Keller was compliant with officer commands and is silent even after being repeatedly physically and verbally assaulted by Wittmayer," the lawsuit states.
According to FOX, a state prosecutor concluded in June of 2016 that no criminal charges were warranted against Wittmayer because jurors would understand why he was mad.
"Based upon this fact and my review of the entire matter, the likelihood of a Black Hawk County jury convicting Officer Wittmayer is minimal if not completely non-existent," Assistant Attorney General Scott Brown stated in a release at the time.
This was in spite of the fact that Wittmayer failed to mention any of the violence in his report.
"In his official police report, Defendant Wittmayer failed to report any reasoning as to why he needed to pull Keller's hair or strike Keller in the face while Keller was in handcuffs, nor does it even mention that such physical force was ever used against Keller during the arrest," the lawsuit states.
"Wittmayer owed a duty to Keller to exercise reasonable and due care when dealing with Keller as a member of the public," the lawsuit states. But Wittmayer breached that duty when he struck Keller, pulled his hair and insulted him, according to the suit.
According to the Grio, Keller's lawyer Tom Frerichs, had a different opinion on the matter and forwarded the video to the FBI for review, stating, "I can't think of any other job in which an employee is allowed to repeatedly hit another person, pull out some of their hair and still keep their job."
For running from armed men attempting to kidnap him for possessing a plant, and then getting beaten by those men, Keller was charged with four felonies including attempting to assault a police officer, evading police as well as possession of 42.5 grams of marijuana with intent to deliver.
According to the Des Moines Register, in February he pleaded guilty to eluding and possession of a controlled substance (marijuana) with intent to deliver, court records show. He was sentenced to between two and five years of probation.
The state's war on drugs lays waste to all those in its wake and Keller is just another victim.