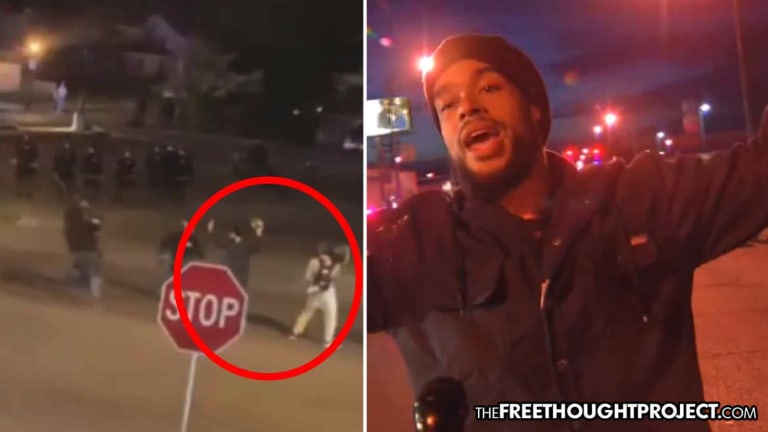 WATCH: Cops Attack, Kidnap Man at Protest as He's Being Interviewed by Local News
Police violence has gotten so out of hand that an innocent man was attacked and kidnapped while giving an interview to a local news outlet.
Buffalo, NY — Police violence against peaceful protests is so rampant in the United States right now that much of it is being caught on mainstream media networks, live and on air. In one utterly ridiculous show of force, a protester, who is reportedly a pillar of the community, was assaulted by police, tackled and kidnapped, as he was giving an interview to WIVB 4 News. You cannot make this stuff up.
As the video below shows, the attack was captured from two angles. Miles Carter was giving an interview with a cameraman from WIVB when a swarm of riot cops started running toward the pair. His hands were in the air and he was doing nothing illegal.
"My name is Miles Carter. I live in the Town of Tonawanda. I don't live in the City of Buffalo," he said. And as he continued with "My mosque is over on Genesee Street," a dozen cops threw him to the ground so hard his helmet flew over ten feet.
Then cops began setting off tear gas.
Exactly why Carter was arrested remains a mystery as there was no curfew when this happened and he appeared to be completely peaceful. WIVB called Buffalo police to ask why they attacked and kidnapped the man, but they received no response. TFTP also reached out on Friday and have not heard anything back.
The local chapter of Council on American-Islamic Relations (CAIR), held a press conference on Friday to call out the injustice of Carter's treatment. As the organization pointed out:
On Monday evening in Buffalo, N.Y., Miles Carter was speaking with a local television reporter during a peaceful demonstration. With his hands in the air and back to the police and without any notice, police in riot gear rushed forward, grabbed him and threw him to the ground. Police arrested Carter on two baseless charges. The City of Buffalo had not issued a curfew for Monday evening. Carter was released early Tuesday morning.
After video of his arrest was put online, friends of Carter started a fundraiser on Lauchgood for him, which raised nearly four times the amount they were trying to obtain for his legal defense. The extra money is reportedly going to create an endowment for all unjustly arrested people.
Every dollar raised over 10,000 will go to (1) legal fees for eligible individuals in our community (2) social justice advocacy and (3) facilitating know your rights trainings for the inner city
According to CAIR, Carter has been a community advocate for years and has contributed to the City of Buffalo by helping to raise over $120,000 to build a state-of-the-art playground and dedicating time to assist in the build out of a domestic violence shelter that serves the east side of Buffalo.
He is a father of 5, a black business owner, a native of Buffalo, a graduate of Medaille College and has served as a mosque liaison to the Buffalo Police Department C-District.
In a statement, CAIR-NY Litigation Director Ahmed Mohamed stated:
"Protesters have a fundamental right to protest against abusive police practices. It is unacceptable for law enforcement to respond to peaceful protests with aggressive tactics and excessive use of force.
"Miles Carter was conducting a media interview with his hands in the air and his back turned away from the police when he was viciously grabbed, slammed to the ground by the officers, and unlawful arrested. Mr. Carter's courage to speak out is indicative of his commitment to his community and justice.
"CAIR-NY stands in solidarity with Mr. Carter and protesters demanding that police stop using excessive force against unarmed Black community members."
Below is that video.
Protests are expected to continue in Buffalo after an extremely disturbing video was posted online showing cops assault a 75-year-old man who was trying to give them back a helmet they lost.