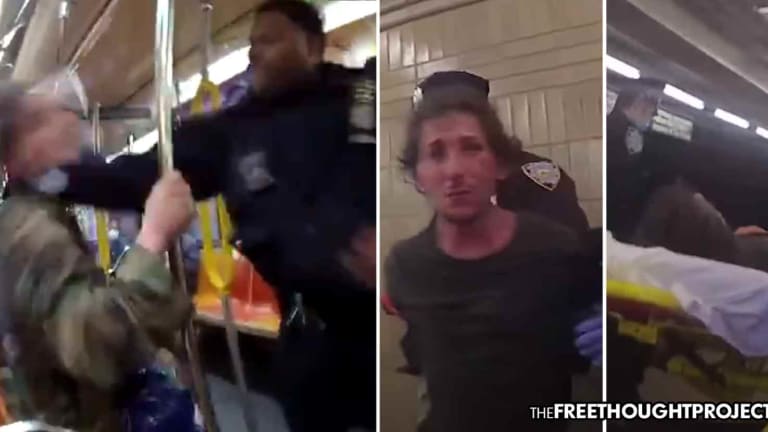 WATCH: Cops Beat Man for Taking Up 2 Seats on Empty Subway, Charge Him for Cop's Swollen Knuckles
NYPD officers savagely beat a homeless man for taking up two seats on an empty train and then had the audacity to charge him because the cops hurt his knuckles.
New York, NY — Body camera footage shows a New York City police officer brutally assaulting a homeless man for taking up more than one seat on a near-empty subway train. Instead of immediately arresting the officers involved in his attack, Manhattan District Attorney Cyrus Vance has decided to charge the homeless victim with assault, a felony charge which carries a maximum prison sentence of 7 years. The cop had swollen knuckles.
The 30-year-old homeless man identified himself as Joseph T. to reporters but was afraid to disclose his last name because he fears retaliation. He was charged with felony assault for allegedly kicking the officer's hand while he was being assaulted and handcuffed. However, the video shows the beginning of the altercation where the officer needlessly escalated the situation by repeatedly punching Joseph in the face and it does not show any such kicks to the officer's hand.
The encounter took place just after midnight on May 25th, when Joseph was riding the subway after leaving a local homeless shelter that didn't have space for him. The subway was nearly empty and Joseph was tired so he laid down, taking up two spaces. Police told him to get up and leave because he was taking up more than one space, and he moved along to the next train, but the police decided to follow him.
When police confronted him a second time he said that he did not understand why they were bothering him and told them that they could not arrest him for refusing to leave a train. Officer Adonis Long put his hands on Joseph in an attempt to remove him from the train, but Joseph pulled away. As soon as Joseph pulled away, Long punched him in the face repeatedly and then kicked his belongings off the train.
This was likely when the officer hurt his knuckles.
Long violently subdued Joseph and threatened him with his pepper spray as he pleaded with the officer to stop.
"I'm having a panic attack, please," Joseph called out as he was bleeding from the head and surrounded by police.
Joseph has no clue why police were so aggressive with him, and wonders if perhaps it was a case of mistaken identity.
"I feel like somebody else did something that looks like me and I'm getting the repercussions from it," he said.
Long later complained of "sustained swelling and substantial pain to the knuckles of his right hand" and was reportedly taken to the hospital as a result of injuries sustained in the struggle.
The idea of the very small Joseph inflicting injury on the massive officer Long is laughable, but enough for the predatory law enforcement system to go after him.
Joseph is being represented by The Legal Aid Society, who is calling for the charges against him to be dismissed and for the officers involved in the attack to be fired.
"The brutal attack on Joseph by these officers is both unconscionable and completely indefensible. It's equally shocking that the Manhattan District Attorney's Office, despite seeing this video, chose to bump up the charges against our client. We are calling on them to dismiss these charges immediately in the interest of justice," Edda Ness, staff attorney Legal Aid's Manhattan Trial Office, said in a statement.
Manhattan District Attorney Cyrus Vance's decision to pursue assault charges against Joseph has sparked outrage among activists and defense attorneys. Public defender Scott Hechinger said that prosecutors who pursue charges like this are "shameless enablers of police violence."
We agree.
Joseph had broken no law. He had harmed no one, yet he was savagely attacked by police, who kidnapped and subsequently charged him.