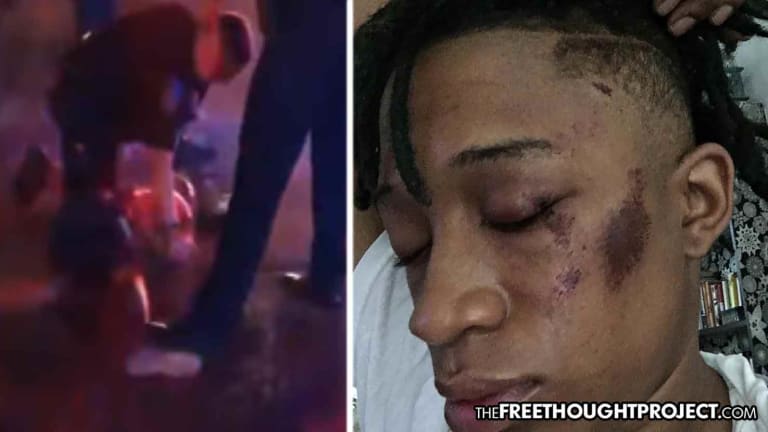 WATCH: Cops Beat the Hell Out of a Woman After Claiming to 'Smell Weed'
Two cops claimed that a woman smelled like marijuana and used that as an excuse to beat, kidnap, and cage her.
Indianapolis, IN — Chanel Bates, 26, was leaving a restaurant last week when she was targeted by police who claimed they smelled marijuana. The officers' olfactory intuition was then used as the justification to detain, savagely beat, and kidnap an otherwise entirely innocent woman who had caused harm to no one. The infuriating and disturbing scene was captured on video.
As Bates and her friends pulled out of Tiki Bob's late last Saturday night, two Indianapolis Metropolitan Police officers claimed they smelled weed coming from Bates' car. The officers then stopped Bates and her friends and began to detain them — over a plant smell.
"This incident literally was less than four minutes, it was less than four minutes," Bates said. "It happened that quick."
According to IMPD, when they approached the vehicle, they ordered everyone out. Bates' two passengers exited the vehicle, but Bates did not immediately exit. Bates was simply getting her cellphone ready to record the interaction.
"I said, 'I'm going to let you know right now, for my safety and for your safety, I'm about to record this,'" Bates told an officer. "As soon as I reach for my phone, he slaps it out of my hand. He breaks my phone. The [other] officer to the right of me reaches in on the passenger side... turns my car off and snatches the key out the ignition. The officer on the driver side — because the windows are all the way down — reaches inside, from the outside, yanks open my door and takes my left arm and pulls me directly out of my car and directly on the ground."
The video shows about two minutes worth of the incident; from the beginning, you can hear Bates scream out:
"I'm not refusing, please stop. Please stop, I'm a girl."
"Help me, please. I'm not refusing."
"I can't breathe, help me."
As police continued their assault, they took Bates' panic of not being able to breathe as "resisting."
As one of the officers shoved Bates to the ground, he said, "You're breathing just fine — shut up." At this point, Bates said she feared for her life.
"I wasn't prepared for this to happen..." Bates said. "You knew you were wrong... why are three grown men on top of me and telling bystanders to stop recording."
As the Indy Channel reports:
According to IMPD, Bates was resisting an officer in the video that has gone viral, which is a criminal charge. If someone sees flailing legs in the video, another may see kicking legs.

The officers initiated the stop because they smelled marijuana coming from Bates' car, and then because Bates escalated the situation, she was placed under arrest for refusing to comply with the commands of officers. After apprehending Bates, officers found four roaches in the front of Bates' car, according to the probable cause affidavit.

Bates said the officers told her they knew she was selling drugs.
"I said, 'you're lying, sir. Admit your fault and let me go,'" Bates said. "I did not kick on nobody or spit on nobody."
However, the IMPD officers did not let her go. Instead, because officers found a tiny bit of a plant in her car, Bates was beaten, kidnapped, and thrown in a cage for over 12 hours.
According to the Indy Channel, Bates said she went to Eskenazi hospital after being released. Bates says she can't feel anything in her right hand because she now has nerve damage and her anxiety is at an all-time high. She now fears driving her car.
Provided by Chanel Bates
"... If you could still just be sitting in your car and just be pulled out," Bates said. "And you just tell me what you think I did.. You didn't even ask for my ID, or my name!"
After she got out of the hospital, Bates — who is a popular local musician — shared her story on Facebook and it quickly went viral.
"I've always made sure to watch the YouTube videos of police brutality so I know what to say, this-versus-that, what cases do I need to know to protect myself if this ever happens to me," Bates said. " And I think I studied it so much, and watched so much — law of attraction — you know."
Indy10 Black Lives Matter shared Bates' post and told followers the following:
"Over the past few weeks, IMPD has once again shown that their interactions with Black people can end up with life long injuries and trauma, if not death. We need immediate communication from IMPD Chief Roach and Mayor Hogsett on what steps they are implementing to seek out these officers who too often mistreat and manhandle Black community members. When will enough be enough for IMPD? What is the body count they are trying to get to before they are willing to implement drastic changes? How much of our tax dollars are they going to spend on settlements instead of training and firing officers who need to be fired? What results are we seeing from the Community Conversations the City County Council had with the community at large? We are asking for an immediate statements from IMPD for the mistreatment, assault and arrest of Cece Chanel..."
As you watch the video below, remember that the woman who is getting thrown to the ground and beaten had harmed no one. These officers merely claimed to smell marijuana and so they decided to beat, kidnap and cage her. In the land of the free, this is called justice.